Lower Your Monthly Payments
One of the best reasons to refinance a home is to lower the interest rate on your existing loan. When you lower your rate, you are lowering the total amount of interest you are paying and you can also choose a shorter term, which pays off your home sooner. It's also a great option to increase your cash flow each month.
If you're looking for a low refinance rate to meet your needs — we've got you covered! Talk to one of our home loan experts or schedule an appointment to discuss our Traditional Refinance option today!
Choose between our Fixed and Adjustable Rate Mortgage options.
Traditional Refinance Rates
*Offers are subject to credit approval. REG = Regular Rate. APR = Annual Percentage Rate. Read Full Disclosures.
AS LOW AS
10 Year Refinance Rate
10 Year
fixed rate
0 Points
AS LOW AS
15 Year Refinance Rate
15 Year
fixed rate
0 Points
AS LOW AS
20 Year Refinance Rate
20 Year
fixed rate
0 Points
AS LOW AS
30 Year Refinance Rate
30 Year
fixed rate
0 Points
AS LOW AS
7/6 Year ARM
7 Year ARM
variable rate
0 points
AS LOW AS
10/6 Year ARM
10 Year ARM
variable rate
0 points
Apply Now
Meet the Citadel Refinance Team
Additional Features
Title and Settlement Services – Take the stress out of the mortgage loan process with exclusive title and settlement services from Citadel.
No pre-payment penalties – We do not charge penalties if you want to pay off your mortgage early.
Servicing by Citadel – Citadel will be your mortgage servicer. You'll make payments to Citadel, and we'll be your point of contact for any questions you may have.
Online & Mobile Banking – Make payments and manage your loan account. Learn More.
Refinance Loan Calculator – Use our refinance loan calculator to analyze your situation and help you meet your goals sooner.
Ready to speak with a representative about Citadel's Traditional Refinance option?
Schedule Appointment
Best For...
Customers looking to lower the interest rate on an existing mortgage
Those looking for a shorter term
Still have questions? We can help.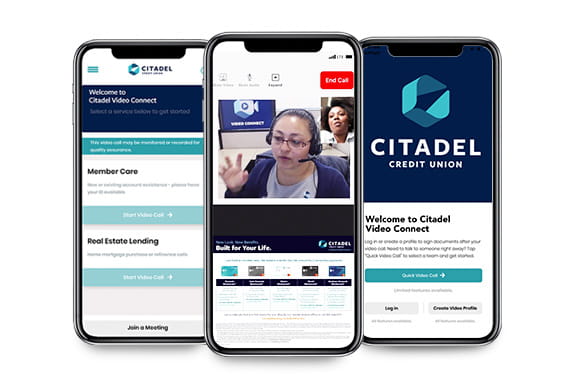 Chat Face-to-Face With Citadel Video Connect
Citadel's Video Specialists are just a few clicks away with Video Connect. Skip the trip to the branch office and video chat safely and securely from your preferred location. Learn More.
On your laptop, desktop, or mobile device, our Video Specialists can help you complete almost any banking-related task:
✔ Open a new account
✔ Add a product to a current account
✔ Apply for a loan
✔ Talk to a business banking expert

Find an ATM or Branch Near You
Title and Settlement Services
Take the stress out of the mortgage loan process with exclusive title and settlement services from Citadel. Citadel has partnered with Entrust Services Group, LLC to offer title and loan closing services for both lenders and borrowers. Enjoy complete support through the entire title process, from application to closing.
Complete Support and Servicing
Entrust Services Group offers industry expertise and convenient services to help you streamline the loan process from start to finish.
Member Benefits:
Title search and insurance services
Flexible settlement options
Complete settlement services
Please fill out the request form below to learn more about Entrust Services Group or email us at title@enstrust.com for a free comparative rate quote and an estimate of closing costs.
Traditional Refinance
Fixed Rate Mortgage Terms
Rate expressed as Annual Percentage Rate (APR), and is subject to change without notice. Offer can be withdrawn at any time. APR shown is for first-lien position loans up to 95% Loan-To-Value (LTV) on single-family owner-occupied properties in PA, NJ, MD, and DE. Various APRs and terms are available. Loans will require borrower to purchase title insurance and appraisal. Lender fees will apply. LTVs above 80% must escrow taxes. LTVs below 80% may escrow taxes at request of homeowner. Offer is subject to credit approval, income verification and appraisal. Existing mortgage loans must be current and have no late payments in the last 12 consecutive months. Property insurance is required. If the collateral is determined to be in an area that has special flood areas, flood insurance will be required as well. Properties currently listed for sale are not eligible. Property cannot be a co-op or mobile home. Other restrictions apply on cash-out mortgage loans. Rate as of .
Adjustable Rate Mortgage Terms
An Adjustable Rate Mortgage (ARM) means that your payment may change in the future. Citadel ARM mortgages have a fixed rate for a period of time, then rates can adjust annually. The fixed rate period varies based on the ARM loan you select and is shown right in the name of the ARM loan. Citadel offers two ARM loans, a 7/1 ARM and 10/1 ARM. The ARM numbers, like "7/1" show how long the initial fixed rate lasts and how often the rate can change afterward.
For example:
• A 7/1 ARM has a fixed interest rate until the 84th month (7 years) and can change every 12 months (1 year) after.
• A 10/1 ARM has a fixed interest rate until the 120th month (10 years) and can change every 12 months (1 year) after.
How is my rate calculated?
The initial fixed interest rate is based on interest rate, loan amount, and total term of the loan when your loan is closed. This is the discounted rate and lasts for 7 or 10 years, depending on the ARM loan selected.
The Adjustable Interest Rate is based on an interest rate Index plus a margin. All of our Citadel ARM mortgage interest rates are based on the 1 Year UST CM (weekly), rounded to the nearest 0.125%. (currently 0.08) More info about this index is available at www.federalreserve.gov/releases/h15. Our current margin is 2.5%.
How can my Interest Rate change?
Your interest rate can adjust when the initial fixed interest rate period ends, and every 12 months thereafter. Your interest rate will never increase or decrease more than 2 percentage points at any rate adjustment or 5% over the life of the loan. Your interest rate will never increase more than 5 percentage points over the initial discounted rate or be lower than 2.500%.