Refinancing your home is easy with Citadel's Easy Refinance Program. An Easy Refinance Program is a quick, easy, low-cost option to refinance your home without requiring title insurance, which can save you thousands of dollars.
You can lock in a low rate today with Citadel's Easy Refinance Program. View Citadel's Easy Refinance Program Rates.
Start saving money now - Don't wait until rates increase to refinance your home. Citadel's closing process is fast, so you'll begin saving sooner.
Citadel makes it easy - Citadel's home loan experts the process simple by walking you through all of the steps.
Learn how much more you could save - Save thousands on closing costs and lower your monthly payment.
Talk to one of our home loan experts to discuss our Easy Refinance Program today!
Mortgage Rates
*Offers are subject to credit approval. REG = Regular Rate. APR = Annual Percentage Rate. Read Full Disclosures.
AS LOW AS
10 Year Easy Refinance Rate
10 Year
fixed rate
0 Points
AS LOW AS
15 Year Easy Refinance Rate
15 Year
fixed rate
0 Points
AS LOW AS
25 Year Easy Refinance Rate
25 Year
fixed rate
0 Points
Apply Now
Additional Features
Online & Mobile Banking – Make payments and manage your loan account. Learn More.
Refinance Loan Calculator – Use our refinance loan calculator to analyze your situation to help you meet your goals sooner.
Best For...
Those looking to lock in a low rate
Saving on interest charges
Customers looking to lower their monthly payment
Still have questions? We can help.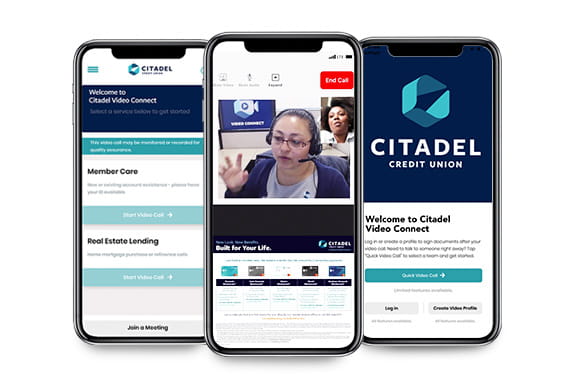 Chat Face-to-Face With Citadel Video Connect
Citadel's Video Specialists are just a few clicks away with Video Connect. Skip the trip to the branch office and video chat safely and securely from your preferred location. Learn More.
On your laptop, desktop, or mobile device, our Video Specialists can help you complete almost any banking-related task:
✔ Open a new account
✔ Add a product to a current account
✔ Apply for a loan
✔ Talk to a business banking expert

Find an ATM or Branch Near You
Citadel is an Equal Housing Lender.
Easy Refinance Program
Rate expressed as Annual Percentage Rate (APR), and is subject to change without notice. Offer can be withdrawn at any time. APR shown is for first-lien position loans up to 90% Loan-To-Value (LTV) on single-family owner-occupied properties in PA, NJ, MD, and DE. Various APRs and terms are available. Loans above $500,000 will require borrower to purchase title insurance. Loans above $400,000 will require an appraisal. Fees from current mortgage lender may apply. LTVs above 80% must escrow taxes. LTVs below 80% may escrow taxes at request of homeowner. Offer is subject to credit approval, income verification and market value assessment. Existing mortgage loans must be current and have no late payments in the last 12 consecutive months. Property insurance is required. If the collateral is determined to be in an area that has special flood areas, flood insurance will be required as well. Properties currently listed for sale are not eligible for this promotion. Property cannot be a co-op or mobile home. Minimum $50,000 in non-Citadel mortgage balances. Not available for purchasing new property. *Rate as of .