With Citadel, refinancing auto loans comes with many benefits. Your Auto Refinance can lower your monthly payment and Citadel has competitive rates and flexibility on payment options.
Not sure where to start? We'll put you in gear! Schedule an appointment, connect with us virtually through Video Connect, call us at 800-666-0191, or visit any branch.
AS LOW AS
Used - Up to 66 Months
Model Years 2020-2022
Up to 66 Months
AS LOW AS
Used - Up to 75 Months
Model Years 2020-2022
Up to 75 Months
AS LOW AS
Used - Up to 84 Months
Model Years 2020-2022
Up to 84 Months
AS LOW AS
Used - Up to 66 Months
Model Years 2016-2019
Up to 66 Months
AS LOW AS
Used - Up to 75 Months
Model Years 2016-2019
Up to 75 Months
AS LOW AS
Used - Up to 60 Months
Model Years 2014-2015
Up to 60 Months
AS LOW AS
Used - Up to 60 Months
Model Years 2008-2013
Up to 60 Months
Calculate Your Monthly Payment
Additional Features
Skip-a-Pay – With Citadel's Skip-a-Pay, you can skip your loan payment for the following month. Log in to Online Banking and find out if you have an eligible loan today.
Defer your payment up to 60 days**(for credit-qualified individuals)
Lowered monthly payments
GAP Insurance – Get a free quote today on GAP insurance. Learn more.
Payment Protection – Protect your loan from the unexpected. Learn more.
Best For...
Flexibility on payment options
Lowering monthly payments & rates
Receiving instant approval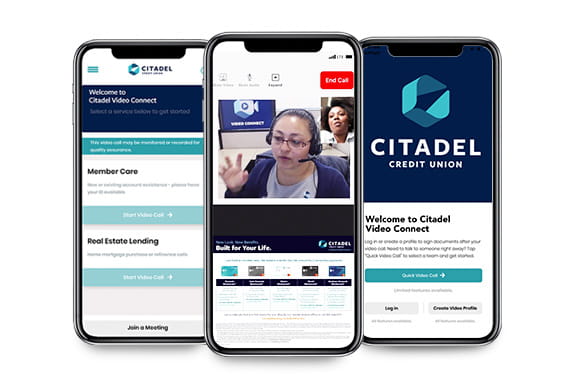 Chat Face-to-Face With Citadel Video Connect
Citadel's Video Specialists are just a few clicks away with Video Connect. Skip the trip to the branch office and video chat safely and securely from your preferred location. Learn More.
On your laptop, desktop, or mobile device, our Video Specialists can help you complete almost any banking-related task:
✔ Open a new account
✔ Add a product to a current account
✔ Apply for a loan
✔ Talk to a business banking expert

Frequently Asked Questions
*Offer not valid for an existing Citadel auto loan. Annual percentage rates (APRs) shown are accurate as of and may change without notice. Your actual APR will be based on a review of your credit application, vehicle model year, and loan term. All loans are subject to credit approval. Up to 120% financing on vehicle value for model years 2012 and newer. A lien recording fee applies and will vary by state. Loan-to-value (LTV) is calculated by determining vehicle value using J.D.Power for pre-owned vehicles.
**First payment may be deferred for up to 60 days from loan date for credit qualified individuals. Your loan will accrue interest during that time. Some restrictions apply.
Personal Requirements: To pre-qualify for refinancing, all applicants must be at least 18 years of age and must not be deceased or imprisoned. Applicants must have a valid physical street address within the contiguous United States (addresses in Alaska, Hawaii, Puerto Rico, etc. are not eligible). P.O. box addresses are not eligible for refinancing (except for Army/Fleet P.O. addresses). Applicants must be in good standing (not over limit, past due or charged off) on any existing Citadel Credit Union account, and on any mortgage and auto loan (including the auto loan you wish to refinance). There must be no material changes to your credit in the last 90 days, including, but not limited to, becoming delinquent on any debt, filing for bankruptcy or foreclosing on a mortgage obligation. You must not have 3 or more open Citadel Credit Union accounts or an aggregate limit over $100,000 with Citadel Credit Union. There is a minimum monthly income requirement of $1,500, and your income must be sufficiently greater than your monthly debt obligations and living expenses. We must be able to verify each applicant's identity as required by law and to obtain each applicant's credit report.
Applicants must not have an open bankruptcy at the time of refinance pre-qualification and credit application, a bankruptcy discharged after opening the loan sought to be refinanced, and must not have had a dismissed bankruptcy after or within the 5 years prior to opening the loan sought to be refinanced.
Pre-Qualification Terms: Pre-qualification does not guarantee that you will receive financing or any particular financing terms, which are subject to change based on our evaluation of your credit application and any required documents. Your monthly payment and amount financed may vary depending on when your loan is finalized, your first payment due date and what we find when verifying your information. Your pre-qualification expires 30 days from the date your pre-qualification request is received. You may use your pre-qualification on the expiration date, but not on any day thereafter. After pre-qualification, you will have at least 15 days from when you submit your credit application to provide any required information or documents and to sign your contract. If your offer expires before you are ready to refinance, please submit another request to check your eligibility for a new offer.
Pre-Filled Information: If you are currently a Citadel Credit Union customer, you may have the option to pre-fill certain fields of your pre-qualification request using information you have previously provided to Citadel Credit Union, including, but not limited to, name, address and contact information. Citadel Credit Union does not guarantee that any pre-filled information is current, complete or accurate. You should independently verify the accuracy of any pre-filled information. Citadel Credit Union may require additional verification to prove that any information provided in your pre-qualification request, including pre-filled information, is accurate.
Vehicle Requirements and Restrictions: Citadel Credit Union only refinances cars, light trucks, minivans and SUVs that will be used for personal use. Vehicles must be no older than 10 years and have an established resale value. Citadel Credit Union does not refinance the following vehicles: vehicle makes no longer in production (such as Suzuki or Isuzu), commercial vehicles, motorcycles, recreational vehicles (RVs), ATVs, boats, camper vans, motor homes, vehicles with a history of chronic malfunctions and/or manufacturer or dealer buyback vehicles (alternatively referred to as lemons), salvage title vehicles, branded title vehicles, lease buyouts or vehicles without a vehicle identification number (VIN) or title issued. We may determine a vehicle to be for commercial use or otherwise ineligible based on the model and/or information provided to us. The vehicle must be located within the contiguous United States.
Loan Amount Restrictions: The minimum loan amount is $7,500 and maximum loan amount is $75,000. Your maximum loan amount may be based on your income, key credit characteristics, the vehicle you are refinancing and the amount due to your current lender. Your current loan balance cannot be significantly greater than the estimated value of your vehicle.
Current Loan Requirements: Citadel Credit Union only refinances loans from other financial institutions, not including existing loans with Citadel Credit Union. Your current lender needs to meet one of the following requirements: 1) is currently reporting your loan to a major credit bureau, 2) is FDIC or NCUA insured, or 3) is both Better Business Bureau-accredited and a state-registered lender or state-registered auto dealer. Most banks, credit unions and larger auto finance companies meet one or all of these requirements. We only refinance standard auto loans with only one lienholder on the vehicle title for the loan you wish to refinance. We do not refinance unsecured loans or personal loans that use a vehicle title as collateral (also known as title loans). You must refinance the full payoff amount of your current auto loan subject to our minimum and maximum loan amounts. We do not offer cash-back refinancing or lease buyouts.
GAP Insurance and other Products: We will pay off your current auto loan only and will not finance new GAP or other coverage to cover any canceled coverage due to refinancing. To determine if your existing GAP policy or any other coverage terminates upon refinancing, check your corresponding agreement or contact the provider directly.
Documentation Requirements: Required documentation varies, and you may be asked to provide some or all of what is listed below. These documents may include: Pay stubs or bank statements to verify your income and/or employment Insurance, lease agreement or mortgage statement to verify your residence Vehicle title Power of attorney or title authorization to allow us to file the lien in favor of Citadel Credit Union.
To avoid processing delays, please be sure to include your reference number when sending documentation to us.