An Easier Way to Pay — Built for You
Greater Security
With built-in, EMV-grade chip security, you can enjoy safe and secure contactless payments.
Faster Checkouts
Check out 10x faster* with your Citadel Mastercard when you're on-the-go.
Safety & Convenience
Touch fewer surfaces– simply look for the contactless symbol where you shop and tap your card to pay.
How It Works:
➔ Look for the Contactless Symbol
at checkout. Don't see the Contactless Symbol? No worries, you can still swipe or insert your card to pay.
➔ Tap your contactless card at the top of the terminal to pay.
➔ Your payment is processed in seconds.**
You can set up or reset your PIN at any time by calling 1-866-985-2273 for your debit card or 1-888-886-0083 for your credit card.
*GFK, "Mystery Shopping Study," 2017
** The merchant may ask you to sign or enter your PIN.
How to Set Up Mobile Wallets
Make contactless payments from your phone or mobile device by adding your Citadel debit and credit cards to your mobile wallet. It's easy to set up – watch this quick tutorial to learn how to link your cards to Apple Pay or Google Pay and start making secure mobile payments.
Want a contactless Citadel credit card? Find the card that's right for you.
Explore Our Cards
Best For...
A safer, cleaner way to pay
Convenience when you're on-the-go
Enhanced payment security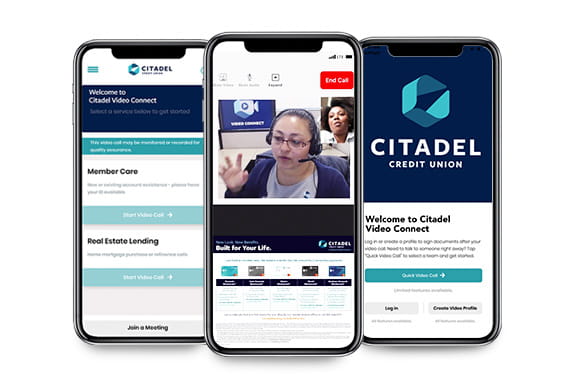 Chat Face-to-Face With Citadel Video Connect
Citadel's Video Specialists are just a few clicks away with Video Connect. Skip the trip to the branch office and video chat safely and securely from your preferred location. Learn More.
On your laptop, desktop, or mobile device, our Video Specialists can help you complete almost any banking-related task:
✔ Open a new account
✔ Add a product to a current account
✔ Apply for a loan
✔ Talk to a business banking expert

Find an ATM or Branch Near You
Frequently Asked Questions About Contactless Payments