Earn More Than 10x the National Average Rate1 with a 4.00% APY2
High Yield Savings Account
Earn more than 10x the national average rate and reach your savings goal faster with Citadel's High Yield Savings Account. You'll benefit from a great rate without tying up your money for long terms. Just maintain a balance of $10,000 or more to earn interest.3
It's easy to open an account:
Current Members - Open in Online Banking | New to Citadel? Open An Account Online Today
Our representatives are here to help as well, you can Schedule an Appointment, or speak to Member Care using Video Chat.
High Yield Savings Rate
High Yield Savings Account
$10,000+
Additional Features
Withdrawing Funds:
Your first withdrawal or transfer per calendar quarter is free, each additional withdrawal or transfer during the same quarter will incur a $25 fee.4
Save with Security:
Citadel's High Yield Savings Account deposits are federally insured by NCUA up to $250,000 per member.
Best For...
Those looking for a savings account with higher returns
Those looking for more flexibility to access funds than certificates offer
Not sure which Savings account is right for you? Take our quick quiz to determine which option best fits your needs.
Start Quiz
Fees
$25
Withdrawal fee for each withdrawal or transfer (one free per calendar quarter)
$5
Monthly inactivity fee5
$33
Non-sufficient funds (NSF) fee
Security
Citadel is committed to helping you protect your hard-earned money.


All Citadel deposits are federally insured up to $250,000 per member by the National Credit Union Administration, an agency of the U.S. government.


Communicate with us securely through our Online Banking secure messaging system.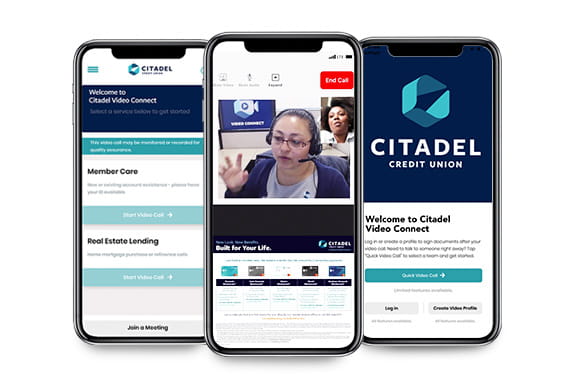 Chat Face-to-Face With Citadel Video Connect
Citadel's Video Specialists are just a few clicks away with Video Connect. Skip the trip to the branch office and video chat safely and securely from your preferred location. Learn More.
On your laptop, desktop, or mobile device, our Video Specialists can help you complete almost any banking-related task:
✔ Open a new account
✔ Add a product to a current account
✔ Apply for a loan
✔ Talk to a business banking expert

Find an ATM or Branch Near You
*High Yield Savings Disclosures
View *High Yield Savings Disclosures
Federally insured by NCUA.
1 The National Average is based on the APY of savings accounts with a minimum balance of at least $2,500 offered by active credit unions as reported by the NCUA from S&P Global Intelligence databases. National Average rate effective as of 12/30/2022.
2 Information accurate as of and is subject to change without notice. All rates expressed as Annual Percentage Yield (APY). Minimum balance to earn APY is $10,000. Fees may reduce earnings.
3 Minimum Balance Requirements: You must maintain a daily balance of at least $10,000.00 in Your Account each day to obtain the disclosed annual percentage yield. You will earn dividends for every day during the period that Your Account balance equals or exceeds the minimum daily balance requirements.
4 Transaction Limits: During any calendar month, you may not make more than six withdrawals from or transfers to another Credit Union Account of Yours or to a third party by means of a pre-authorized or automatic transfer or telephonic order or instruction, or by check, draft, debit card, if applicable, or similar order to a third party. One (1) free withdrawal or transfer per calendar quarter; $25 for each additional withdrawal or transfer during the same quarter.
5 Monthly Inactivity Fee: A $5.00 monthly inactivity fee will apply if there is no activity on any Citadel account for one year—this fee is waived if combined balance of all deposit accounts is $500 or more. Fee does not apply to primary account owners less than 13 years of age. Inactivity is defined as a 365-day period during which there were no customer-initiated transactions on any Citadel account.