Holiday Spending or Rainy Day Cash. It's Your Choice.
Holiday Club & Auxiliary Savings
Save money for holiday shopping or just a rainy day fund. Our Holiday Club Savings account puts your money aside and grows with no minimum balance. Each year, the money is automatically transferred into your Citadel Savings account.
Schedule an appointment to speak with a representative today!
The Smart Place to Save
AS HIGH AS
Holiday Club
No Minimum Required
AS HIGH AS
Auxiliary Savings
$5 - $2,499.99
AS HIGH AS
Auxiliary Savings
$2,500 - $24,999.99
AS HIGH AS
AUXILIARY SAVINGS
$25,000 - $74,999.99
AS HIGH AS
AUXILIARY SAVINGS
$75,000+
Not sure which Savings account is right for you? Take our quick quiz to determine which option best fits your needs.
Start Quiz
Fees
$2
Paper account statement fee (excludes ages under 21 and age 70 years of age and older)
$5
Monthly inactivity3 fee on Auxiliary Savings only
$33
Non-sufficient funds (NSF) fee
Security
Citadel is committed to helping you protect your hard-earned money.


All Citadel deposits are federally insured up to $250,000 per member by the National Credit Union Administration, an agency of the U.S. government.


Communicate with us securely through our Online Banking secure messaging system.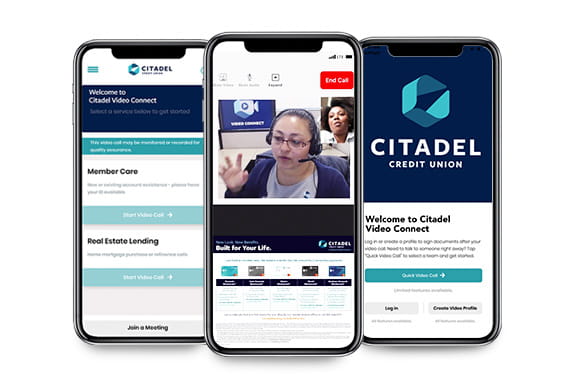 Chat Face-to-Face With Citadel Video Connect
Citadel's Video Specialists are just a few clicks away with Video Connect. Skip the trip to the branch office and video chat safely and securely from your preferred location. Learn More.
On your laptop, desktop, or mobile device, our Video Specialists can help you complete almost any banking-related task:
✔ Open a new account
✔ Add a product to a current account
✔ Apply for a loan
✔ Talk to a business banking expert

Find an ATM or Branch Near You
Federally insured by NCUA.
Information accurate as of and is subject to change without notice. All rates expressed as Annual Percentage Yield (APY). Fees may reduce earnings. Rates are variable and may change after account opening.
1 Minimum Balance: There is no minimum balance to earn APY on the Holiday Club account, but there is a minimum balance of $5 to earn APY on the Auxiliary Savings account.
2 Holiday Club Transaction Limitations: On October 1 of each year, the funds in Your Account will be transferred to Your Share Savings Account that You have with Us. Any other withdrawal of any of the funds in Your Account will cause Your Account to be subject to closure.
3 Monthly Inactivity Fee (Auxiliary Savings Only): A $5.00 monthly inactivity fee will apply if there is no activity on any Citadel account for one year—this fee is waived if combined balance of all deposit accounts is $500 or more. Fee does not apply to primary account owners less than 13 years of age. Inactivity is defined as a 365-day period during which there were no customer-initiated transactions on any Citadel account.
Auxiliary Savings Transaction Limitations: Maximum annual IRA contribution is $5,500 ($6,500 if 50+ years of age). Individual Retirement Accounts are subject to limitations and/or penalties imposed by the Internal Revenue Service. Please see Your IRA Agreement or Your tax advisor for additional information.