Thank you for financing your auto loan with Citadel Credit Union! We're excited to help get you on the road and pride ourselves on offering competitive auto loan rates for new and used vehicles. We know how important it is to be able to manage your loan quickly and easily, including viewing auto loan details and making payments. You can also find information about your Citadel Star Savings account and other Citadel resources.
Payment Options
Citadel offers multiple secure and convenient ways to make payments, either through your Citadel account or an account with another financial institution. Visit our Payments Page for full details on all payment options.
Online Loan Management
Citadel's Online & Mobile Banking is the easiest and most flexible way to manage your auto loan online. You can make payments, view loan history, due date, and payoff amount, and update your account information.
First Time Enrollees*
Set up access Online & Mobile banking using the six-digit account number found on your Billing Statement.
Once enrolled, you can schedule your loan payment from any financial institution or pay directly from your existing Citadel account.
Existing account holders:
Log into your Citadel account and select Loan Payment from the Payments main menu.
Recurring Payments can also be scheduled using the Transfer Funds option from the Transactions menu.
Adding and Transferring from an External Account:
Using Online & Mobile Banking, you can add your external accounts and schedule your payment to recur every month or as a one-time payment. You can instantly link your external account and start making payments immediately. Here are the steps to add your external account:
After logging in Select Accounts > Manage External Accounts.
You will have the option to link an external account via Instant Verification or with Micro Deposits if your financial institution is not listed.

Simply select the option you prefer and follow the prompts to link your account(s).

Once your external account setup is complete, you can schedule a one-time or recurring payments.
*IMPORTANT: Your six-digit account number is required to enroll in Online & Mobile Banking. You can find your account number on your Billing Statement. Please note: You will need the six numbers between the first four zeroes and the last four zeroes listed in the account number displayed on the billing statement. Example: 0000-111111-0000. See example below (click to enlarge).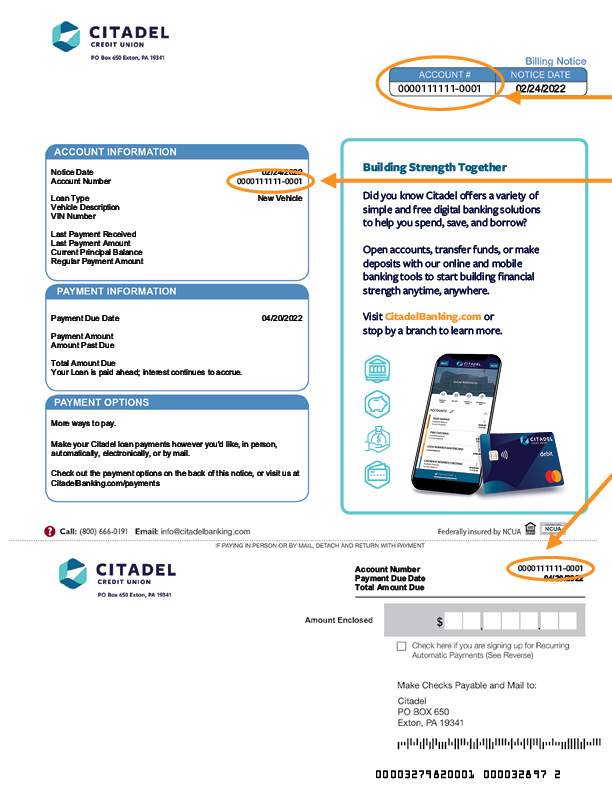 If you need immediate help, here are several ways to contact us.
Protect Your Auto Purchase with Citadel's GAP Coverage.
Learn More
Additional Tools & Resources
Updating your Auto Insurance & Collateral Protection Insurance (CPI)
Be sure to update your Auto Insurance carrier with Citadel Credit Union as the new lienholder for your vehicle. Then provide that proof of coverage to Citadel so we can add to your loan records. If a policy does not meet the minimum insurance requirements of an auto loan, Collateral Protection Insurance (CPI) could be added to your loan. The CPI premium charge is added to the loan principal, which increases the loan payments. If proper proof of insurance coverage has not been provided, Citadel will send you a notice regarding the addition of CPI to your loan at least 45 days before we charge you for coverage. It will include:
The date of the notice
You and your lender's respective names and mailing addresses
A request for insurance information for your vehicle
A thorough description of why your previous coverage was inadequate, as well as information about your CPI plan.
In most cases, you'll need to provide proof of other insurance coverage. If you already have sufficient coverage and the issue was due to a lack of documentation, you can typically send proof of your insurance coverage to Citadel and the problem will be resolved.
Skip-A-Payment Program
For those times in life when you need a little extra cash, skipping a loan payment might be a good solution. With Citadel's Skip-a-Pay, for a $35 fee you can skip your upcoming auto loan payment. It's easy to skip payments yourself through Online Banking or the Citadel Mobile App. Find out if you have an eligible loan today, here's how:
Log in to Online or Mobile Banking
Select "Skip-a-Pay" from the main menu, or select "More" from the mobile menu.
Accept the terms and conditions, then select the loan you would like to skip and which account to pay from. That's it!
The Credit Union Difference
At Citadel Credit Union, we don't have stockholders—we have members. Since credit unions are non-profit and operated to promote the well-being of their members, the money the credit union makes is returned to members in the form of reduced fees, higher savings rates, and lower loan rates.
By financing your auto loan with Citadel, you are now a member of the credit union, giving you automatic access to even more great products and services. Citadel not only provides great auto loan rates and low fees, but offers personalized service as well. Our experienced customer support team can assist you with calculating auto loan payments, reviewing your loan details and more.
Your Automatic $5 Savings Share
Every credit union member is required to have a savings share, an account that represents your "Share" in the credit union and makes you a part owner of Citadel. When you opened your auto loan, we gave you a complimentary $5.00 savings share so you can enjoy all the benefits of membership. You can continue to use this share, but there is no requirement to take any action. If you have any additional questions about this, please contact us.
Why Our Members Matter
Learn more about how a credit union is different from a traditional bank, why our members truly matter, and how they receive the best pricing and service in the area.
We're Much More than Auto Loans
At Citadel, we offer much more than competitive auto loan rates. There are plenty of additional ways Citadel can help you save money and enjoy more financial freedom in your life.
We offer a full suite of personal banking products, including:
More Information
✔ 24 Branch Locations - We have several branch locations so banking with us is always convenient.
✔ Citadel Express Banking - It's like an ATM, only better. With 24/7 access to all of your Citadel accounts, you can make a deposit, get cash, make a loan payment, and more.
✔ Contactless Payments - Experience a faster and more secure way to pay with your contactless Citadel Mastercard.
✔ More than 30,000 Surcharge-Free ATMs - Find an ATM near you quickly, easily, and surcharge-free with our locator tool.
Learn more about Citadel's auto loan rates today!
Get Started
Frequently Asked Questions