Building Strength in Education
Citadel Heart of Learning Award
At Citadel Credit Union, we're committed to serve those who work every day to build a better future for us all. That's why every year, we honor teachers across the Greater Philadelphia area in Bucks, Chester, Delaware, Montgomery, Lancaster and Philadelphia counties with the Citadel Heart of Learning Award.
The Citadel Heart of Learning Award is one of our longest standing initiatives. We started the program 20 years ago in partnership with the Chester County Intermediate Unit (CCIU), to recognize local teachers who show dedication in and outside of the classroom.

Celebrating Teachers Everywhere
All too often, teachers are unsung heroes. If you know a teacher who goes above and beyond the call of duty, share their story and how they've impacted your life or a student's life. You can submit a written nomination, or email us a video nomination. Each winner receives $500 and a glass heart award, and three lucky Grand Prize Winners receive an additional $1,500.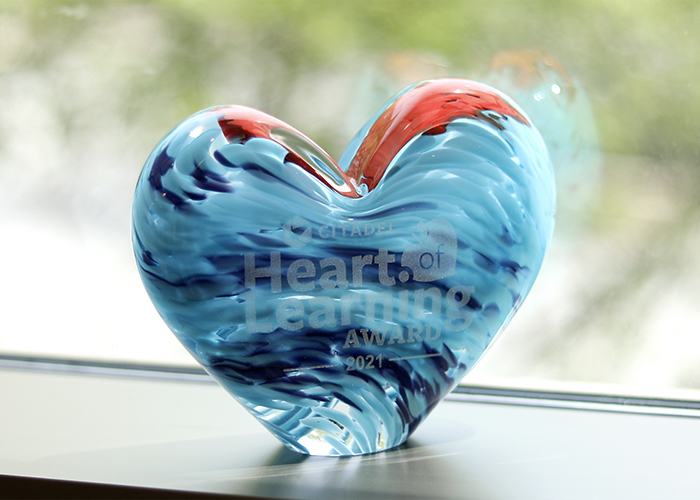 Learn more about our commitment to the community.
Explore Now
2021 Virtual Awards Ceremony
On May 20, we livestreamed the 20th Citadel Heart of Learning Awards ceremony on Facebook. The Facebook Live event was held to honor the 2020-21 Citadel Heart of Learning Award winners. Watch to find out who this year's Grand Winners are. Plus hear from the teachers, parents, and students who nominated this year's District and County Winners.
Meet Last Year's Winners
We are proud to announce the 2020-21 District and County Winners! All 21 teachers receive a glass heart award, $500 to spend in their classrooms, and will be honored at our live Facebook ceremony on May 20.
2021 Chester County District Winners
Avon Grove: Stephanie Shrake, Avon Grove High School
Coatesville: Breanna Kriston, East Fallowfield Elementary School
Downingtown: Kathleen Cool, Uwchlan Hills Elementary School
Fugett Middle School: Frank Nefos of West Chester
Great Valley: Amy Hober, K.D. Markley Elementary School
Kennett Consolidated: Dian McKinney, Kennett Middle School
Octorara: Robin Lewis, Octorara Intermediate School
Owen J. Roberts: Lisa Cunningham, East Vincent Elementary School
Oxford: Nicole Wiltrout, Oxford Area High School
Phoenixville: Michelle Sinnamon, Manavon Elementary School
Tredyffrin-Easttown: Allegra Dotson, New Eagle Elementary School
Twin Valley: Elizabeth Techman, Twin Valley Elementary School
Unionville: Lauren Owsley, Charles F. Patton Middle School
West Chester: Frank Nefos, Fuggett Middle School
Non-Public School: Jane Brennan, St. Joseph Elementary
CCIU: Jessica Jakatt, Chester County Learning Center
20121 County Winners:
Montgomery County: William Norman, Norristown Area High School
Delaware County: Andrea Brown, Ridley High School
Lancaster County: Jerry Guttman, Manheim Township High School
Philadelphia County: Jamie Johnson, Children's Hospital of Philadelphia School Program
Bucks County: Elizabeth Baker, Maple Point Middle School
Traci Watson Heart Award Winner:
Eli Andrus, Beaver Creek Elementary School
View the list of Citadel Heart of Learning Award nominees for each district below.
Expanding the Program
Each year, we receive thousands of nominations for deserving teachers throughout Chester County and beyond. As we've all faced challenges over the past year, we felt that is was more important than ever to recognize teachers throughout the Greater Philadelphia area who have gone above and beyond during these difficult times.
Avon Grove School District
Chester County Intermediate Unit
Coatesville Area School District
Downingtown Area School District
Great Valley School District
Kennett Consolidated School District
Non-Public/Charter
Octorara Area School District
Owen J. Roberts School District
Oxford Area School District
Phoenixville Area School District
Tredyffrin-Easttown School District
Twin Valley School District
Unionville/Chadds Ford School District
West Chester School District
Bucks County
Delaware County
Lancaster County
Montgomery County
Philadelphia County
Citadel Heart of Learning Award Winners
Follow @CitadelBanking on Facebook, Instagram, and Twitter for the latest District and County Winner announcements. We will announce this year's Grand Prize Winners in a live, virtual event on Facebook in May 2021.
For more information, contact us at CitadelHeartofLearning@CitadelBanking.com.
Citadel Heart of Learning Award Eligibility
View Citadel Heart of Learning Award Eligibility
Citadel Heart of Learning Award $100 Amazon Sweepstakes
NO PURCHASE OR DONATION IS NECESSARY TO ENTER OR WIN. A PURCHASE DOES NOT INCREASE THE CHANCES OF WINNING.
Eligibility: This Sweepstakes is open to anyone who nominates a teacher for the Citadel Heart of Learning Award (www.citadelheartoflearning.com) on or before January 15, 2021. The Sweepstakes is only open to legal residents of the United States who are 18 years old as of the date of entry, and is void where prohibited by law. Employees of Citadel Federal Credit Union ("Citadel"), its affiliates, board members, subsidiaries, advertising and promotion agencies, and suppliers, (collectively the "Employees"), and immediate family members and/or those living in the same household of Employees are not eligible to participate in the Sweepstakes. The Sweepstakes is subject to all applicable federal, state, and local laws and regulations.
Agreement to Rules: By participating, the Entrant ("You") agree to be fully unconditionally bound by these Rules, and You represent and warrant that You meet the eligibility requirements. In addition, You agree to accept the decisions of Citadel Federal Credit Union as final and binding as it relates to the content of this Sweepstakes.
Entry Period: Entries will be accepted online starting at 12:00 a.m. Eastern Time ("ET") on Friday December 17, 2021. The entry period will end at 11:59 PM ET on Wednesday, August 15, 2021. Entries received after 11:59 PM EST will not qualify for entry.
How to Enter: Entrants may enter the Sweepstakes during the Entry Period by nominating a teacher at www.citadelheartoflearning.com ("the site") There are two (2) ways to access the Site to enter:

(i) ONLINE: Entrants can access the Site by visiting www.citadelheartoflearning.com and clicking the "NOMINATE" button and filling out the form
(ii) MAILING A NOMINATION: Entrants can mail nominations to 520 Eagleview Blvd., Exton, PA 19341 with the attention Citadel Heart of Learning Award, Citadel Marketing Team.




You must provide all required information requested on nomination form as indicated by asterisk (*) symbols. All Entries must fulfill all Sweepstakes requirements, as specified, to be eligible to be entered for a chance to win a prize. Entries that are incomplete or do not adhere to the rules or specifications may be disqualified at the sole discretion of Citadel Federal Credit Union. You may submit multiple Entries during the Entry Period; however You will only be counted as entering once. You may not enter more times than indicated by using multiple email addresses, identities, or devices in an attempt to circumvent the rules. If You use fraudulent methods or otherwise attempt to circumvent the rules, your Entry may be removed from eligibility at the sole discretion of Citadel Federal Credit Union.




All Entries must be completed and submitted by 11:59 PM ET on Wednesday, January 15, 2021 to be eligible to be entered for a chance to win. Normal Internet access, usage charges, wireless charges, text message or data charges imposed by Entrants' online or wireless service providers may apply. Citadel Federal Credit Union will not be responsible for any charges incurred by the Entrant by entering the Sweepstakes.




By entering, You agree that if selected as the Winner of the Sweepstakes, You consent to being contacted by email, to the email address provided on the Entry Form You submitted as part of Your Entry, in order to complete confirmation and delivery of prize.



Prizes: The winner of the Sweepstakes (the "Winner") will receive one (1) $100 Amazon Gift Card (the "Prize").
Odds: The odds of winning depend on the number of eligible entries received.
Winner Selection and Notification: One (1) Winner will be selected randomly from all Sweepstakes Entries received, under the supervision of Citadel Federal Credit Union. The Winners will be selected within fourteen (14) days of the Sweepstakes deadline. The Winners will be notified by email, based on information provided on the online Entry Form upon submission within seven (7) days following selection of each Winner. Citadel may ask for the Winner to provide his/her name, phone number, email address, date of birth and/or zip code. Upon receiving the Winner's response, Citadel will contact the winner to finalize the delivery of the Prize. Citadel Federal Credit Union shall have no liability for Winner's failure to receive notices due to spam, junk e-mail or other security settings or for Winner's provision of incorrect or otherwise non-functioning contact information. If Winner cannot be contacted, is ineligible, fails to claim the prize within three (3) days from the time prize notification was sent, or fails to timely return a completed and executed declaration and release as required, the prize may be forfeited and an alternate Winner selected by the Sweepstakes Administrator. Receipt by Winner of the prize offered in this Sweepstakes is conditioned upon compliance with any and all federal, state, and local laws and regulations. ANY VIOLATION OF THESE OFFICIAL RULES BY WINNER (AT CITADEL FEDERAL CREDIT UNION'S SOLE DISCRETION) WILL RESULT IN WINNER'S DISQUALIFICATION AS WINNER OF THE SWEEPSTAKES, AND ALL PRIVILEGES AS WINNER WILL BE IMMEDIATELY TERMINATED.



Winners List: To obtain a full list of Winners, please email socialmedia@citadelbanking.com



Rights Granted by You: By entering this sweepstakes, You understand and agree that Citadel Federal Credit Union, anyone acting on behalf of Citadel Federal Credit Union, and Citadel Federal Credit Union's licensees, successors, and assigns, shall have the right, where permitted by law, to print, publish, broadcast, distribute, and use in any media now known or hereafter developed, in perpetuity and throughout the World, without limitation, your entry, name, likeness, statements about the Sweepstakes, and biographical information for news, publicity, information, trade, advertising, public relations, and promotional purposes without any further compensation, notice, review, or consent.
Terms & Conditions: Citadel Federal Credit Union reserves the right, in its sole discretion, to cancel, terminate, modify or suspend the Sweepstakes should virus, bug, non-authorized human intervention, fraud, or other cause beyond Citadel Federal Credit Union's control corrupt or affect the administration, security, fairness, or proper conduct of the Sweepstakes. In such case, Citadel Federal Credit Union may select the Winner from all eligible entries received prior to and/or after (if appropriate) the action taken by Citadel Federal Credit Union. Citadel Federal Credit Union reserves the right, in its sole discretion, to disqualify any individual who tampers or attempts to tamper with the entry process or the operation of the Sweepstakes or website or violates these Terms & Conditions. Citadel Federal Credit Union has the right, in its sole discretion, to maintain the integrity of the Sweepstakes, to void entries for any reason, including, but not limited to: multiple entries from the same user from different IP addresses; multiple entries from the same computer in excess of that allowed by Sweepstakes rules; or the use of bots, macros, scripts, or other technical means for entering. Any attempt by an entrant to deliberately damage any website or undermine the legitimate operation of the Sweepstakes may be a violation of criminal and civil laws. Should such attempt be made, Citadel Federal Credit Union reserves the right to seek damages to the fullest extent permitted by law.
Limitation of Liability: By entering, You agree to release and hold harmless Citadel Federal Credit Union and its subsidiaries, affiliates, advertising and promotion agencies, partners, representatives, agents, successors, assigns, employees, officers, and directors from any liability, illness, injury, death, loss, litigation, claim, or damage that may occur, directly or indirectly, whether caused by negligence or not, from: (i) such entrant's participation in the Sweepstakes and/or his/her acceptance, possession, use, or misuse of any prize or any portion thereof; (ii) technical failures of any kind, including but not limited to the malfunction of any computer, cable, network, hardware, or software, or other mechanical equipment; (iii) the unavailability or inaccessibility of any transmissions, telephone, or Internet service; (iv) unauthorized human intervention in any part of the entry process or the Promotion; (v) electronic or human error in the administration of the Promotion or the processing of entries.
Disputes: THIS SWEEPSTAKES IS GOVERNED BY THE LAWS OF THE UNITED STATES OF AMERICA AND PENNSYLVANIA, WITHOUT RESPECT TO CONFLICT OF LAW DOCTRINES. As a condition of participating in this Sweepstakes, participant agrees that any and all disputes that cannot be resolved between the parties, and causes of action arising out of or connected with this Sweepstakes, shall be resolved individually, without resort to any form of class action, exclusively before a court located in Pennsylvania having jurisdiction. Further, in any such dispute, under no circumstances shall participant be permitted to obtain awards for, and hereby waives all rights to, punitive, incidental, or consequential damages, including reasonable attorney's fees, other than participant's actual out-of-pocket expenses (i.e. costs associated with entering this Sweepstakes). Participant further waives all rights to have damages multiplied or increased.
Sponsor: The Sponsor of the Sweepstakes is Citadel Federal Credit Union 520 Eagleview Blvd, Exton, PA 19341.
By submitting an Entry, You, agree that you have affirmatively reviewed, accepted, and agreed to all of the Official Rules.
• All nominees must be Pennsylvania-certified active teachers in a Bucks, Chester, Delaware, Montgomery, Lancaster, or Philadelphia county public school or non-public school. Exceptions may include teachers in non-public schools who are not required to be certified, home school teachers, tutors, etc. Retired teachers are eligible as long as retirement date was at max, one year prior to award year.
• For the purpose of the Citadel Heart of Learning Award, a public school shall be defined as a school under the jurisdiction of one of the public school districts listed above and which is publicly funded; employs staff that are required to be certified by the Pennsylvania Department of Education; and meet the policies, rules, and regulations of the Pennsylvania School Code.
• For the purpose of the Citadel Heart of Learning Award, Charter schools and home schools are categorized as non-public schools.
• For the purpose of the Citadel Heart of Learning Award, cyber school teachers will be eligible for nomination if the student or parent submitting the nomination resides in one of the aforementioned counties.
• All nominees must provide direct instruction to students in a classroom setting. This includes classroom teachers, subject teachers, certified teaching professionals who provide direct instruction to students, k-12, in a classroom setting, such as a reading specialist, speech therapist, learning support teacher, librarian, etc.