Building Strength in Education
Citadel Heart of Learning Award
At Citadel Credit Union, we're committed to serve those who work every day to build a better future for us all. The Citadel Heart of Learning Award is one of our longest standing initiatives. We started the program 20 years ago in partnership with the Chester County Intermediate Unit (CCIU), to recognize local teachers who show dedication in and outside of the classroom.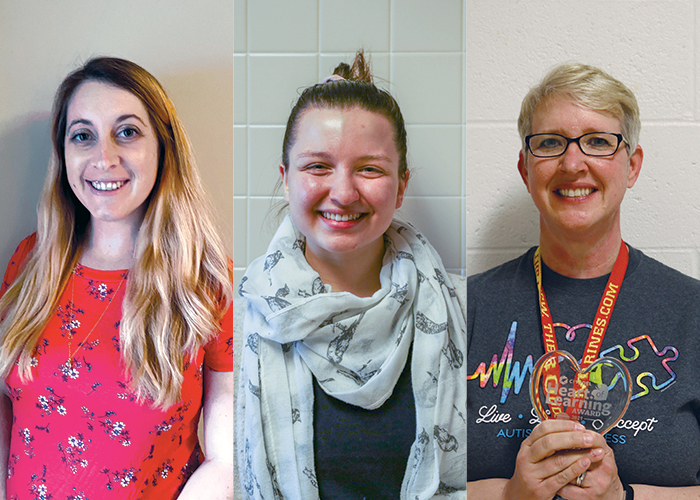 Congratulations to our Grand Prize Winners!
Elementary School Winner: Michelle Sinnamon of Manavon Elementary School.
Middle School Winner: Dian McKinney of Kennett Middle School.
High School Winner: Stephanie Shrake of Avon Grove High School.
Join us in giving all of this year's winners a round of applause!
Learn more about our commitment to the community.
Explore Now
Virtual Awards Ceremony
On May 20, we livestreamed the 20th Citadel Heart of Learning Awards ceremony on Facebook. The Facebook Live event was held to honor the 2020-21 Citadel Heart of Learning Award winners. Watch to find out who this year's Grand Winners are. Plus hear from the teachers, parents, and students who nominated this year's District and County Winners.
Meet This Year's Winners
We are proud to announce the 2020-21 District and County Winners! All 21 teachers receive a glass heart award, $500 to spend in their classrooms, and will be honored at our live Facebook ceremony on May 20.
Chester County District Winners
Avon Grove: Stephanie Shrake, Avon Grove High School
Coatesville: Breanna Kriston, East Fallowfield Elementary School
Downingtown: Kathleen Cool, Uwchlan Hills Elementary School
Fugett Middle School: Frank Nefos of West Chester
Great Valley: Amy Hober, K.D. Markley Elementary School
Kennett Consolidated: Dian McKinney, Kennett Middle School
Octorara: Robin Lewis, Octorara Intermediate School
Owen J. Roberts: Lisa Cunningham, East Vincent Elementary School
Oxford: Nicole Wiltrout, Oxford Area High School
Phoenixville: Michelle Sinnamon, Manavon Elementary School
Tredyffrin-Easttown: Allegra Dotson, New Eagle Elementary School
Twin Valley: Elizabeth Techman, Twin Valley Elementary School
Unionville: Lauren Owsley, Charles F. Patton Middle School
West Chester: Frank Nefos, Fuggett Middle School
Non-Public School: Jane Brennan, St. Joseph Elementary
CCIU: Jessica Jakatt, Chester County Learning Center
County Winners:
Montgomery County: William Norman, Norristown Area High School
Delaware County: Andrea Brown, Ridley High School
Lancaster County: Jerry Guttman, Manheim Township High School
Philadelphia County: Jamie Johnson, Children's Hospital of Philadelphia School Program
Bucks County: Elizabeth Baker, Maple Point Middle School
Traci Watson Heart Award Winner:
Eli Andrus, Beaver Creek Elementary School
View the list of Citadel Heart of Learning Award nominees for each district below.
Expanding the Program
Each year, we receive thousands of nominations for deserving teachers throughout Chester County and beyond. As we've all faced challenges over the past year, we felt that is was more important than ever to recognize teachers throughout the Greater Philadelphia area who have gone above and beyond during these difficult times.
Avon Grove School District
Chester County Intermediate Unit
Coatesville Area School District
Downingtown Area School District
Great Valley School District
Kennett Consolidated School District
Non-Public/Charter
Octorara Area School District
Owen J. Roberts School District
Oxford Area School District
Phoenixville Area School District
Tredyffrin-Easttown School District
Twin Valley School District
Unionville/Chadds Ford School District
West Chester School District
Bucks County
Delaware County
Lancaster County
Montgomery County
Philadelphia County
Citadel Heart of Learning Award Winners
Follow @CitadelBanking on Facebook, Instagram, and Twitter for the latest District and County Winner announcements. We will announce this year's Grand Prize Winners in a live, virtual event on Facebook in May 2021.
For more information, contact us at CitadelHeartofLearning@CitadelBanking.com.
Citadel Heart of Learning Award Eligibility
View Citadel Heart of Learning Award Eligibility
All nominees must be PA certified active teachers in a Chester County public school or a Chester County non-public school. Exceptions may include teachers in non-public schools who are not required to be certified, home school teachers, tutors, etc. Retired teachers are eligible as long as retirement date was at max, one year prior to award year.
School districts located within Chester County that are included in the Citadel Heart of Learning Award are as follows: Avon, Grove, Coatesville Area, Downingtown Area, Great Valley, Kennett Consolidated, Octorara Area, Owen J. Roberts, Oxford Area, Phoenixville Area, Tredyffrin/Easttown, Twin Valley, Unionville-Chadds Ford and West Chester Area.
For the purpose of the Citadel Heart of Learning Award, a public school shall be defined as a school under the jurisdiction of one of the public school districts listed above and which is publicly funded; employs staff that are required to be certified by the Pennsylvania Department of Education; and meet the policies, rules, and regulations of the Pennsylvania School Code.
For the purpose of the Citadel Heart of Learning Award, Charter schools and home schools are categorized as Chester County non-public schools.
For the purpose of the Citadel Heart of Learning Award, cyber school teachers will be eligible for nomination if the student or parent submitting the nomination resides in Chester County.
All nominees must provide direct instruction to students in a classroom setting. This includes classroom teachers, subject teachers, certified teaching professionals who provide direct instruction to students, k-12, in a classroom setting, such as a reading specialist, speech therapist, learning support teacher, librarian, etc.