A Disciplined and Strategic Partner for Your Business
Karen Rhodes, Senior Relationship Manager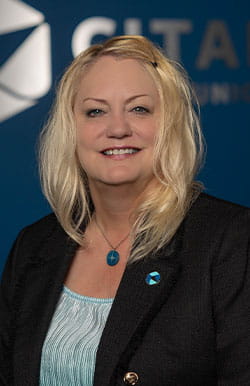 "As an experienced business advisor and relationship manager, I have helped businesses with excellent customer service, cash flow, and access to capital via a wide variety of banking products and expertise. I take pride in understanding your Business Banking needs to help encourage growth."
Karen is a trusted expert with more than 20 years of experience working with local businesses. With a focus on supporting and serving each of her clients, she's consistently active within the community, branches, partners, and centers of influence to develop new relationships and resources. Her expertise has allowed clients to trust her as a long-standing advisor to their business and champion of growth.
About Karen
Karen has lived in Delaware County for over 30 years. She's an active community volunteer, partnering with the business associations in Delaware, Bucks, and Chester counties. She enjoys regularly attending networking and Chamber events to meet and interact with new businesses.
In her free time, Karen loves to travel with her daughter and pursue her personal passion for the arts. In particular, she loves woodworking and slinging paint, and she served on the Board of Directors for Wallingford's Community Arts Center for four terms. She has also served as the coordinator of their Fine Arts and Crafts Festival.
Regional Coverage
Karen serves business clients throughout the Greater Philadelphia area, including Bucks, Chester, Delaware, Lancaster, Montgomery, Berks, and Philadelphia counties.
Find an ATM or Branch Near You