Need a Bigger, Better Checking Account? Meet Elite.
Elite Business Checking Account
With up to 500 free transactions per month1 and unlimited access to Citadel's Business Tools and Relationship Managers, our Elite Business Checking account can do more to help your business thrive.
This account earns dividends and also includes optional savings sweeps when you connect your Business High Yield Savings or Business Money Market account2—so you can make smart money moves and get back to work.
Switch to Citadel
We make it easy to upgrade your current account to Citadel's Elite Business Checking account. Choose to connect with one of our experienced Relationship Managers to discuss all the banking products and services that can take your company to the next level, or open an account online.
Additional Features
As part of Citadel's relationship-based approach, we're thrilled to offer Elite Banking, an elevated program for business members looking to do more. Learn more
Free Contactless Debit Card - simply Tap & Go™ wherever you see the contactless symbol at checkout
50% discount on first order of checks
No Citadel fees on ATMs3
Manage your cards and turn them on/off as needed with Card Control
See which card is connected to your account in the card services tab in your checking or credit card account record in Online & Mobile Banking
No monthly fees when you meet one of the account requirements4
Account Alerts for fraud, spending limits, and more
Online Banking with desktop Remote Deposit Capture available5
Free Citadel Mobile App with Mobile Deposit
Same day issuing of debit and credit cards at most Citadel branch locations
Elite Business Checking Rates
AS HIGH AS
Elite Business Checking
$5,000-$9,999.99
AS HIGH AS
Elite Business Checking
$10,000+
Talk to a Relationship Manager to determine which accounts and services are right for your business.
Meet Our Team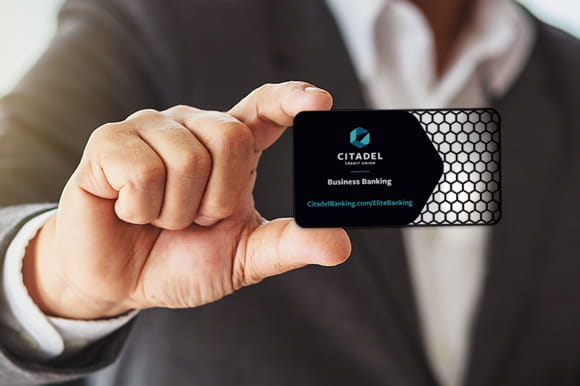 Elite Banking
As part of Citadel's relationship-based approach, we're thrilled to offer Elite Banking, an elevated program for business members looking to do more. With exclusive benefits and perks for you and your team, Elite Banking can take your experience to the next level. To learn more, get in touch with your Relationship Manager, or if you're not a member yet, contact us to get started. *See below for qualifications.
*To qualify for Elite Banking, business members must maintain the following Citadel accounts and services: 1) an Elite Business Checking Account; AND 2) a Business High Yield Savings Account OR Business Money Market Account; AND 3) Elite Business Online Banking with ACH Origination OR a commercial loan. If any of these accounts or services are removed or closed at any time, the Elite Banking Membership benefits may no longer apply.
Security
Citadel is committed to helping you protect your hard-earned money. All deposits are federally insured up to $250,000 or more per customer.
Get Started with Business Banking Today!
Find an ATM or Branch Near You
Agreements and Disclosures
View Agreements and Disclosures
All standard account requirements apply. Information accurate as of and subject to change without notice. All rates expressed as Annual Percentage Yield (APY). Fees may reduce earnings.
1 Transactions are defined as any checks paid, withdrawals, deposits, debit card transactions, and ACH debits and credits. First 500 transactions each statement cycle are free. Any transaction thereafter incurs a $0.25 fee per transaction.
2 Must be connected to a Business High Yield Savings account or a Business Money Market account and maintain a minimum balance of $10,000 in the Elite Business Checking account.
3 ATM transactions at non-Citadel ATMs may be subject to a surcharge from the ATM owner. For a list of ATMs with no surcharge, visit Citadelbanking.com/atm.
4 The monthly service fee is $15 per month. Fee is waived for 90 days from the account open date. Avoid the $15 monthly service fee by meeting one of the following requirements each statement cycle: Average daily checking balance is $5,000 or more; $25,000 combined average daily balance in deposits and month end investment balances; and/or Merchant Services Enrollment with at least one merchant services deposit per month.
5 Enrollment requires a separate purchase of a scanner - see Business Banking representative for details.