A Disciplined and Strategic Partner for Your Business
Andre Jones, Senior Relationship Manager - Healthcare Banking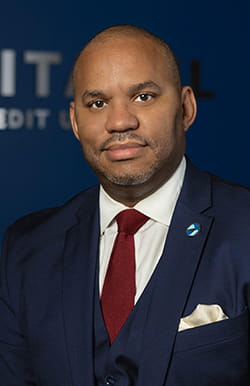 "Choosing the right partner for your healthcare banking isn't just a decision – it's a strategic investment into your practice. By working with me at Citadel, you harness the power of tailored financial solutions designed to fuel growth, enhance patient care, and amplify your impact in the ever-evolving healthcare landscape."
Andre has been in the banking and financial services industry for over a decade. Before joining the Citadel family, he worked with several commercial banks in New York and Pennsylvania. At his previous position with Wells Fargo, he was part of the Practice Finance team. There he covered a footprint of 40 branches over three states, coaching teams and helping healthcare professionals start and grow their practices. He is passionate about helping business owners realize their dreams and maximize their resources, positioning them to better serve their customers and community.
About Andre
Andre currently sits on several non-profit boards that serve underrepresented communities and promote youth mentorship. Andre has also been a part of several economic development councils that focused on creating jobs that lead to an increased standard of living for communities and improved infrastructure. When he's not helping small businesses, he enjoys reading, golfing, and spending time with his wife and three sons. He's Lean Six Sigma certified, holds a BA in Business, and an MBA from Eastern University.
Regional Coverage
Andre serves businesses in the healthcare industry throughout the Greater Philadelphia area, including Bucks, Chester, Delaware, Lancaster, Montgomery, Berks, and Philadelphia counties.
Find an ATM or Branch Near You