Get a $3001 Free Checking Account Bonus
A Free Checking Account and $300 Bonus
Citadel offers a Free Checking Account with benefits and features that make banking easier, safer, and more rewarding. You will enjoy built-in conveniences and flexibility such as Mobile Deposit, Card Control, no minimum balances and more! Open Now with promo code SEPT2230013.
It's easy to get your $300! Here's how:
Qualifying direct deposit(s) totaling $500 or more to your new checking account within 60 days of account opening2
Account must be open for 60 days before your checking bonus will be deposited
Offer limited to new checking customers only
Please note: If you have opened your account as part of a promotion, you can check the status and progress of any current or past promotional programs in Online and Mobile Banking. Simply choose 'Checking Rewards' from the Accounts menu, then select the 'Promotions' tab to review.
Don't miss out! This offer expires on November 8, 2022.
Additional Features
Available for teenagers starting at age 13 to begin developing smart spending skills
Contactless Debit Card - simply Tap & Go™ wherever you see the contactless symbol at checkout
Enjoy all of the great Mastercard benefits. Use it at ATMs and everywhere Mastercard is accepted
Control your cards with Card Control
See which accounts are connected to your card by selecting "Debit/Credit Card Details" under "Manage Cards" in Online and Mobile Banking
ATM Access – Enjoy no fees or surcharges at branches and with 38 Citadel-branded ATMs in select retail locations. In addition, enjoy access to surcharge-free networks across the country. Find a branch or ATM
Online and Mobile Banking with Mobile Deposit – Manage your accounts, set alerts, transfer money, pay bills, and more
eStatements – Save money by choosing secure electronic delivery. View statements any time, from any device
Direct Deposit – Get your funds quickly with automatic deposit into your account
Overdraft Protection – Enjoy overdraft protection from a Citadel savings or loan account2
To review all of the product features, check out our Product Guide
Best For...
Hassle free banking with minimal fees
24/7 access with Online and Mobile Banking
Enjoy on-the-go banking with mobile deposit
Fees
$1
Each balance inquiry at non-Citadel ATMs
$3
Each ATM withdrawal at non-Citadel ATMs3
$2
Paper account statement fee (excludes ages under 21 and age 70 years of age and older)
$5
Each overdraft transfer from your savings or loan account2
$5
Monthly inactivity fee1
$33
Courtesy Pay overdraft protection fee2
$33
Non-sufficient funds (NSF) fee
Security
Citadel is committed to helping you protect your hard-earned money.


All Citadel deposits are federally insured up to $250,000 per member by the National Credit Union Administration, an agency of the United States government.


Communicate with us securely through our Online Banking secure messaging system.


Your Citadel Debit Mastercard carries EMV chip technology for greater protection against unauthorized use.


Automated fraud alerts can notify you about possible fraudulent activity on your account.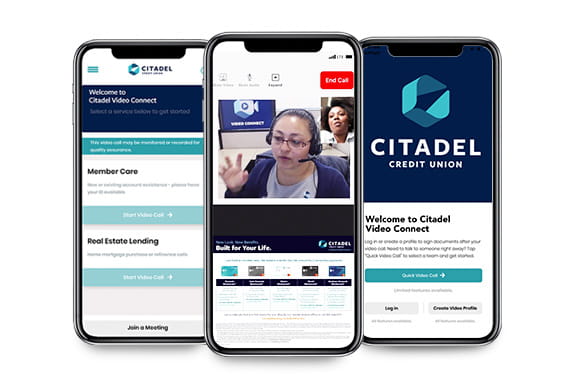 Chat Face-to-Face With Citadel Video Connect
Citadel's Video Specialists are just a few clicks away with Video Connect. Skip the trip to the branch office and video chat safely and securely from your preferred location. Learn More.
On your laptop, desktop, or mobile device, our Video Specialists can help you complete almost any banking-related task:
✔ Open a new account
✔ Add a product to a current account
✔ Apply for a loan
✔ Talk to a business banking expert

Find an ATM or Branch Near You
*Free Checking Account Disclosures
View *Free Checking Account Disclosures
Federally insured by NCUA.
All standard account requirements apply. Information accurate as of and subject to change without notice. Offers may be modified or withdrawn at any time. Fees may reduce earnings.
1 $300 New Account Cash Bonus:
Open a new checking account and earn a $300 cash bonus deposit for qualifying direct deposit(s) totaling $500 or more posting to the new checking account within 60 days of account opening. A qualifying direct deposit is defined as a recurring electronic deposit into checking account of payroll, pension, Social Security, government benefits, or other eligible regular monthly income.
Promotional code must be applied at the time of account opening to receive the incentive offer(s), given all requirements above are met. Checking account must be open for 60 days before checking bonus will be awarded. Bonus deposit(s) will be automatically deposited into your Citadel Checking Account if the account is in good standing at time of incentive processing. The value of this bonus will be reported to the IRS and the recipient is responsible for any federal, state or local taxes on this offer.
New Account Cash Bonus offer available to qualified new checking customers only. Customer must not have closed a Citadel Checking Account within the last 12 months and/or previously received a checking new account bonus. Limit one offer per household per lifetime. Offer may not be combined with any other new account offer. New Account Cash Bonus offer expires November 8, 2022 and may be modified or withdrawn at any time.
2 A qualifying direct deposit is defined as a recurring electronic deposit into Checking account of payroll, pension, Social Security, Government benefits, or other eligible regular monthly income.
3 A $5 monthly inactivity fee will apply if there is no activity on any Citadel account for one year – this fee is waived if combined balance of all deposit accounts is $500 or more. Fee does not apply to primary account holders less than 13 years of age. Inactivity is defined as a 365-day period during which there were no customer-initiated transactions on any Citadel account.
4 Citadel offers several overdraft protection options including Courtesy Pay and automatic transfers from a Citadel savings or loan account. An overdraft occurs when the available balance in your account is not sufficient to cover a transaction. Citadel offers several options for you to avoid the extra expenses caused by a bounced check or insufficient funds. These include: transferring funds from a Citadel Savings and/or Money Market Account; advancing funds from a Citadel Personal Line of Credit; and Courtesy Pay. Citadel offers Courtesy Pay for its members and may pay overdrafts for the following types of transactions: checks, ACH withdrawals, Bill Payer payments, and/or recurring debit card transactions (e.g., monthly payments debited from your account). As a Citadel member, if you have a checking account and qualify, you will automatically be enrolled in Courtesy Pay when you open your account. If you wish to use one of the other options, which may be free or less expensive than Courtesy Pay, you can sign up at any time. We pay overdrafts at our discretion, which means we do not guarantee that we will always authorize and pay any type of transaction. If we do not pay an overdraft, your transaction will be declined and not paid. If you want to use Courtesy Pay to pay overdrafts for one time, everyday debit card transactions (e.g. Starbucks®, Home Depot®, grocery stores, gas stations, etc.), you must opt in and give us your permission. You can opt in by: completing the opt-in form in Online and Mobile Banking by selecting 'Courtesy Pay' under 'Accounts' in the main menu; visiting any Citadel Branch; calling Citadel toll free at (800)-666-0191; or you cannot use Courtesy Pay to pay for overdrafts on ATM withdrawals. For a complete list of fees associated with overdrafts, please refer to Citadel's fee schedule.
When you use Courtesy Pay, we will charge you a fee of $33 each time we pay an overdraft. There is no limit on the amount of total fees we can charge you for over drafting your account. Any fees charged will count against your Courtesy Pay limit. For information on Citadel's check clearing policies, please contact us at (800) 666-0191. You can opt out of Courtesy Pay at any time. Please visit any branch, or contact us at the toll free number above.
5ATM transactions at non-Citadel ATMs may be subject to a surcharge from the ATM owner. For a list of ATMs with no surcharge, visit Citadelbanking.com/atm.