How do I make loan payments using Citadel's Online and Mobile Banking?

Frequently Asked Question
Citadel's Online & Mobile Banking is the easiest and most flexible way to pay your auto loan online. Once enrolled, you can schedule your loan payment from any financial institution or pay directly from your existing Citadel account.
Existing account holders:
As an existing Citadel account holder, making your loan payment is simple and easy! Just select the loan you would like to pay and click 'make a payment'
Choose your 'From' account in the drop down menu
Then select your loan account in the 'To' field. Use the drop down to choose the payment type you would like to make. Available Payment Types vary by loan. You may edit the payment amount, however, the amount may not be less than the minimum payment due
Click or tap 'Submit'
You will receive a confirmation screen once the payment has been submitted
Adding and Transferring from an External Account:
Using Online & Mobile Banking, you can add your external accounts and schedule your payment to recur every month or as a one-time payment. Once your External Account is added, it will appear in your account list. Here are the steps to add your external account:
After logging in Select 'Make a transfer' > 'External Accounts' on Desktop and 'Transfer' > 'External Accounts' from the menu in mobile
You will have the option to link an external account via Instant Verification or with Micro Deposits if you financial institution is not listed. Simply select the option you prefer and follow the prompts to link you account(s)
IMPORTANT: Your six or seven digit account number is required to enroll in Online & Mobile Banking. You can find your account number on your Billing Statement. Please note: You will need the six or seven numbers between the leading zeros and the last four zeros listed in the account number displayed on the billing statement. Example: 000-1111111-0000. See example below (click to enlarge).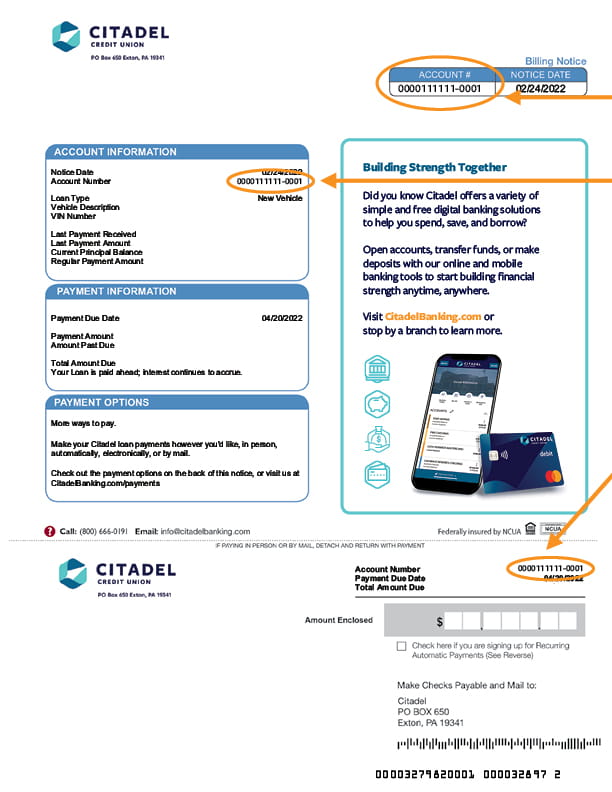 Manage your loans quickly and easily in Online Banking!
Enroll Now