Bill Brown, Citadel's New President & CEO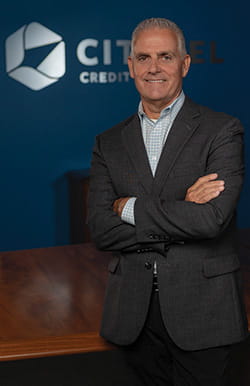 Citadel Credit Union is proud to introduce our new President & CEO, Bill Brown. In addition to 8 years of active-duty service in the U.S. Navy, Bill has over 25 years of financial services leadership experience at institutions of varying scales across the nation. Bill succeeds Jeff March, who is retiring as Citadel's longtime leader of 22 years.
"I couldn't be happier to join the wonderful Citadel team. I plan to continue building upon the legacy and people-first culture Jeff has set for this well-established company and driving us forward by focusing on our members' needs. I have a firm belief that people deserve a financial institution that cares about giving them a better experience and improving financial wellness, and that's exactly why I chose Citadel, and what we'll continue to prioritize."
- Bill Brown
Following eight years of active-duty service in the US Navy as a Naval Flight Officer, Bill began his career in financial services. Bill has spent the past 25 years in financial services working in global, national, regional, and community banks. He has led retail banking networks, business banking teams, wealth management, consumer lending, securities-based lending, small business lending, as well as client satisfaction and operational risk programs.
Bill began his banking career at Citi and has held senior roles at HSBC, Dime Community Bank, Investors Bank, and BNY Mellon. Geographically, Bill has worked in Manhattan and the Greater NY Metro area, Texas, Greater Philadelphia and has had roles that were both national and global in scope.
Bill graduated from Boston University with a BA in International Relations and Geography minor. He currently holds FINRA Series 7, 24, 63, and 65 licenses.
In his role as Citadel's President and CEO, Bill will be responsible for leading all aspects of Citadel and expanding the company's initiatives to improve the lives of employees, members, and the Greater Philadelphia community.
"I'm thankful to Jeff and the Board for giving me this opportunity and for setting Citadel on the path to success that it's on. My first goal will be to meet with our employees and members to get to know our people – and to better understand from their perspectives how we continue to enhance the Citadel experience and offering."
- Bill Brown
Learn more about Citadel and our story.
About Us