Citadel's 2017 #UNSelfie Contest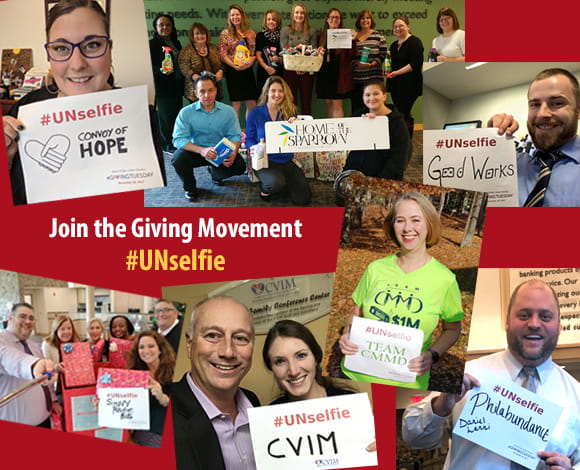 At Citadel, we're all about giving back to the community. That's why for the second consecutive year, in the spirit of #GivingTuesday, we ran an internal contest to celebrate the "UNselfishness" of Citadel employees. To participate, we asked employees to share #UNselfie submissions – a photo and a story – to highlight an organization or charity for which they show support. In turn, Citadel would donate $1,000 to the grand prize winner's cause.
Citadel employees sent in several submissions for the various local organizations they support. Each #UNselfie story was unique, thoughtful, and inspiring. In honor of serving the community, Citadel employees generously donate their time across the region to organizations such as:
CVIM
Philabundance
Home of the Sparrow
Simply Positive Kids
Good Works
Walk to End Alzheimer's
Western Chester County Chamber (WCCC)
National Iron & Steel Heritage Museum
Convoy of Hope
THON
The Point
Rock Ministries
Autism Cares
Wounded Warrior Project
Friends Association
Ultimately, the grand prize winner was selected, and the winner was Colleen Hall for Team CMMD, a non-profit charity team of runners and non-runners with the mission of fighting cancer. Citadel has donated $1,000 to Team CMMD, and is proud to help increase awareness of this important organization.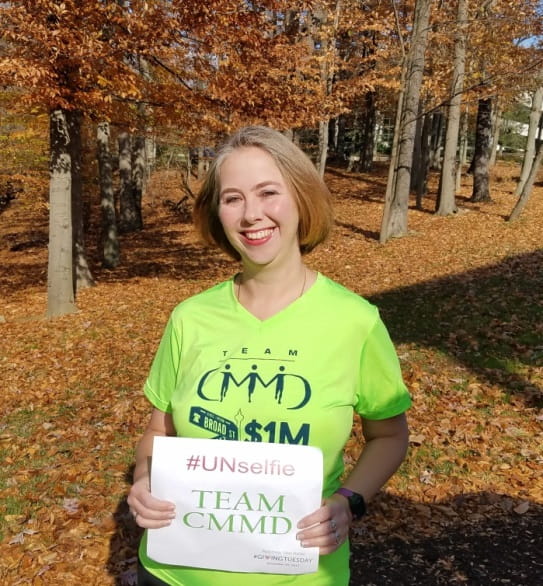 Colleen's Story
I originally joined Team CMMD through my physician's office Christine Meyer, MD. I wasn't sure what I was getting into; I thought it was just a good group to join to keep active. But as the weeks grew into months and now years, I became part of a group that has done so much more for those in our community. This team brought something back into my life that I hadn't realized I was missing, a way to help others in need.
I have been lucky enough to participate in many of the programs Team CMMD has in place. The team started in 2013 with a small group deciding to participate in the Broad Street Run and raise money for the American Cancer Society. Last year, I signed up with 300 of my teammates for that run and personally raised $500 for the American Cancer Society and $500 for Team CMMD. As a team we have cumulatively raised over a million dollars for the American Cancer Society since our small beginning. In addition to running Broad Street, we hold dedication runs in honor of cancer fighters and in memory of those that we have lost. As a regular participant in those dedication runs, it is moving to see the fighters surrounded by so many caring people. The Team also holds an annual run in the fall, called "This Run is Personal." Each race participant dedicates the race to their loved ones fighting and/or lost. Signs for each person are along the race route. I have dedicated my last three races to a family member that we lost to cancer in 2016. The funds raised are used throughout the year to help many cancer fighters who have monetary needs that arise while they are going through treatment.
One of the most amazing things that I get to lead within the Team is the "Just One More Project" (JOMP). JOMP is a small way that the team gives to those fighters that are losing their battle. We provide legacy boxes to patients with greeting cards, record-able picture frames, note cards, and other items that the fighter can use to leave memories for their loved ones prior to their passing. In addition, the Team CMMD Just One More Project has gifted fighters with a final wish prior to their passing including taking a patient to New York City for one final time with family and a vow renewal ceremony for a fighter and his spouse.
I have also been privileged to be able to serve dinner with Team CMMD at the Hope Lodge in Cheltenham. We serve meals approximately six times per year to fighters and their caregivers while they are going through treatment. The food for the meals is donated by, prepared by, and served by team members. Annually in November, the Hope Lodge group gives thanks to the caregivers staying at the lodge. We thank them with a "Buddy Bag", small backpacks filled with items they may need while caring for their loved ones including a notepad, pen, tissues, snacks, hand sanitizer, and more. I have been fortunate enough to have been part of the Buddy Bag project since its inception and am also the lead on the project. In addition to handing the bags out at the November Hope Lodge dinner, we provide them to caregivers when requested throughout the year.
This is just a small portion of what Team CMMD has done for the community, there are many other great projects happening all year. This team has done so much more for me than just providing a volunteer opportunity, it is has given me a community with my teammates and a purpose in helping others.
###
About Citadel Credit Union
Citadel Credit Union is a not-for-profit, member-owned financial institution that provides banking, investments, and insurance services to more than 250,000 members. At $5.6 billion in assets, it is one of the Greater Philadelphia area's largest credit unions, proudly serving residents of Bucks, Chester, Delaware, Lancaster, Montgomery, and Philadelphia counties. Citadel is recognized as a Forbes 2022 Best-in-State Credit Union and a certified 2022 Great Place to Work. In addition, Citadel has been named one of the best performing credit unions in the nation by SNL Financial. For more information, visit CitadelBanking.com.