Citadel Credit Union Honors 21 Local Teachers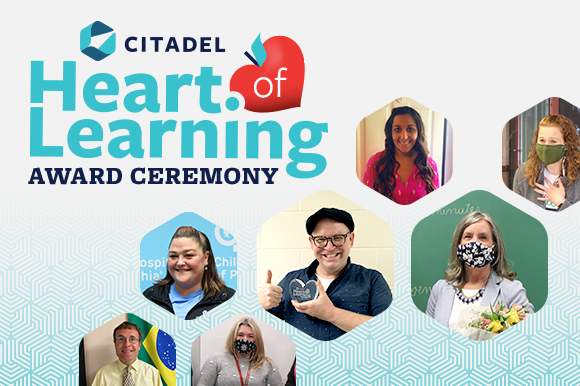 Teachers from across the Greater Philadelphia area have been awarded the prestigious Citadel Heart of Learning Award; and 3 Grand Prize Winners will be announced May 20 during a live Facebook ceremony.
EXTON, Pa., May 10, 2021— In an academic year that challenged teachers unlike any other, 21 Greater Philadelphia teachers have been recognized by Citadel Credit Union for going above and beyond. Teachers from across Bucks, Chester, Delaware, Lancaster, Montgomery, and Philadelphia counties have been recognized after being nominated by their students, peers, parents, and administrators. Over 1,100 teachers were nominated this year, and Citadel is now announcing the top 21 teachers from the nominations.
The Citadel Heart of Learning Award, one of Citadel's longest standing initiatives, was started 20 years ago in partnership with the Chester County Intermediate Unit (CCIU), to recognize teachers who show dedication in and outside of the classroom, and truly go above and beyond in their role as educators.
"Citadel is proud to build strength in education through the Citadel Heart of Learning Award program," said Mike Schnably, Senior Vice President, Citadel Credit Union. "For the past 20 years, we've been honored to recognize teachers' tireless efforts; but this year was certainly unique. Seeing how our local educators have adapted throughout the pandemic just reaffirms how vital they are to the community."
Citadel is proud to announce the District and County winners for 2020-21. All 21 teachers receive a glass heart award, $500 to spend in their classrooms, and will be honored at Citadel's live Facebook ceremony on May 20. During the ceremony, 3 Grand Prize winners will be announced, and each receives an additional $1,500 and a colorful Grand Prize glass heart.
Chester County District Winners
Avon Grove: Stephanie Shrake, Avon Grove High School
Coatesville: Breanna Kriston, East Fallowfield Elementary School
Downingtown: Kathleen Cool, Uwchlan Hills Elementary School
Fugett Middle School: Frank Nefos of West Chester
Great Valley: Amy Hober, K.D. Markley Elementary School
Kennett Consolidated: Dian McKinney, Kennett Middle School
Octorara: Robin Lewis, Octorara Intermediate School
Owen J. Roberts: Lisa Cunningham, East Vincent Elementary School
Oxford: Nicole Wiltrout, Oxford Area High School
Phoenixville: Michelle Sinnamon, Manavon Elementary School
Tredyffrin-Easttown: Allegra Dotson, New Eagle Elementary School
Twin Valley: Elizabeth Techman, Twin Valley Elementary School
Unionville: Lauren Owsley, Charles F. Patton Middle School
West Chester: Frank Nefos, Fuggett Middle School
Non-Public School: Jane Brennan, St. Joseph Elementary
CCIU: Jessica Jakatt, Chester County Learning Center
County Winners:
Montgomery County: William Norman, Norristown Area High School
Delaware County: Andrea Brown, Ridley High School
Lancaster County: Jerry Guttman, Manheim Township High School
Philadelphia County: Jamie Johnson, Children's Hospital of Philadelphia School Program
Bucks County: Elizabeth Baker, Maple Point Middle School
Traci Watson Heart Award
To continue to expand the program and recognize more teachers, Citadel has added the Traci Watson Heart Award. This is a special award created in memory of one of Citadel's beloved colleagues who played an integral role each year in the Citadel Heart of Learning Award program. This award recognizes thoughtful creativity, inspiring good nature, and dedication to one's craft. Citadel recognized Eli Andrus, Beaver Creek Elementary School Art Teacher with the inaugural Traci Waston Heart Award.
The Citadel Heart of Learning Awards Ceremony will take place LIVE Thursday, May 20 from 6:30-7:00pm on Facebook. Learn more and register here. Stay tuned for the reveal of the Grand Prize winners!
To see the full list of nominees and to learn more, visit CitadelHeartofLearning.com
CONTACT:
Abigail Brooks
(610) 466-6896
AbigailBrooks@CitadelBanking.com
###
About Citadel Credit Union
Citadel Credit Union is a not-for-profit, member-owned financial institution that provides banking, investments, and insurance services to more than 250,000 members. At $5.6 billion in assets, it is one of the Greater Philadelphia area's largest credit unions, proudly serving residents of Bucks, Chester, Delaware, Lancaster, Montgomery, and Philadelphia counties. Citadel is recognized as a Forbes 2022 Best-in-State Credit Union and a certified 2022 Great Place to Work. In addition, Citadel has been named one of the best performing credit unions in the nation by SNL Financial. For more information, visit CitadelBanking.com.
Learn more about the program and check out all of this year's nominees.
Explore Now