Carter Winter, Alicia Beale to Open For Hunter Hayes at Citadel Palooza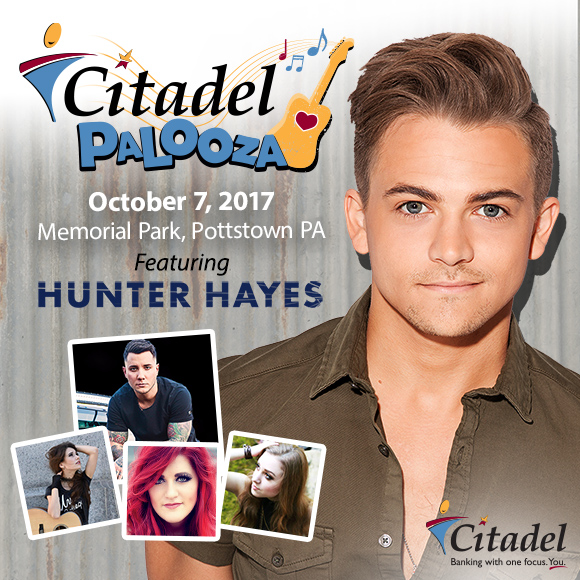 Local Bands, Food Trucks, Sly Fox Beer Garden, and More Recently Announced

EXTON, PA — Citadel has announced Carter Winter and Alicia Beale, along with several local bands, will open for Hunter Hayes at Citadel Palooza on October 7th. In addition, Kendal Conrad of Pottstown, The Jess Zimmerman Band of Chester County, and Stephanie Grace of Douglassville have joined the Citadel Palooza lineup. All three local artists won the Citadel Palooza "Opening Act Contest" earlier this month.

In addition, Citadel has announced there will be a Sly Fox Beer Garden open for the duration of the concert, and the following local food trucks:

• El Tlaloc
• Sweet Lavender
• Heart Food Truck
• The Happy Pita
• BlendLife
• Oscar's BBQ
• Manatawny Green

The inaugural "Citadel Palooza, " featuring headliner Hunter Hayes, is a charitable event to celebrate Citadel's 80th anniversary. Citadel will donate 100 percent of the concert ticket sales to Children's Hospital of Philadelphia (CHOP).

"Citadel Palooza will celebrate everything local, including artists from Montgomery and Chester counties to open the show," said Mike Schnably, senior vice president, Citadel. "We encourage everyone to come out on October 7th to honor CHOP, eat and drink locally, enjoy Hunter Hayes, and more."

Visit CitadelPalooza.com to purchase tickets, which cost $25, with the option to donate additional funds to CHOP and CMN Hospitals. Tickets will also be available for purchase at the festival.

For more Citadel Palooza updates, follow @CitadelBanking or visit Facebook.com/CitadelBanking.


CONTACT:
Abigail Brooks
(610) 466-6896
AbigailBrooks@CitadelBanking.com
###
Citadel provides banking, investments, and insurance services to more than 200,000 members. At $3.9 billion in assets, it is one of the area's largest locally owned financial institutions, proudly serving residents of Bucks, Chester, Delaware, Lancaster, Montgomery, and Philadelphia counties. Citadel ranked first in the 2019 Callahan & Associates Return of the Member scoring index among all credit unions in Pennsylvania, and was named one of the best performing credit unions in the nation by SNL Financial. For more information, visit CitadelBanking.com.