Citadel Supports Coatesville Art Partners Studio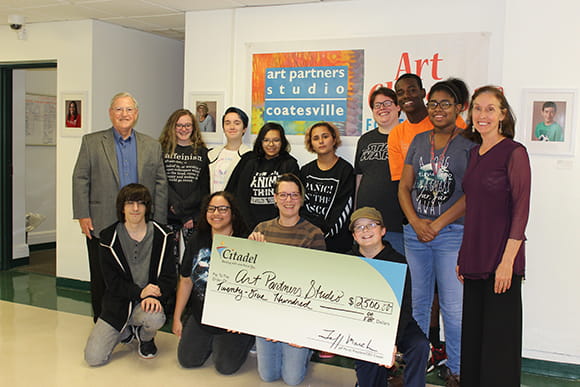 Last week, Citadel presented a $2,500 check to the Art Partners Studio of Coatesville. The $2,500 will fund art supplies and tools needed to support the studio's art classes.
Art Partners Studio (APS) looks to a future when everyone in greater Coatesville has access to high quality arts education programs and the opportunity to actively participate in artistic experiences that enrich their lives and the life of their community. From the beginning, the studio committed to an accessible ART program—one that engages broad participation by neighbors, regardless of age, means, artistic experience, or ability. Beyond the doors of its downtown studio, an off-site art network encourages art-making throughout the City and townships in the Coatesville Area School District.
Citadel is dedicated to supporting organizations that improve the community in which our customers live and work. To learn more about the Art Partners Studio of Coatesville, visit artpartnersstudio.org.
###
About Citadel Credit Union
Citadel Credit Union is a not-for-profit, member-owned financial institution that provides banking, investments, and insurance services to more than 255,000 members. At $5.7 billion in assets, it is one of the Greater Philadelphia area's largest credit unions, proudly serving residents of Bucks, Chester, Delaware, Lancaster, Montgomery, and Philadelphia counties. Citadel is recognized as a 2023 Fortune Recommends Best Credit Union, Forbes 2022 Best-in-State Credit Union, and a certified 2022 Great Place to Work. For more information, visit CitadelBanking.com.