Citadel's IT Team Volunteers at Chester County Food Bank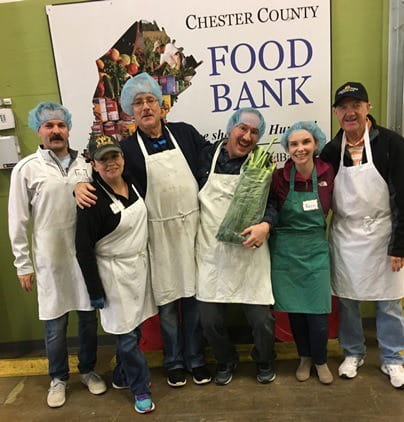 On November 8, Citadel's IT Team volunteered at the Chester County Food Bank (CCFB) in Eagleview, Pa. While in the kitchen, the team collected beet greens, Brussel sprouts, and collard greens to be distributed to food cupboards, schools, and senior centers around Chester County. The produce was all locally grown from Pete's Produce and Springton Manor Farm. The team had also volunteered at Pete's Produce a few months ago to weed the same vegetables they ultimately bagged.

Citadel's President and CEO, Jeff March, serves as the Chair of the Board for the Chester County Food Bank. Citadel employees often volunteer time and resources to support the important cause. The Citadel IT team volunteers at the CCFB as a group once a year.

More than 50,000 people in Chester County are currently dealing with food insecurity. The CCFB was formed in 2009 to address the escalating hunger problem in the county. The organization's primary is to have a viable, sustainable organization that secures, manages, and distributes food to those in need.

Today, the CCFB is the central hunger relief organization serving more than 120 partner agencies in Chester County. Through its network of food cupboards, hot meal sites, shelters, and other social service organizations, the organization distributes over 2.7 million pounds to our neighbors with limited or uncertain access to adequate food.

Taking a steadfast approach to provide food and build support in the neediest communities, the CCFB also raises awareness and engagement among the community. To donate to the Chester County Food Bank, or to learn more, visit ChesterCountyFoodBank.org.
###
About Citadel Credit Union
Citadel Credit Union is a not-for-profit, member-owned financial institution that provides banking, investments, and insurance services to more than 250,000 members. At $5.6 billion in assets, it is one of the Greater Philadelphia area's largest credit unions, proudly serving residents of Bucks, Chester, Delaware, Lancaster, Montgomery, and Philadelphia counties. Citadel is recognized as a Forbes 2022 Best-in-State Credit Union and a certified 2022 Great Place to Work. In addition, Citadel has been named one of the best performing credit unions in the nation by SNL Financial. For more information, visit CitadelBanking.com.