Citadel Gives Aaron's Acres $2,000 Match for the Extraordinary Give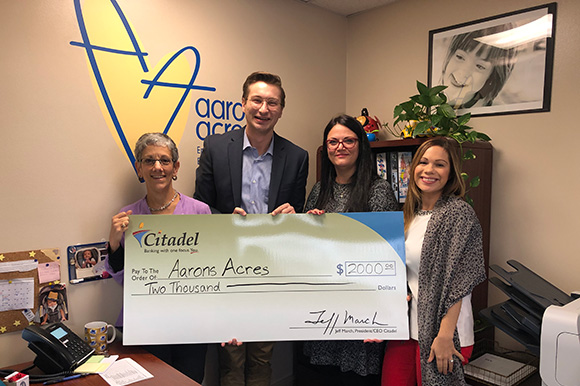 LANCASTER, Pa. — Citadel, a corporate sponsor of Lancaster's 2018 Extraordinary Give ("Extra Give"), supported Aaron's Acres throughout the Extraordinary Give campaign. In addition, Citadel committed to matching the funds raised for Aaron's Acres up to $2,000. On Friday, Citadel presented Aaron's Acres with the $2,000 check.
In September, Citadel hosted a contest for the public to nominate any Lancaster non-profit to be Citadel's organization of honor during the campaign. Aaron's Acres of Lancaster, a 501(c)(3) non-profit that provides recreational programs for children with disabilities, won the contest with an overwhelming percentage of the votes.
The Extraordinary Give, Lancaster County's Largest Day of Giving, was on November 16th and raised over $10.2 million for non-profits and charitable organizations. Aaron's Acres received $32,267 through Extraordinary Give funding. As a dedicated business in the Lancaster community, Citadel helped stretch overall donations for non-profits throughout Lancaster County as a corporate sponsor.
Aaron's Acres provides individuals with special needs age 5-21 year-round therapeutic, age-appropriate recreational programs directed by specially trained and certified staff. Emotional, educational, and recreational support is offered for the individual's entire family.
To learn more, visit CitadelBanking.com/ExtraGive.
CONTACT:
Abigail Brooks
(610) 466-6896
AbigailBrooks@CitadelBanking.com
###
About Citadel Credit Union
Citadel Credit Union is a not-for-profit, member-owned financial institution that provides banking, investments, and insurance services to more than 255,000 members. At $5.7 billion in assets, it is one of the Greater Philadelphia area's largest credit unions, proudly serving residents of Bucks, Chester, Delaware, Lancaster, Montgomery, and Philadelphia counties. Citadel is recognized as a 2023 Fortune Recommends Best Credit Union, Forbes 2022 Best-in-State Credit Union, and a certified 2022 Great Place to Work. For more information, visit CitadelBanking.com.
Learn about other ways Citadel gets involved in the community.
Learn More