Citadel Gives $200,000 to Children's Hospital of Pennsylvania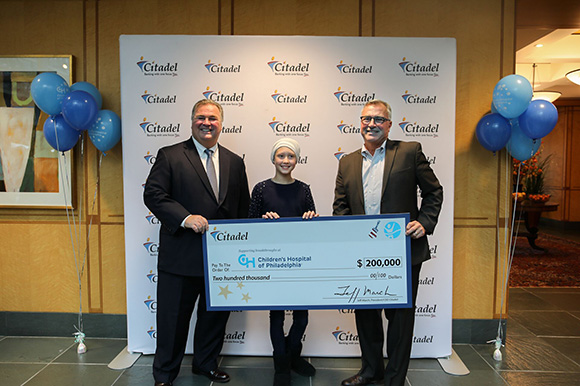 EXTON, Pa., November, 12, 2019—On Tuesday, Citadel presented a $200,000 check to Children's Hospital of Philadelphia (CHOP) at the Citadel headquarters in Exton. The grand total is a sum of funds raised from the second-annual Citadel Country Spirit USA, CHOP's Parkway Run & Walk, and employee donations and fundraising. The check was presented to CHOP by Jeff March, Citadel's President and CEO.
Each year, Citadel continues to build its support for CHOP, with increased employee involvement and additional event support and funding. In 2019, Citadel was the presenting sponsor for CHOP's Parkway Run & Walk, which raised over $1.5 million to fund breakthrough pediatric cancer research and care at CHOP. Citadel built a team of over 100 employees and their family members to participate in Parkway.
"At Citadel, we feel extremely fortunate to meet many inspiring patients, their families, amazing doctors, and staff members from CHOP," said Jeff March. "Everyone at Citadel has a CHOP story or knows someone who does. We are proud to support this amazing institution in our community and to continue growing our partnership."
One of CHOP's Parkway ambassadors, 11-year-old Lizzy Fluck, attended Citadel Country Spirit USA, Parkway, and the big check event with her family to thank folks for their donations. Lizzy's mom, Dawn Fluck, gave an inspiring speech at Citadel Country Spirit USA, driving even more donations during the concert.
"My daughter's story is not that unique; thousands of children have endured what she has this year. I can tell you, with CHOP, we are having great success. Through funding, the research has been perfected, and because of that funding, Lizzy's body has been healed and her cancer sent into remission," said Dawn. "She has a long way to go, but she's still dancing!"
As a thank you to Lizzy and to support her love of baking, Citadel awarded her with a baking kit during the big check ceremony, complete with a KitchenAid mixer. In addition, she received a guitar signed by every artist who performed at Citadel County Spirit USA.
To learn more about Citadel's support for CHOP, visit CitadelBanking.com/CHOP.
CONTACT:
Abigail Brooks
(610) 466-6896
AbigailBrooks@CitadelBanking.com
###
About Citadel Credit Union
Citadel Credit Union is a not-for-profit, member-owned financial institution that provides banking, investments, and insurance services to more than 250,000 members. At $5.6 billion in assets, it is one of the Greater Philadelphia area's largest credit unions, proudly serving residents of Bucks, Chester, Delaware, Lancaster, Montgomery, and Philadelphia counties. Citadel is recognized as a Forbes 2022 Best-in-State Credit Union and a certified 2022 Great Place to Work. In addition, Citadel has been named one of the best performing credit unions in the nation by SNL Financial. For more information, visit CitadelBanking.com.
Learn how Citadel gives back to the community with financial contributions, volunteering, seminars, and more.
Explore Now