Thank You for Helping Us Reach Over $2 Million!
Citadel Credit Union is Proud to Support CHOP
This year's Parkway Run & Walk, the largest annual fundraiser for the Cancer Center at CHOP, raised over $2 million to fight pediatric cancer!
Citadel is proud to have doubled our contribution to $300,000 - with over $40,000 raised by our Building Strength Together team, helping CHOP reach this record-breaking milestone.
While $2 million raised is an amazing accomplishment, we want to do even better. If you missed the event or would like to donate now, there's still time. Let's continue to add to this impressive total and conquer childhood cancer together! Donate now.
Share Your Photos!
Did you get some great shots during the run & walk? Tag @CitadelBanking in your posts so we, and our followers, can see your photos and stay tuned for more photos and videos from our team coming soon!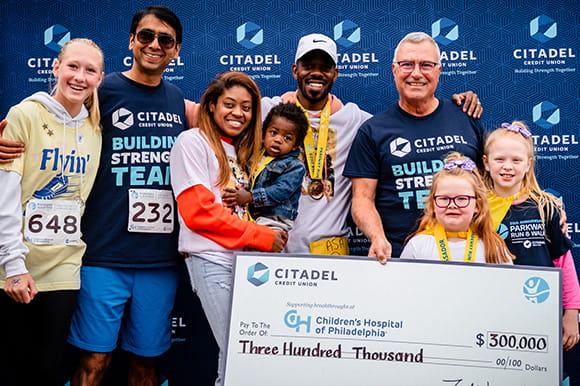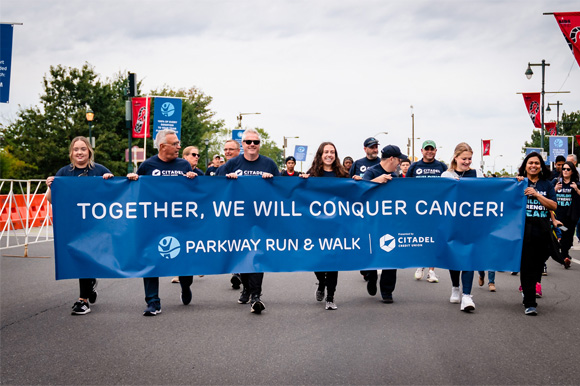 Parkway & Our Mission of Building Strength Together
Citadel is dedicated to helping CHOP continue to not only achieve – but exceed – critical fundraising goals each year for childhood cancer. The Parkway Run epitomizes Citadel's mission of Building Strength Together by allowing the organization to rally behind a truly impactful cause for the community.
Every year, Citadel creates teams of employees, their families, and Citadel members to join the thousands of supporters in the fight against pediatric cancer.
"Parkway not only supports families across our local Philadelphia region, but worldwide. No matter what challenges we may face – the inspiring togetherness of community that is woven into the fabric of this event will continue to make it a success." – Jeff March
For Tomorrow's Breakthroughs
Philanthropic donations of all sizes power every lifesaving treatment and breakthrough discovery at Children's Hospital of Philadelphia.

© 2018 Children's Hospital of Philadelphia
Help Make Tomorrow's Breakthroughs Possible
There's no other place in the world like Children's Hospital of Philadelphia (CHOP). Since their start in 1855 as the nation's first Hospital devoted exclusively to the care of children, they have been the birthplace of countless innovations and dramatic firsts in pediatric medicine. Thanks to the generosity of donors who believe in their mission, they continue to make breakthroughs every day, whether providing lifesaving care to children with complex diseases or making each family's journey to health a little easier.
Hospitalization can have a significant impact on a child. Your donations help support CHOP's Patient and Family Services team to provide programs to help children and families cope with the hospital experience.
Check out all our photos and videos from this amazing event!
View Photos