Citadel Credit Union Introduces Citadel Cares Corporate Giving Program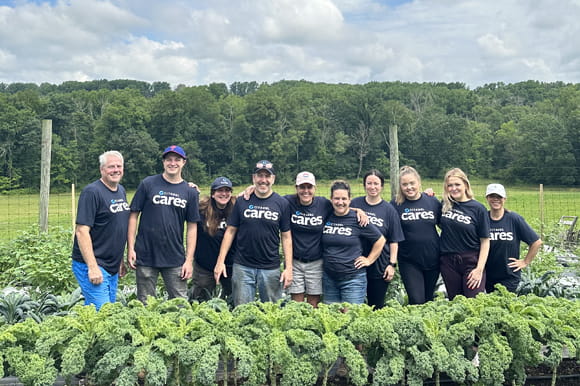 With a commitment of over $2 million in the next 4 years, Citadel Cares has officially launched as the company's new corporate giving and volunteer program.
EXTON, Pa., July 14, 2023 — Citadel Credit Union has launched a new corporate giving program, Citadel Cares, which encompasses all charitable efforts across the company; including but not limited to corporate giving and employee volunteerism. Citadel Cares will be dedicated to supporting philanthropic efforts across the Greater Philadelphia area that help people and communities prosper. Within 4 years, Citadel is committed to donating over $2 million in philanthropic support to the Greater Philadelphia community through Citadel Cares.
The Citadel Cares program is structured to support four key pillars:
Education & Youth Prosperity - honoring strong local educators and support financial literacy programs that benefit people of all ages.
Health & Wellness - ensuring physical and mental health is accessible and more affordable for our community.
Building & Development - rehabilitating areas in our community that are facing structural or economic challenges.
Food Security - helping communities fight food insecurity and support families and individuals who may be struggling to make ends meet.
For over 85 years, Citadel Credit Union has served the community as a member-owned, not-for-profit financial institution, and has donated millions of dollars, along with thousands of volunteer hours, to the local community. Citadel Cares will serve as the formal program that guides how Citadel gives back, grows deeper relationships with more charitable organizations, and gets involved from a volunteerism standpoint.
Specifically, Citadel Cares will embody philanthropic efforts such as Citadel's support of Children's Hospital of Philadelphia, a partnership which recently was honored as a Philadelphia Business Journal's 2023 Faces of Philanthropy winner. Citadel Cares will also support longstanding initiatives such as the Citadel Heart of Learning Award program, which has donated over $400,000 in grants to local teachers.
"Building strength together involves reinvigorating where our community suffers challenges, which is exactly what Citadel Cares is set out to do," said Jeff March, President and CEO of Citadel Credit Union. "The formal launch of Citadel Cares will allow us to accelerate what Citadel has done for a long time; focus on how we can contribute more and assist in improving quality of life and prosperity in fundamental ways."
Citadel, which has been certified as a Great Place to Work for the past four years, has designed Citadel Cares to be embedded into the corporate culture and present an accessible opportunity for employee volunteerism. Over 30 employees will serve on the Citadel Cares committee, with each pillar having its own dedicated team. All Cares initiatives will be communicated and made available for any Citadel employee to get involved.
Contributions from the Citadel Cares program will be made in the form of donations, grants, employee volunteerism, donation drives, and sponsorship of charitable events. To be considered for support, organizations can fill out the donation request form. To learn more, visit CitadelBanking.com/CARES.
CONTACT:
Abigail Brooks
(610) 466-6896
AbigailBrooks@CitadelBanking.com
###
About Citadel Credit Union
Citadel Credit Union is a not-for-profit, member-owned financial institution that provides banking, investments, and insurance services to more than 250,000 members. At $5.6 billion in assets, it is one of the Greater Philadelphia area's largest credit unions, proudly serving residents of Bucks, Chester, Delaware, Lancaster, Montgomery, and Philadelphia counties. Citadel is recognized as a Forbes 2022 Best-in-State Credit Union and a certified 2022 Great Place to Work. In addition, Citadel has been named one of the best performing credit unions in the nation by SNL Financial. For more information, visit CitadelBanking.com.
Learn more about Citadel Cares and how we get involved in the community.
Learn More