Citadel to Support Aaron's Acres of Lancaster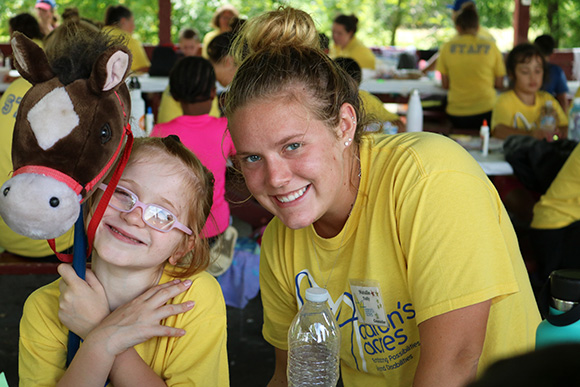 LANCASTER, Pa. — Citadel, a corporate sponsor of Lancaster's 2018 Extraordinary Give ("Extra Give"), recently hosted a contest for the public to nominate any Lancaster non-profit for Citadel to feature during the campaign. Aaron's Acres of Lancaster, a 501(c)(3) non-profit that provides recreational programs for children with disabilities, won the contest with an overwhelming percentage of the votes.
"On behalf of everyone at Aaron's Acres, we feel fortunate to have been chosen as the winner of the Citadel Extraordinary Give contest," said Risa C. Paskoff, executive director, Aaron's Acres. "Our goal is to continue providing recreational programs to children and young adults with developmental disabilities. Thank you, Citadel, for supporting us and Lancaster families."
The Extraordinary Give is Lancaster County's Largest Day of Giving. In just six days of giving, the Extraordinary Give has raised more than $31 million for more than 500 organizations. On November 16th, the Extraordinary Give Day is expected to be the most impactful to date with donations matched by the largest stretch pool since the program launched.
As Citadel moves forward with its efforts in the Extra Give campaign, it will raise awareness and funds for Aaron's Acres. As a dedicated business in the Lancaster community, Citadel is helping to stretch overall donations for non-profits throughout Lancaster County through Extra Give.
"We're proud to participate in such a major event that raises funds and awareness for non-profits in the Lancaster community," said Doug Thompson, regional director, Citadel. "The staff at our Lancaster branches feel extremely energized about Extra Give and thrilled to have Aaron's Acres as Citadel's featured organization."
Aaron's Acres provides individuals with disabilities age 5-21 year-round therapeutic, age-appropriate recreational programs directed by specially trained and certified staff. Emotional, educational, and recreational support is offered for the individual's entire family.
To learn more about how Citadel is involved in the Extra Give campaign, visit CitadelBanking.com/ExtraGive.
CONTACT:
Abigail Brooks
(610) 466-6896
AbigailBrooks@CitadelBanking.com
###
About Citadel Credit Union
Citadel Credit Union is a not-for-profit, member-owned financial institution that provides banking, investments, and insurance services to more than 250,000 members. At $5.6 billion in assets, it is one of the Greater Philadelphia area's largest credit unions, proudly serving residents of Bucks, Chester, Delaware, Lancaster, Montgomery, and Philadelphia counties. Citadel is recognized as a Forbes 2022 Best-in-State Credit Union and a certified 2022 Great Place to Work. In addition, Citadel has been named one of the best performing credit unions in the nation by SNL Financial. For more information, visit CitadelBanking.com.
Learn about other ways Citadel gets involved in the community.
Learn More