Citadel to Open in Montgomeryville March 2020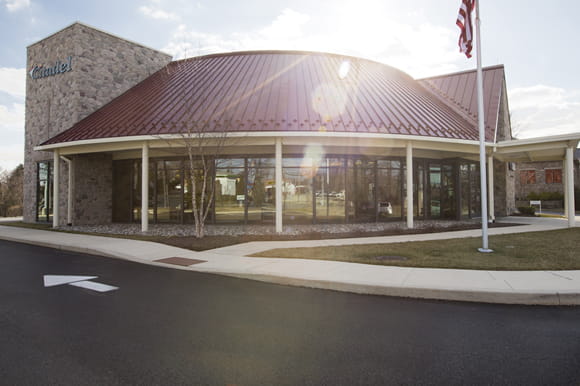 EXTON, Pa., February 17, 2020 — Citadel will open its newest branch in Montgomeryville on March 11, 2020. The new branch is conveniently located on Bethlehem Pike, across the street from the Montgomeryville Acura and adjacent to Wawa. The branch, which boasts easy access to route 202 for commuters, is also down the street from the Montgomery Mall, a popular shopping destination.
With thousands of members across Montgomery county, Citadel's newest location is part of a strategic decision to increase accessibility in addition to growing its presence in the region. The Grand Opening celebration will be March 11-14.
The Montgomeryville branch will feature the new Citadel interior design, with 24-hour self-service banking Citadel Express Banking and private rooms for consultative sessions. The new design focuses on a streamlined member experience and the need for on-the-go, 24/7 banking. The branch address is 1006 Bethlehem Pike in Montgomeryville.
"Citadel is thrilled to be joining the Montgomeryville community with a location on Bethlehem Pike. Montgomery county is thriving, and Citadel is looking to add to the excitement and economic momentum," said Mike Schnably, senior vice president at Citadel. "Our members in the area have been asking for a location in Montgomeryville for some time. Citadel is proud to offer new members an incentive on our Free and Cashback Rewards Checking options, and to continue providing market-leading rates."
Construction on the new site, which began in July 2018, mainly involved local contractors including Worthington Davis Associates of Phoenixville, Kershner Office Furniture of King of Prussia, Norman Carpet One of Bryan Mawr, Trago Mechanical of Lancaster, and MQ2 Security of Langhorne. This location is Citadel's 24th branch in Southeastern Pennsylvania, and the seventh in Montgomery County.
Citadel has already been involved with several community events and organizations in Montgomeryville; including the North Wales Taste of Montgomery County fundraiser, North Wales Borough's 150th Anniversary, the North Wales Community Day, the Montgomery Township Autumn Festival, and the Greater Montgomery County Chamber of Commerce. In addition, Ryan Frazier, the new Montgomeryville Market Manager, sits on the board of the Aldersgate Youth Services.
"Ryan Frazier and Amanda Tremarki, our Montgomeryville market leaders, look forward to leading a talented and experienced group of financial experts to support our members on their journey to achieving their financial goals," said Mike Schnably.
Citadel is currently ranked number one among all credit unions in Pennsylvania for providing value to savers and borrowers, according to research firm Callahan & Associates. The organization will offer a special incentive for new Montgomeryville members who open a new Citadel checking account. To learn more about the Grand Opening, visit CitadelBanking.com/MontgoGO.
CONTACT:
Abigail Brooks
(610) 466-6896
AbigailBrooks@CitadelBanking.com
###
About Citadel Credit Union
Citadel Credit Union is a not-for-profit, member-owned financial institution that provides banking, investments, and insurance services to more than 255,000 members. At $5.7 billion in assets, it is one of the Greater Philadelphia area's largest credit unions, proudly serving residents of Bucks, Chester, Delaware, Lancaster, Montgomery, and Philadelphia counties. Citadel is recognized as a 2023 Fortune Recommends Best Credit Union, Forbes 2022 Best-in-State Credit Union, and a certified 2022 Great Place to Work. For more information, visit CitadelBanking.com.
Join us for the Montgomeryville Branch Grand Opening Event March 11-14!
Learn More