Citadel is the Presenting Sponsor of CHOP's Parkway Run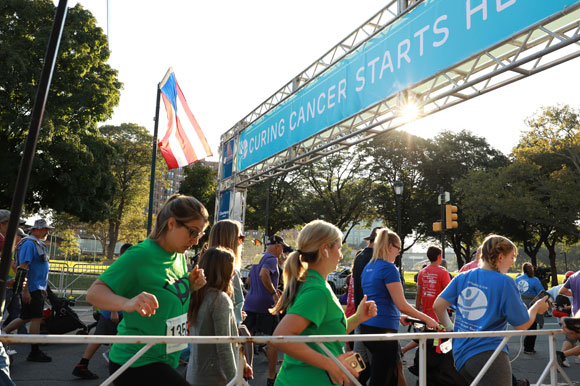 Philadelphia, Pa. – Children's Hospital of Philadelphia (CHOP) and Citadel announced that Citadel will be the presenting sponsor of the CHOP 2019 Parkway Run & Walk, taking place September 29, 2019 along the Benjamin Franklin Parkway. Held every September, the Parkway Run & Walk is the largest annual fundraiser for the Cancer Center at CHOP, an internationally recognized leader in pediatric cancer treatment and research. Citadel has made a two-year commitment to support the event, and will be creating a team of employees to join the thousands of supporters along the Parkway in the fight against pediatric cancer.
"Citadel is proud to be actively involved in CHOP's Parkway Run & Walk, an extraordinary event that draws people together in support of a common goal — to help kids with cancer. We strive to be more than a financial institution; we want to improve the lives of people in our community," said Jeff March, President and CEO, Citadel. "It is our honor to support CHOP's globally recognized medical and research teams at the Cancer Center, and to participate in the magic of the Parkway Run."
"We are very thankful for Citadel's commitment to sponsoring our annual Parkway Run & Walk," said Stephen Hunger, MD, Chief of the Division of Oncology and Director of the Center for Childhood Cancer Research at CHOP. "The Parkway Run embodies everything we are about; moving forward with unity and a commitment to advancing medicine, and finding a cure for childhood cancer. Citadel's community involvement and philanthropy helps to fuel tomorrow's breakthrough therapies. Without it, none of these advances would be possible; we are very grateful, and we look forward to a continuing partnership."
The Cancer Center at CHOP is one of the largest pediatric cancer programs in the nation, staffed by internationally recognized pediatric oncologists and teams with expertise in every type of pediatric cancer. Patients and families come to CHOP from around the globe to receive the best pediatric cancer care from some of the world's top clinicians. Physicians at the Cancer Center at CHOP have expertise in the rarest and most common pediatric cancers and offer a full range of therapies, from standard treatment protocols to unique clinical trials that are only available at CHOP.
A hallmark event, the Parkway Run & Walk is a poignant finale to the Cancer Center's efforts to raise funds and awareness during September's National Childhood Cancer Awareness Month. Each year, thousands of participants converge the Benjamin Franklin Parkway, many with signs and t-shirts dedicated to children in the community with cancer. It is a time of celebration and reflection, and an opportunity to re-connect with doctors, nurses and staff from the Cancer Center.
Citadel is one of the largest credit unions in the state of Pennsylvania, serving thousands of families across Greater Philadelphia and beyond. As a community-centric nonprofit organization, Citadel focuses on providing value to members and giving back through volunteering and support of other nonprofits in the area. In addition to sponsoring the Parkway Run, Citadel helps raise funds for CHOP through Citadel Country Spirit USA, a three-day country music festival officially coming back to the area August 23-25. To learn more about Citadel, visit CitadelBanking.com.
For more information about this year's Parkway Run & Walk, and to register, please visit: www.parkway.chop.edu.
Like the CHOP Cancer Center on Facebook.
Follow the CHOP Cancer Center on Twitter.
About The Children's Hospital of Philadelphia
The Children's Hospital of Philadelphia was founded in 1855 as the nation's first pediatric hospital. Through its long-standing commitment to providing exceptional patient care, training new generations of pediatric healthcare professionals and pioneering major research initiatives, Children's Hospital has fostered many discoveries that have benefited children worldwide. Its pediatric research program is among the largest in the country. In addition, its unique family-centered care and public service programs have brought the 564-bed hospital recognition as a leading advocate for children and adolescents. For more information, visit www.chop.edu.
CONTACT:
Abigail Brooks
(610) 466-6896
AbigailBrooks@CitadelBanking.com
###
About Citadel Credit Union
Citadel Credit Union is a not-for-profit, member-owned financial institution that provides banking, investments, and insurance services to more than 255,000 members. At $5.7 billion in assets, it is one of the Greater Philadelphia area's largest credit unions, proudly serving residents of Bucks, Chester, Delaware, Lancaster, Montgomery, and Philadelphia counties. Citadel is recognized as a 2023 Fortune Recommends Best Credit Union, Forbes 2022 Best-in-State Credit Union, and a certified 2022 Great Place to Work. For more information, visit CitadelBanking.com.
Learn more about how Citadel gets involved in the community.
Learn More