100+ "Team Citadel" Members Participate in CHOP's Parkway Run & Walk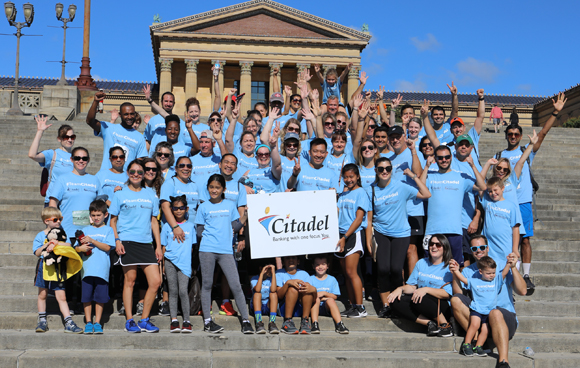 EXTON, Pa., October 9, 2019 — On Sunday, September 29, 100+ "Team Citadel members participated in Children's Hospital of Philadelphia's (CHOP) Parkway Run & Walk. For the first year ever, Citadel was the presenting sponsor of the event, and has made a commitment to sponsor in 2020 as well. Team Citadel included employees from Citadel and their families, joining thousands along the Benjamin Franklin Parkway.
Held every September, the Parkway Run & Walk is the largest annual fundraiser for the Cancer Center at CHOP, an internationally recognized leader in pediatric cancer treatment and research. A hallmark event, Parkway is a poignant finale to the Cancer Center's efforts to raise funds and awareness during September's National Childhood Cancer Awareness Month. It is a time of celebration and reflection, and an opportunity to re-connect with doctors, nurses and staff from the Cancer Center.
"The Citadel Team was blown away by the energy of Parkway, and we can't wait to come back next year," said Jeff March, President and CEO, Citadel. "We feel a strong sense of pride to be involved in such an important event for families across the Greater Philadelphia area and beyond. Congratulations to CHOP and everyone who participated."
The Cancer Center at CHOP is one of the largest pediatric cancer programs in the nation, staffed by internationally recognized pediatric oncologists and teams with expertise in every type of pediatric cancer. Patients and families come to CHOP from around the globe to receive the best pediatric cancer care from some of the world's top clinicians. Physicians at the Cancer Center at CHOP have expertise in the rarest and most common pediatric cancers and offer a full range of therapies, from standard treatment protocols to unique clinical trials that are only available at CHOP.
Citadel is one of the largest credit unions in the state of Pennsylvania, serving thousands of families across Greater Philadelphia and beyond. As a community-centric nonprofit organization, Citadel focuses on providing value to members and giving back through volunteering and support of other nonprofits in the area. In addition to sponsoring the Parkway Run, Citadel helps raise funds for CHOP through Citadel Country Spirit USA, a three-day country music festival.
CONTACT:
Abigail Brooks
(610) 466-6896
AbigailBrooks@CitadelBanking.com
###
About Citadel Credit Union
Citadel Credit Union is a not-for-profit, member-owned financial institution that provides banking, investments, and insurance services to more than 255,000 members. At $5.7 billion in assets, it is one of the Greater Philadelphia area's largest credit unions, proudly serving residents of Bucks, Chester, Delaware, Lancaster, Montgomery, and Philadelphia counties. Citadel is recognized as a 2023 Fortune Recommends Best Credit Union, Forbes 2022 Best-in-State Credit Union, and a certified 2022 Great Place to Work. For more information, visit CitadelBanking.com.
Learn more about how Citadel gets involved in the community.
Learn More
Jeff & Lizzy Discuss Parkway Run & Walk
Last year Citadel President and CEO, Jeff March, met up with COHP patient ambassador, Lizzy, to talk about a few of their favorite things and why Citadel is proud to support the Parkway Walk & Run.