Citadel Employees Donate Over 500 Pounds to PB&J Drive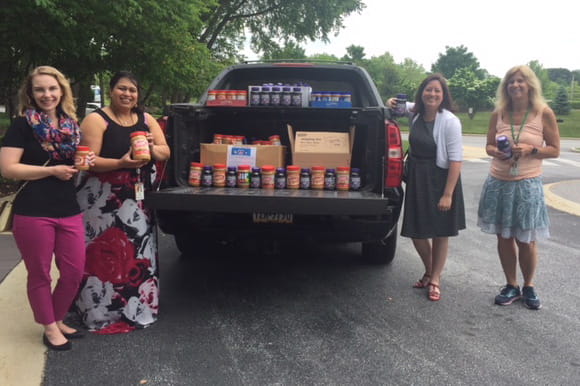 Citadel Employees Donate Over 500 Pounds to PB&J Drive
EXTON, Pa. — Employees from Citadel came together this year to donate 517 pounds of peanut butter and jelly to the United Way of Chester County and Chester County Food Bank.
In 2014, the United Way of Chester County and the Chester County Food Bank partnered to create the "PB&J for United Way-Better Together" food drive. During the summer, more than 18,000 students in Chester County can no longer rely on the one meal of the day—lunch—that is a certainty during the school months.
The goal of the drive is to provide healthier lunches for these kids in the summer months, during which there is increased demand for food without the subsidized lunches these kids receive through school. In addition, many students who are left home alone during the day aren't able to safely cook themselves a meal. In total, the drive collected over 30,000 pounds of peanut butter and jelly this year.
Citadel's contributions will help the organizations provide healthier lunch alternatives for children in the Chester County community and surrounding communities. In addition to children, families and seniors in need also rely on peanut butter and jelly.
CONTACT:
Abigail Brooks
(610) 466-6896
AbigailBrooks@CitadelBanking.com
###
About Citadel Credit Union
Citadel Credit Union is a not-for-profit, member-owned financial institution that provides banking, investments, and insurance services to more than 255,000 members. At $5.7 billion in assets, it is one of the Greater Philadelphia area's largest credit unions, proudly serving residents of Bucks, Chester, Delaware, Lancaster, Montgomery, and Philadelphia counties. Citadel is recognized as a 2023 Fortune Recommends Best Credit Union, Forbes 2022 Best-in-State Credit Union, and a certified 2022 Great Place to Work. For more information, visit CitadelBanking.com.
Want to learn more about how Citadel is involved in the community?
Learn More