Citadel Credit Union Announces Presenting Sponsorship of CHOP's Parkway Run & Walk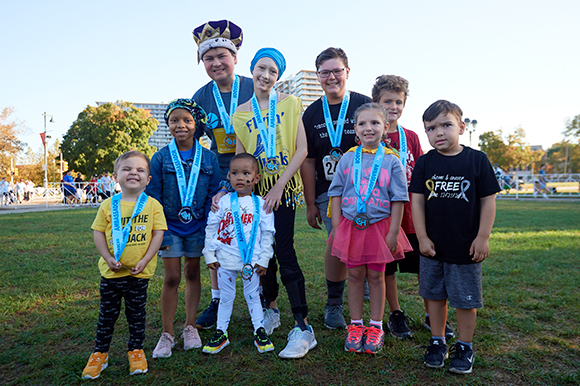 Citadel to Present the Event in 2021-2024,
Will Help CHOP Continue to Achieve Critical Fundraising Goals Annually for Childhood Cancer
PHILADELPHIA, Pa., February 2, 2021— Citadel Credit Union announced today its commitment to continue as the presenting sponsor of Children's Hospital of Philadelphia (CHOP)'s Parkway Run & Walk for the next three years. As presenting sponsor, Citadel is dedicated to helping CHOP continue to not only achieve – but exceed – critical fundraising goals each year for childhood cancer.
Held every September, the Parkway Run & Walk is the largest annual fundraiser for the Cancer Center at CHOP, an internationally recognized leader in pediatric cancer treatment and research. For the past two years, Citadel has been the presenting sponsor of the event and has created teams of employees, their families, and Citadel members to join the thousands of supporters in the fight against pediatric cancer. The Parkway Run epitomizes Citadel's mission of Building Strength Together by allowing the organization to rally behind a truly impactful cause for the community.
Due to the COVID-19 pandemic, in 2020 Parkway shifted to a virtual format and month-long mileage challenge for participants. Despite the change in format, CHOP was still able to beat its fundraising goal and the total raised last year with a grand total of $1.7 million to support research and treatment of childhood cancer. In addition, participants from 37 U.S. states and 16 countries globally got active throughout the month of September (also Childhood Cancer Awareness Month) and logged thousands of miles in support of children with cancer everywhere.
"Citadel's mission is to build strength in our community, and one of the most important ways we do that is by supporting the CHOP Parkway Run & Walk," said Jeff March, president and CEO, Citadel, and member of CHOP's Corporate Council. "We are proud to renew our commitment to this incredibly successful fundraising endeavor that continues to surpass its goals to fight childhood cancer each year. Parkway not only supports families across our local Philadelphia region, but worldwide. No matter what challenges we may face – the inspiring togetherness of community that is woven into the fabric of this event will continue to make it a success."
The Cancer Center at CHOP is one of the largest pediatric cancer programs in the nation, staffed by internationally recognized pediatric oncologists and teams with expertise in every type of pediatric cancer. Patients and families come to CHOP from around the globe to receive the best pediatric cancer care from some of the world's top clinicians. Physicians at the Cancer Center at CHOP have expertise in the rarest and most common pediatric cancers and offer a full range of therapies, from standard treatment protocols to unique clinical trials that are only available at CHOP.
"We are excited and incredibly grateful for Citadel's renewed commitment to creating a future without childhood cancer through our Parkway Run & Walk," said Dr. Stephen Hunger, Chief of the Division of Oncology and Director of the Center for Childhood Cancer Research at CHOP. "Philanthropic partnerships like this are critical to the ability of our Cancer Center to fuel breakthroughs in pediatric cancer research and care, both for patients in the Greater Philadelphia area and around the world."
Citadel Credit Union is ranked in the top 1% for value nationwide, serving members across the Greater Philadelphia region with checking and savings accounts, a suite of consumer loan products, mortgages, wealth management, and business lending. Forbes recently named Citadel a Best-in-State Credit Union, and the company consistently ranks first in the 2020 Callahan & Associates Return of the Member scoring index among all credit unions in Pennsylvania.
To learn more about Citadel's partnership with CHOP and the Parkway Run & Walk, visit CitadelBanking.com/CHOP.
CONTACT:
Abigail Brooks
(610) 466-6896
AbigailBrooks@CitadelBanking.com
###
About Citadel Credit Union
Citadel Credit Union is a not-for-profit, member-owned financial institution that provides banking, investments, and insurance services to more than 255,000 members. At $5.7 billion in assets, it is one of the Greater Philadelphia area's largest credit unions, proudly serving residents of Bucks, Chester, Delaware, Lancaster, Montgomery, and Philadelphia counties. Citadel is recognized as a 2023 Fortune Recommends Best Credit Union, Forbes 2022 Best-in-State Credit Union, and a certified 2022 Great Place to Work. For more information, visit CitadelBanking.com.
Get more information about the CHOP Parkway Run & Walk, and get involved.
Learn More