Citadel Certified as a 'Great Place to Work'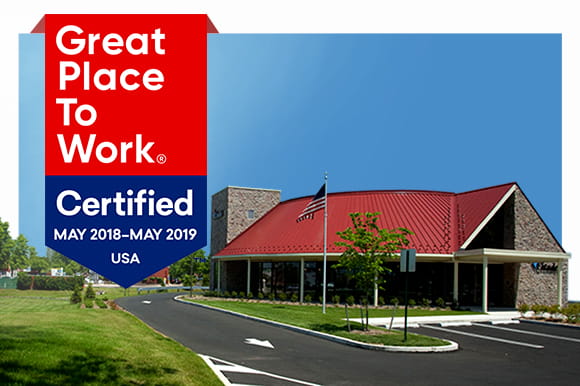 Employees Say they are Proud of Citadel's Commitment to Community
EXTON, Pa.— Citadel has announced it was certified as a "Great Place to Work" by the independent analysts at Great Places to Work, which publishes national lists such as the "Fortune 100 Best Companies to Work for." Citadel earned this certification based on extensive ratings provided by almost all of its employees.
The majority of Citadel employees are proud to say they work for Citadel, with 92 percent citing pride in the company's dedication to community and involvement in helping local non-profits. In addition, 95 percent of employees say Citadel offers a great working atmosphere.
"We are honored to be recognized as a Great Place to Work. The Citadel culture encourages team collaboration; we celebrate milestones together, and we help the community together," said Jeff March, president and CEO, Citadel. "As the survey results show, our employees genuinely feel a part of Citadel's purpose to help its community, and they value their working environment, which in turn benefits our customers."
Management is honest and ethnical in its business practices
There are great bosses at Citadel
Citadel offers great rewards for employees
People feel they are treated fairly regardless of race, gender, or sexual orientation
Citadel's culture celebrates community giving, with employees receiving paid time to assist corporate partner organizations or non-profits of personal choice. In 2017 alone, Citadel employees volunteered more than 460 hours to community organizations across Bucks, Chester, Delaware, Lancaster, Montgomery, and Philadelphia counties. In 2017, Citadel also donated over $100,000 to support organizations across the region.
CONTACT:
Melissa Thompson
(610) 466-6983
MelissaThompson@CitadelBanking.com
###
About Citadel Credit Union
Citadel Credit Union is a not-for-profit, member-owned financial institution that provides banking, investments, and insurance services to more than 255,000 members. At $5.7 billion in assets, it is one of the Greater Philadelphia area's largest credit unions, proudly serving residents of Bucks, Chester, Delaware, Lancaster, Montgomery, and Philadelphia counties. Citadel is recognized as a 2023 Fortune Recommends Best Credit Union, Forbes 2022 Best-in-State Credit Union, and a certified 2022 Great Place to Work. For more information, visit CitadelBanking.com.
Learn more about working at Citadel today!
Learn More