Citadel Celebrates its 80 Year Anniversary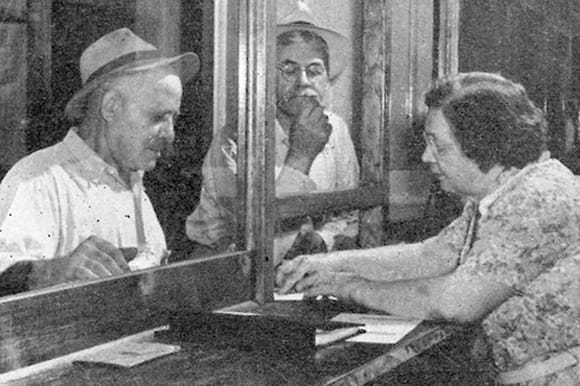 For 80 years, Citadel has steadily grown and offered stability to its customers, community, and employees. As the company continues to expand, it remains committed to providing the very best value to customers. On November 17, Citadel will celebrate its 80th anniversary in each of its 22 branches, and has invited customers to stop in to share the celebration.
Humble Beginnings
Citadel was founded in 1937 in Coatesville, Pennsylvania by 13 Lukens Steel employees as the Lukens Employee Federal Credit Union. Those 13 employees signed the original credit union charter and elected the first officers and committee members. The credit union was independent from Lukens, but was governed and operated by the steel company's employees.
As the credit union provided financial support to the employees of Lukens Steel and their families, the steel mill was undertaking projects that would build the infrastructure of the nation. Materials from Lukens Steel were used in the construction of iconic American symbols such as the Golden Gate Bridge and the World Trade Towers.
Becoming Citadel
In the 1960s, the institution purchased a building on the southeast corner of Strode Avenue and Valley Road in Coatesville, and the first official branch was opened in 1963. Citadel still serves customers at its South Coatesville branch today.
As the steel industry and economy changed, so did the credit union. In 1986, the company's name officially changed from Lukens Employee Federal Credit Union to Citadel. Citadel, which means "fortress of strength," was deemed the appropriate name for the institution during a challenging time for the community. A few years later, Citadel expanded its charter to become a community-based credit union serving the residents of Chester County and the City of Lancaster, Pennsylvania.
Growth and Expansion
Throughout the 1990's and early-mid 2000's, Citadel opened branches across the Chester County region and grew its digital platforms. In 1997, Citadel launched its Online Banking system for customers.
In 2005, the company merged with Atlantic Federal Credit Union of Newtown Square, Pennsylvania, which grew Citadel to an almost $1 billion institution. Citadel's charter officially expanded to Bucks, Delaware, Lancaster, Philadelphia and Montgomery counties in 2006. From 2007 through 2016, Citadel opened 16 new branches, with a total of 22 branches by 2017. Citadel's digital capabilities also transitioned, with a completely revamped Online Banking system in 2011 and the new Citadel Mobile App in 2012.
Citadel Today
Today, Citadel is a $3 billion financial institution providing banking, investments, and insurance services to more than 200,000 customers. Citadel is one of the Greater Philadelphia area's largest locally owned financial institutions, proudly serving residents of Bucks, Chester, Delaware, Lancaster, Montgomery, and Philadelphia counties. Citadel has been ranked number one among all credit unions in the nation for providing value to our customers by Callahan & Associates, and was named one of the best performing credit unions in the nation by SNL Financial.
Citadel attributes all of its success and growth to the community that made it possible. Without the support of loyal customers throughout the years, Citadel wouldn't be the institution it is today.
Celebrating 80 Years
As we celebrate this exciting milestone, we invite you to take a look back at our rich history. View our timeline and see how far we've come over the years. Learn more about Citadel at citadelbanking.com/history.