Citadel Announces Six Finalists For 'Rising Star Contest' To Perform At Citadel Country Spirit USA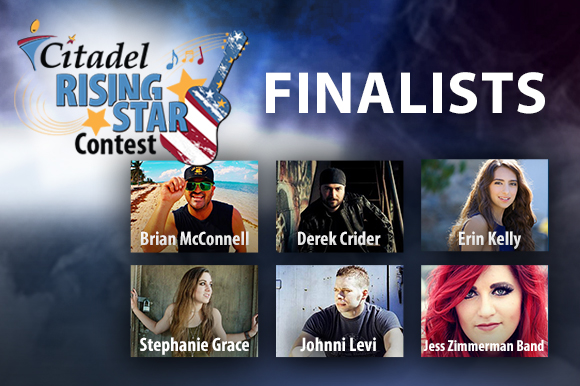 Fans Will Have a Chance to Vote to Determine Winners of Local Band Contest to Perform at Country Music Festival Featuring Nation's Top Country Artists
EXTON, Pa., July 19, 2018 — Citadel has announced the six finalists of the "Citadel Rising Star Contest". The local band contest will award three artists or bands the chance to perform on the Citadel Rising Star stage at the first-ever Citadel Country Spirit USA.
The six finalists are:
Derek Crider of Hamilton, New Jersey
Stephanie Grace of Douglasville, Pennsylvania
Erin Kelly of Allentown, Pennsylvania
Johnni Levi of Douglasville, Pennsylvania
Brian McConnell of West Chester Pennsylvania
The Jess Zimmerman Band of Elverson, Pennsylvania
Starting on Monday, July 9, fans will have a chance to vote to determine the three winners who will perform at Citadel Country Spirit USA on August 24, 25, and 26. Each winning artist or band will perform two sets between acts on the Main Stage. One winner will perform on Friday, one on Saturday, and one on Sunday. The fan voting period will start at 9:00 a.m. (EDT) on Monday, July 9 and end at 11:59 p.m. (EDT) on Monday, July 23. The three winners will be announced on Friday, July 27.
"Citadel is hosting this contest to recognize local talent from the Greater Philadelphia area. As a community-based organization, it is important to have these rising stars represented at Citadel Country Spirit USA," said Jeff March, president and CEO, Citadel. "Our goal is to give local talent the opportunity to shine at this spectacular event."
Citadel Country Spirit USA, being held at Ludwig's Corner Horse Show Grounds in Chester County's Brandywine Valley, features more than 20 country music artists on two stages. The festival features headliners Alabama, Toby Keith, and Brad Paisley.
Citadel Country Spirit USA comes to Chester County from the producer of Country Summer, Northern California's biggest country music festival. Hosted by the Chester County Conference and Visitors Bureau (CVB), thousands of fans from across the nation are projected to attend. The venue has a capacity of 15,000 daily.
The Main Stage lineup and schedule is available at CountrySpiritUSA.com.
Single-day tickets, priced from $89, and Three-Day Passes, starting from $249, are on sale now at CountrySpiritUSA.com. A portion of ticket sales will be donated to Children's Hospital of Philadelphia (CHOP), a Children's Miracle Network Hospital.
For more information about the Citadel Rising Star Local Band Contest, visit CitadelBanking.com/RisingStar.
CONTACT:
Melissa Thompson
(610) 466-6983
MelissaThompson@CitadelBanking.com
###
About Citadel Credit Union
Citadel Credit Union is a not-for-profit, member-owned financial institution that provides banking, investments, and insurance services to more than 255,000 members. At $5.7 billion in assets, it is one of the Greater Philadelphia area's largest credit unions, proudly serving residents of Bucks, Chester, Delaware, Lancaster, Montgomery, and Philadelphia counties. Citadel is recognized as a 2023 Fortune Recommends Best Credit Union, Forbes 2022 Best-in-State Credit Union, and a certified 2022 Great Place to Work. For more information, visit CitadelBanking.com.
Vote for your favorite band to perform at Citadel Country Spirit USA!
Vote Now