Citadel Hosts Ribbon Cutting Ceremony for New Lancaster Location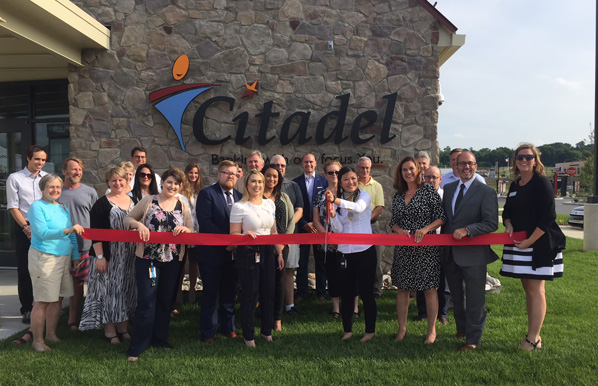 Lancaster Chamber and Citadel Representatives Come Together to Commemorate New Location
EXTON, Pa. — On June 13, Citadel hosted a ribbon cutting ceremony at its newest branch in Lancaster on Rohrerstown Road. The ceremony commemorated the new location and Citadel's overall expansion in Lancaster County. Citadel representatives cut the ribbon alongside members of the Lancaster Chamber of Commerce.
The official ribbon cutting was a milestone moment—celebrating Citadel's second branch in Lancaster County. This new branch is also a first-of-its-kind model for Citadel; featuring a brand new layout and a focus on 24/7 self-service banking.
"Citadel is proud to open our second location in Lancaster County. We are thrilled to build new relationships in this region and serve members here," said Pam Krupansky, vice president, Citadel. "Within upcoming weeks, we will have more exciting news about how we are getting involved in this great community. Citadel is truly honored to meet families in Lancaster County and be their one-stop banking provider."
The Rohrerstown Road location, which is Citadel's 23rd retail branch, signifies the next step in Citadel's strategic plan to expand its presence in Lancaster County. Today, Citadel's branch network provides convenient banking for people across Bucks, Chester, Delaware, Montgomery, Philadelphia and Lancaster counties.
"We are thrilled that Citadel is in our community—and growing!" said Heather Valudes, Community Impact Director, Lancaster Chamber of Commerce. "The addition of strong financial institutions demonstrates our growing economy, and Citadel's expansion in Lancaster shows their commitment to being locally involved and remaining relevant in the communities they serve."
For more details about Citadel's new Lancaster branch, visit CitadelBanking.com/RohrerstownRoad.
CONTACT:
Abigail Brooks
(610) 466-6896
AbigailBrooks@CitadelBanking.com
###
About Citadel Credit Union
Citadel Credit Union is a not-for-profit, member-owned financial institution that provides banking, investments, and insurance services to more than 255,000 members. At $5.7 billion in assets, it is one of the Greater Philadelphia area's largest credit unions, proudly serving residents of Bucks, Chester, Delaware, Lancaster, Montgomery, and Philadelphia counties. Citadel is recognized as a 2023 Fortune Recommends Best Credit Union, Forbes 2022 Best-in-State Credit Union, and a certified 2022 Great Place to Work. For more information, visit CitadelBanking.com.