Citadel Expands Presence in Lancaster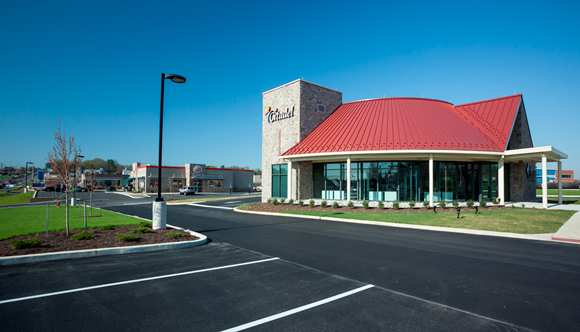 New Branch on Rohrerstown Road Features First-Of-Its-Kind Interior Design
Grand Opening Event Offers New Customers up to $381 in Cash
EXTON, Pa. — Citadel has opened its second branch in Lancaster, Pa. on Rohrerstown Road. The new branch boasts a first-of-its-kind interior design with 24-hour self-service banking amenities, as well as private rooms for sit-down sessions and personalized customer assistance.
The celebratory Grand Opening Event will take place on Wednesday, May 16 through Saturday, May 19. During the event, Citadel will feature a limited-time special offer for new customers who open a checking account to potentially earn up to $381 in cash. More information on the Grand Opening Event is available at CitadelBanking.com/RohrerstownRoad.
The new Lancaster Rohrerstown Road branch features a drive-up ATM and self-service coin machines. In addition, the branch will have Citadel Express Banking machines both inside and outside the building. Citadel Express Banking machines are convenient, full-service teller machines capable of performing more complex transactions such as multi-check deposits, loan payments, and transfers between Citadel accounts.
In addition, some of the new and unique features of the branch include:
Customer Kiosks: Interactive handheld tablets are available for customers to use calculators and research products, rates, and current promotions.
Video Conferencing: The new private office space has video conferencing capabilities that allow customers to speak directly with specialized Citadel representatives such as business lenders, mortgage specialists, and financial planners.
Charging Station: Customers can stay plugged in and connected while they meet with Citadel representatives by using Citadel's new charging station.
"Our new branch on Rohrerstown Road is extremely exciting because it means Citadel is becoming even more a part of the Lancaster community. We're thrilled to bring this brand new, unique branch model to Lancaster," said Michael Schnably, senior vice president, Citadel. "Citadel is looking forward to showing more members of the Lancaster community the benefits of our banking products and services."
The new branch is located at 340 Rohrerstown Road in Lancaster, in the Lime Spring Square Shopping Center. This is Citadel's second branch in Lancaster, and it signifies the next step in the company's corporate strategic plan to expand its presence in Lancaster County. Citadel's other Lancaster branch is located on Granite Run Drive.

CONTACT:
Abigail Brooks
(610) 466-6896
AbigailBrooks@CitadelBanking.com
###
About Citadel Credit Union
Citadel Credit Union is a not-for-profit, member-owned financial institution that provides banking, investments, and insurance services to more than 255,000 members. At $5.7 billion in assets, it is one of the Greater Philadelphia area's largest credit unions, proudly serving residents of Bucks, Chester, Delaware, Lancaster, Montgomery, and Philadelphia counties. Citadel is recognized as a 2023 Fortune Recommends Best Credit Union, Forbes 2022 Best-in-State Credit Union, and a certified 2022 Great Place to Work. For more information, visit CitadelBanking.com.
Learn more about Citadel's newest branch location!
Get Details