Citadel Announces 'Citadel Palooza' Featuring Headliner Hunter Hayes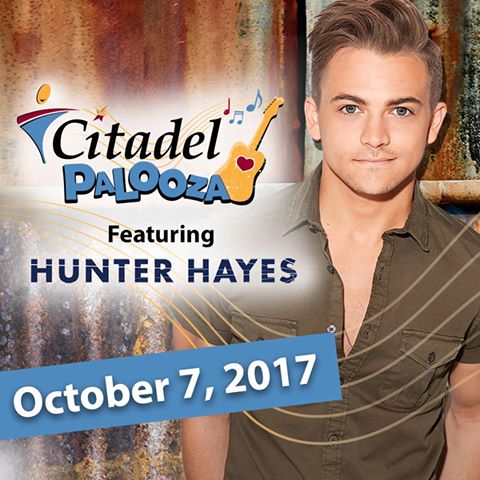 100% of Ticket Sales will be Donated to Children's Hospital of Philadelphia
Concert to Take Place Saturday, October 7, 2017 at Memorial Park in Pottstown, Pa.
To celebrate its 80th anniversary, Citadel, one of the largest credit unions in Pennsylvania, is sponsoring the inaugural Citadel Palooza featuring headliner and 5x Grammy nominee Hunter Hayes. Citadel, a community-based organization, will donate 100% of the concert ticket sales to Children's Hospital of Philadelphia (CHOP), a Children's Miracle Network (CMN) Hospital. Citadel Palooza will take place on October 7, 2017 at Memorial Park in Pottstown, Pa.
The inspiration behind Citadel Palooza is the credit union philosophy of "People Helping People" and Citadel's 80-year history as a locally-owned financial organization. In association with Credit Unions for Kids, Citadel Palooza will bring people together to benefit one of the Greater Philadelphia area's most well-known institutions, CHOP, and CMN Hospitals.
"Citadel Palooza is Citadel's celebration for our community, and we are honored to have Hunter Hayes, who is such an inspirational artist, be a part of it," said Jeff March, president and CEO, Citadel. "The people of the Greater Philadelphia area have supported Citadel for 80 years, and we want to give back in a big way. We especially want to thank our members for making this event possible."
During Citadel Palooza, concert attendees will enjoy a variety of food trucks and libations. The official schedule of events and opening acts will be announced in September, along with food and beverage vendors.
General Lawn Seating tickets cost $25, and VIP-level tickets cost $50. Tickets can be purchased at CitadelPalooza.com with the option to donate additional money to CHOP and CMN Hospitals.
For more Citadel Palooza updates, follow @CitadelBanking and @HunterHayes on Twitter, or visit Facebook.com/CitadelBanking.
CONTACT:
Abigail Brooks
(610) 466-6896
AbigailBrooks@CitadelBanking.com

###
About Citadel Credit Union
Citadel Credit Union is a not-for-profit, member-owned financial institution that provides banking, investments, and insurance services to more than 250,000 members. At $5.6 billion in assets, it is one of the Greater Philadelphia area's largest credit unions, proudly serving residents of Bucks, Chester, Delaware, Lancaster, Montgomery, and Philadelphia counties. Citadel is recognized as a Forbes 2022 Best-in-State Credit Union and a certified 2022 Great Place to Work. In addition, Citadel has been named one of the best performing credit unions in the nation by SNL Financial. For more information, visit CitadelBanking.com.