Citadel Credit Union Unveils New Brand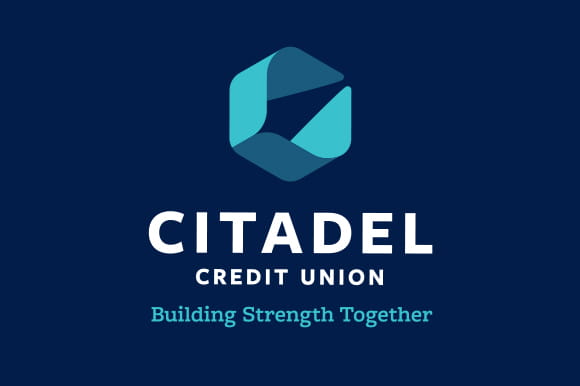 With New Logo, Colors, and Tagline – Citadel Refreshes its Overall Look with a Strong Commitment to the Community of "Building Strength Together"
EXTON, Pa., August, 19, 2020—Citadel Credit Union, the nation's 63rd largest credit union, with over $4 billion in assets, has introduced a new brand identity — complete with a redesigned logo, refreshed color palette, and new tagline, "Building Strength Together."
Over the past 15 years, Citadel has grown over $3.5 billion in assets and evolved to serve a broader region across the Greater Philadelphia area, including expansion in new markets such as Lancaster and Bucks counties. As the credit union has continued to explore ways to provide a better experience for members, evaluating and refreshing the brand has been a major priority to align its identity with where the company is headed. This is Citadel's first rebrand in 15 years, since its most significant growth period in the company's over 80-year history.
"With our new brand, Citadel is embracing our identity as a not-for-profit credit union with a dedication to the local community. It's never been more important for those we serve to understand that we're here to help create prosperity and to grow their financial strength," said Jeff March, president and CEO. "We're proud to reveal all that we stand for, and we're dedicated to enhancing our members' experience with new tools, expert guidance, and a breadth of financial services."
To help with the rebrand process, Citadel's in-house Brand Team partnered with Adrenaline, an experience design agency with a specialty in implementing end-to-end brands for financial services organizations. Over the past 18 months, the two companies partnered to conduct thorough research across multiple audiences and markets to ultimately strategize and design Citadel's new brand identity.
Gina Bleedorn, Chief Experience Officer at Adrenaline, believes the timing of the launch speaks to the resilience and resonance of the Citadel brand. "We were so gratified Citadel chose to reveal their updated brand during this time. It really speaks to the work we did together and how forward-thinking an organization they are that they understand the importance of brand and what it means for their business and the people they serve," according to Bleedorn. "We only helped craft and clarify what was already there."

The new logo represents a modern Citadel — a source of enduring strength and forward momentum. The logo is named the "Dynamic C" as it stands for Citadel, Credit Union, and Community, and is meant to invite people in, while giving the feeling of embracing and protecting a shared future. In addition, the logo is a hexagon, one of the most stable geometric forms in nature, rooting the brand in a foundation of strength and trust.
The new tagline, Building Strength Together, speaks to the balance of stability and progress that Citadel stands for, and it promises that together, anything is possible.

The rebrand comes at somewhat of an unconventional time with the "new normal" of the pandemic. Despite many of the changes over the past several months, both Citadel and Adrenaline concluded that the brand's new message, which reinforces 'building strength together' for a brighter future and a more prosperous community, has never been more relevant.
The updated look will be implemented across different platforms and channels in phases, starting immediately with Citadel's website and digital tools, which includes an improved online account opening process. Over the next several months, Citadel will roll out updated signage across all offices, and starting early in the fourth quarter members will receive new contactless credit cards. Citadel is also launching the new "Building Strength Together" marketing campaign in support of the brand launch.
For Citadel, which has history spanning over 80 years, the new brand reinforces where the company is headed. The promise of Building Strength is one that Citadel has been committed to for a while – in fact, Citadel was one of the only financial institutions to automatically push back loan payment dates when the first economic impact of the pandemic began in March. Citadel's Loan Relief Program was extremely well-received by members, who appreciated the proactive support.
Citadel Credit Union is the 58th largest credit union and in the top 1% for value nationwide, serving members across the Greater Philadelphia area with checking and savings accounts, a suite of consumer loan products, mortgages, wealth management, and business lending. Forbes recently named Citadel a Best-in-State Credit Union, and the company consistently ranks first in the 2020 Callahan & Associates Return of the Member scoring index among all credit unions in Pennsylvania. Anyone who lives in, works, worships, or studies in one of the six counties Citadel serves (Bucks, Chester, Delaware, Lancaster, Montgomery, and Philadelphia) can become a Citadel member. To learn more about Citadel's brand update, visit CitadelCU.com/NewBrand.
CONTACT:
Abigail Brooks
(610) 466-6896
AbigailBrooks@CitadelBanking.com
###
About Citadel Credit Union
Citadel Credit Union is a not-for-profit, member-owned financial institution that provides banking, investments, and insurance services to more than 250,000 members. At $5.6 billion in assets, it is one of the Greater Philadelphia area's largest credit unions, proudly serving residents of Bucks, Chester, Delaware, Lancaster, Montgomery, and Philadelphia counties. Citadel is recognized as a Forbes 2022 Best-in-State Credit Union and a certified 2022 Great Place to Work. In addition, Citadel has been named one of the best performing credit unions in the nation by SNL Financial. For more information, visit CitadelBanking.com.
Get the details about what's changing and when with Citadel's updated brand.
Learn More