Citadel Credit Union Enhances Online Account Opening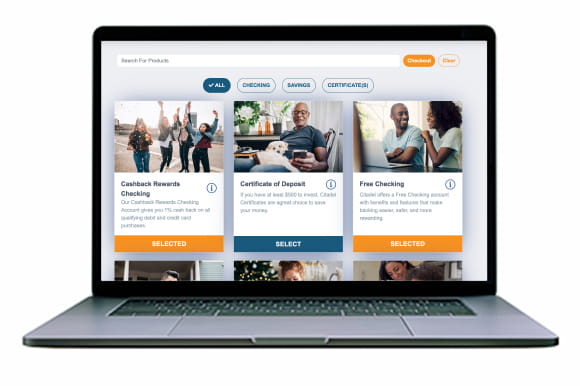 In partnership with Terafina, Citadel rolls out new platform for members to more easily open deposit accounts online.
EXTON, Pa., August, 11, 2020—Citadel recently introduced a completely new online account opening platform in partnership with Terafina, a leader in digital account opening platforms and omnichannel sales marketing.
The new process for opening any Citadel deposit account is now completely streamlined for both current members and new members, and the new platform creates seamless connection between Citadel's digital channels to its branch network and call centers for an improved member experience. Over time, Citadel plans to roll out the Terafina platform across all account types.
"One of the most important parts of the member experience is account opening, and especially digital account opening," said Michael Schnably, senior vice president, Citadel. "Our goal with the new partnership with Terafina is to create an elevated and secure member experience across all channels when it comes to opening any type of account at Citadel."
The partnership between Citadel and Terafina signifies a strategic collaboration between prospering organizations, and the goal is to spark digital growth and large-scale community impact. In addition to becoming the single platform across all of Citadel's products, Terafina will also eventually integrate into Citadel's Online Banking, further enhancing the digital experience for members.
CONTACT:
Abigail Brooks
(610) 466-6896
AbigailBrooks@CitadelBanking.com
###
About Citadel Credit Union
Citadel Credit Union is a not-for-profit, member-owned financial institution that provides banking, investments, and insurance services to more than 220,000 members. At over $4.4 billion in assets, it is one of the Greater Philadelphia area's largest credit unions, proudly serving residents of Bucks, Chester, Delaware, Lancaster, Montgomery, and Philadelphia counties. Citadel is recognized as a Forbes 2021 Best-in-State Credit Union and in the top 1 percent for returning value nationwide in the 2021 Callahan & Associates Return to Member scoring. In addition, Citadel has been named one of the best performing credit unions in the nation by SNL Financial. For more information, visit CitadelBanking.com.
For more news and updates, see our full list of press releases.
Explore Now