Citadel Credit Union Recognized as a 'Great Place to Work' for Third Consecutive Year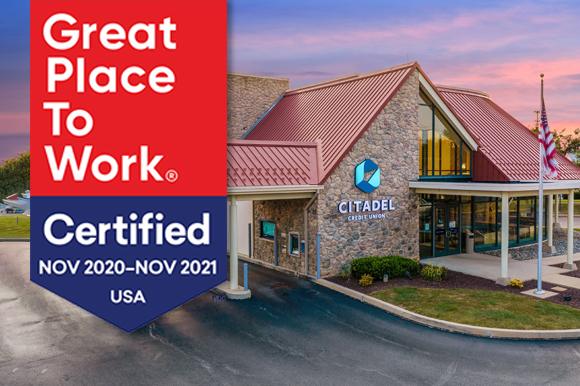 EXTON, Pa., February 8, 2021— Citadel Credit Union is proud to announce its certification as a "Great Place to Work" for the third consecutive year by the analysts at Great Place to Work, which collects and analyzes data from a survey of Citadel's employees each year. Great Place to Work publishes national lists such as the "Fortune 100 Best Companies to Work for."
Citadel's employees say they are proud to work for Citadel (92 percent), with 87 percent agreeing it's a 'great place to work.' Nearly all employees—93 percent— say they feel good about how Citadel contributes to the community, which is an extremely important part of Citadel's mission to build strength in the community. In addition, most employees —97 percent—believe Citadel makes new hires feel welcome.
"When it comes to workplace culture, Citadel is always innovating to develop new opportunities for growth and cross-departmental collaboration," said Jeff March, President and CEO, Citadel. "While 2020 was somewhat challenging with many employees working from home, we focused on open lines of communication, transparency within the organization, and new technologies to maintain engagement and a pleasurable work environment."
Citadel, now at over $4 billion in assets, had record annual asset growth in 2020 for the third consecutive year. Specifically, Citadel's assets increased $544 million to $4.3 billion—a 14 percent increase. As Citadel has grown, it has implemented new employee training and engagement programs, increased opportunities for community involvement, and focused more on workplace culture—all of which have been well-received by employees.
As Citadel continues to grow, the organization currently has several open positions across a variety of departments. To learn more, visit CitadelBanking.com/Careers.
CONTACT:
Melissa Thompson
800-666-0191 Ext. 6983
MelissaThompson@CitadelBanking.com
###
About Citadel Credit Union
Citadel Credit Union is a not-for-profit, member-owned financial institution that provides banking, investments, and insurance services to more than 250,000 members. At $5.6 billion in assets, it is one of the Greater Philadelphia area's largest credit unions, proudly serving residents of Bucks, Chester, Delaware, Lancaster, Montgomery, and Philadelphia counties. Citadel is recognized as a Forbes 2022 Best-in-State Credit Union and a certified 2022 Great Place to Work. In addition, Citadel has been named one of the best performing credit unions in the nation by SNL Financial. For more information, visit CitadelBanking.com.
Learn more about what makes Citadel a great place to work.
Learn More