Citadel Certified as a 'Great Place to Work' for Second Year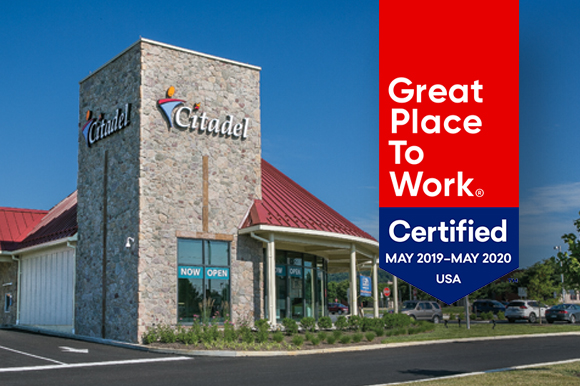 EXTON, Pa., June 26, 2019 — Citadel is proud to announce its certification as a "Great Place to Work" for the second consecutive year by the analysts at Great Place to Work, the group that publishes national lists such as the "Fortune 100 Best Companies to Work for." Citadel earned this certification based on survey ratings from its employees.
Ninety-three percent of Citadel's employees say they enjoy and are proud to work for Citadel, and 91 percent agree that Citadel's management team operates the institution honestly and ethically. Commitment to community is a consistent area of pride for employees, with 95 percent saying they feel good about how Citadel gives back to local non-profits.
"At Citadel, ensuring we have a workplace that fosters collaboration and employee unity is a priority," said Jeff March, president and CEO, Citadel. "An efficient and enjoyable work culture enables us to build internal teamwork, which in turn benefits our members and strengthens our communities."
Citadel, now at over $3.5 billion in assets, had record annual asset growth in 2018. Despite its growth, employees have reported greater satisfaction with workplace culture, management, vacation time, corporate benefits, and more.
In addition, Citadel encourages employees to embrace giving back to the local community. In fact, Citadel employees receive paid time to assist local organizations or non-profits of personal choice. To learn more about working for Citadel, visit CitadelBanking.com/Careers.
CONTACT:
Abigail Brooks
(610) 466-6896
AbigailBrooks@CitadelBanking.com
###
About Citadel Credit Union
Citadel Credit Union is a not-for-profit, member-owned financial institution that provides banking, investments, and insurance services to more than 250,000 members. At $5.6 billion in assets, it is one of the Greater Philadelphia area's largest credit unions, proudly serving residents of Bucks, Chester, Delaware, Lancaster, Montgomery, and Philadelphia counties. Citadel is recognized as a Forbes 2022 Best-in-State Credit Union and a certified 2022 Great Place to Work. In addition, Citadel has been named one of the best performing credit unions in the nation by SNL Financial. For more information, visit CitadelBanking.com.