Citadel Credit Union Gives $10,000 in Cash to Members Through Credit Card Sweepstakes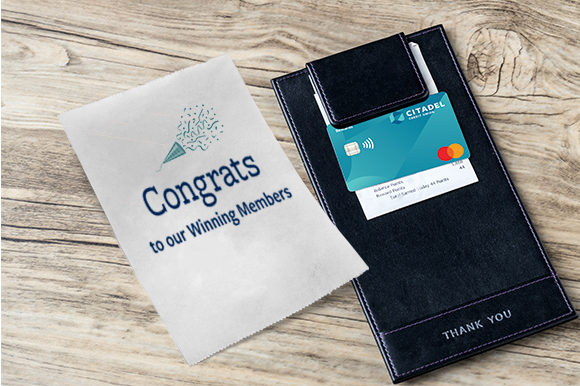 EXTON, Pa., October 18, 2023 — Citadel Credit Union announced today that it has awarded 15 members cash prizes totaling $10,000 as part of its first annual Credit Card Spend & Get Sweepstakes.
The Spend & Get Sweepstakes, which ran from June 15 through August 31, provided members a chance to win cash just by using their Citadel credit card for everyday spending. For every 10 purchases members made with their card, an entry was made into the contest on their behalf.
Five first place prizes of $1,000 and 10 second place prizes of $500 were awarded to randomly chosen members from everyone who was entered. (Names were abbreviated to protect the winners' privacy.)
First Prize Winners ($1,000 each):
C.S. of Pottstown Branch
W.S. of Digital Branch
J.M. of Glen Mills Branch
C.R. of Brookhaven Branch
P.D. of Digital Branch
Second Prize Winners ($500 each):
C.B. of Downingtown Branch
R.H. of West Chester Branch
R.S. of Springfield Branch
J.H. of Digital Branch
D.B. of Digital Branch
J.M. of Parkesburg Branch
W.M. of Parkesburg Branch
E.D. of Chester Springs Branch
R.J. of Paoli Branch
J.S. of Lancaster Branch - Rohrestown Rd.
"It's just a small gesture on our part to let our members know that we appreciate their business and encourage them to continue to use their Citadel credit card," said John Egan, Loan Product Manager, Consumer Loan Division. "Some of the winners have been Citadel members for over 30 years and it felt great to be able to give something back to them."
The winners span multiple counties throughout the Greater Philadelphia area. Each winning member was contacted via phone and email and were pleasantly surprised when they heard the news.
"I honestly didn't believe it at first, but once I heard the voicemail from John, I got so excited. This is awesome," said one of the grand prize winners.
The next Citadel Spend & Get Sweepstakes will take place in the spring of 2024 so card holding members can look forward to having another shot at winning some extra cash next year. All you need is any Citadel credit card to participate in the contest. To learn more about Citadel's credit card options, visit CitadelBanking.com/Credit-Cards.
CONTACT:
Chris Cornwell
ChrisCornwell@citadelbanking.com
###
About Citadel Credit Union
Citadel Credit Union is a not-for-profit, member-owned financial institution that provides banking, investments, and insurance services to more than 255,000 members. At $5.7 billion in assets, it is one of the Greater Philadelphia area's largest credit unions, proudly serving residents of Bucks, Chester, Delaware, Lancaster, Montgomery, and Philadelphia counties. Citadel is recognized as a 2023 Fortune Recommends Best Credit Union, Forbes 2022 Best-in-State Credit Union, and a certified 2022 Great Place to Work. For more information, visit CitadelBanking.com.
Looking to open a new credit card? Take our short credit card quiz to find out which option best fits your financial lifestyle.
Take Quiz