Get Excited: Upgrades to CitadelBanking.com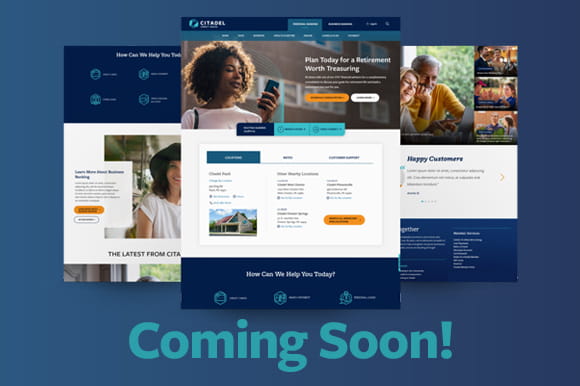 Website Enhancements Effective August 1
We're excited to announce a few changes coming soon to the Citadel website! Starting August 1, you'll notice a new look-and-feel on the homepage.
Online & Mobile Banking Login: The login will remain at the top of our website, in the same location, along with search. However, the login box will now display larger so you can enter your credentials or get help with access, just as you do today.
New navigation for Business Banking: Intuitive navigation for quick, easy access to both Personal and Business products and services.
Customer Support: Access frequently searched items like Citadel's routing number, Branch Hours, Video Connect, Locations, Rates and Customer Support.
Enhanced Mobile Experience: Streamlined mobile experience with optimized navigation for your mobile device.
Financial Wellness: We've added featured articles to help build your financial strength.
The homepage URL (CitadelBanking.com) will not change, and none of the existing pages or tools will be removed.
Introducing Citadel Business Banking
The upcoming website upgrades are part of the launch of our new Business Banking division on August 1. To expand upon existing offerings for business members, we're proud to officially introduce our new team and our full suite of Business Banking products and services to the local business community.
Comprehensive options will include a variety of flexible checking and savings accounts, certificates, business loans, commercial mortgages, online banking tools, and Cash Management Solutions.
To support this launch, you'll notice a new Business section on our website with information, tools, and resources specifically for business members. The existing content for personal banking will remain in a separate Personal tab, so you'll still have access to all your banking, saving, and borrowing needs.
Learn More About Business Banking
Read our latest press release for more information about the upcoming launch of Business Banking, and learn more about Business Loans, Credit Cards, and Cash Management Solutions that are already available to support local businesses.
Find an ATM or Branch Near You