Citadel President & CEO, Jeff March, Announces Retirement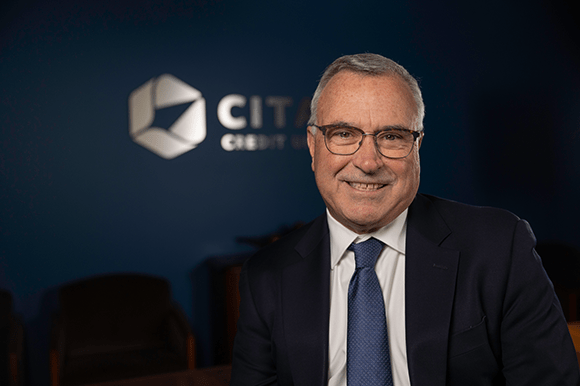 EXTON, Pa., May 1, 2023 — Citadel Credit Union's longtime President & CEO, Jeff March, has announced he will retire by year end after a successor is selected. This announcement was first shared via an internal memo to all Citadel employees. Jeff began working at Citadel 40 years ago in 1983, and has been in his current leadership role since 2001. In his time as CEO, Jeff has led the company to asset growth from $350 million to $5.7 billion, expanded Citadel's charter across Greater Philadelphia, and increased employee size to almost 600.
"This decision is never an easy one to make, but I know that Citadel is at its strongest, and I'm so proud of all we've accomplished and the many talented people I've had the honor of working with," said Jeff. "In 22 years as CEO, every expectation I've had for this company has been exceeded - whether it be financial, technology, growth of our team, or investing back in our members and community. I have every confidence Citadel is on a path to even greater growth and success."
The Citadel Board selected and is working directly with Kaplan Partners, a highly reputable executive search firm that has helped Citadel place executive leaders on its team in the past. Working with the Kaplan Partners team and leveraging their expertise as well as the goals of the company, Citadel will go through a rigorous interview and selection process to determine its next leader.
"We are delighted to partner with the Citadel Board on the quest to identify Citadel's next CEO. It's an exciting time for Citadel and we are confident that the process will generate a number of qualified candidates for consideration," said Alan J. Kaplan, Founder & CEO of Kaplan Partners.
The executive search process is now underway, with the goal of having a successor announced in the coming months followed by a transition period. For any questions on this opportunity, eligible candidates can contact Kaplan Partners at DMP@KaplanPartners.com.
CONTACT:
Abigail Brooks
(610) 466-6896
AbigailBrooks@CitadelBanking.com
###
About Citadel Credit Union
Citadel Credit Union is a not-for-profit, member-owned financial institution that provides banking, investments, and insurance services to more than 255,000 members. At $5.7 billion in assets, it is one of the Greater Philadelphia area's largest credit unions, proudly serving residents of Bucks, Chester, Delaware, Lancaster, Montgomery, and Philadelphia counties. Citadel is recognized as a 2023 Fortune Recommends Best Credit Union, Forbes 2022 Best-in-State Credit Union, and a certified 2022 Great Place to Work. For more information, visit CitadelBanking.com.
For the latest Citadel news - visit our news center.
Learn More