Citadel Announces New CFO and Senior Vice President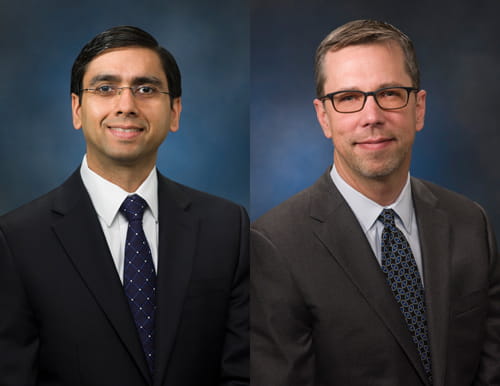 Company Hires New CFO Anand Solanki; Promotes Philip Faris to SVP of Marketing
EXTON, Pa. — Citadel has announced the hiring of a new Chief Financial Officer, Anand Solanki, who will replace former CFO Maria Steffy as she enters retirement. In addition, Citadel has promoted Philip Faris to Senior Vice President of Marketing. Philip was formerly the Vice President of Digital Delivery.
Anand joins Citadel from Discover Financial Services where he was responsible for Financial Planning and Analysis, Risk, Corporate Strategy and Development, and Capital Markets. Anand is a Certified Treasury Professional and earned his Master of Business Administration from the Kellogg School of Management. At Citadel, Anand will be responsible for financial risk management of the organization, including Enterprise Risk Management, Accounting, Finance and Treasury.
Prior to joining Citadel to manage its digital delivery channels, Philip had many years of marketing experience primarily in the retail industry at companies such as David's Bridal, DSW, and Dell. Philip's previous roles involved Digital Marketing, Customer Relationship Management, and Voice of Customer. He received his MBA in Marketing from the University of Texas at Austin. In his new role as SVP of Marketing, Philip will be responsible for Citadel's Marketing and Business Intelligence.
"I'm thrilled to welcome Anand to the Citadel family and to congratulate Philip on his well-deserved promotion," said Jeff March, president and CEO, Citadel. "Both of these team members have proven records of success in their respective fields, and we're proud to have them on the Citadel leadership team as our organization continues to grow."
Anand and his family previously lived in West Chester and are looking forward to relocating back to Greater Philadelphia from the Chicago area. Philip and his family reside in Wayne, Pennsylvania.
Today, Citadel has $3 billion in assets and is the second largest credit union in the Greater Philadelphia area. To learn more, visit CitadelBanking.com.
###
About Citadel Credit Union
Citadel Credit Union is a not-for-profit, member-owned financial institution that provides banking, investments, and insurance services to more than 250,000 members. At $5.6 billion in assets, it is one of the Greater Philadelphia area's largest credit unions, proudly serving residents of Bucks, Chester, Delaware, Lancaster, Montgomery, and Philadelphia counties. Citadel is recognized as a Forbes 2022 Best-in-State Credit Union and a certified 2022 Great Place to Work. In addition, Citadel has been named one of the best performing credit unions in the nation by SNL Financial. For more information, visit CitadelBanking.com.