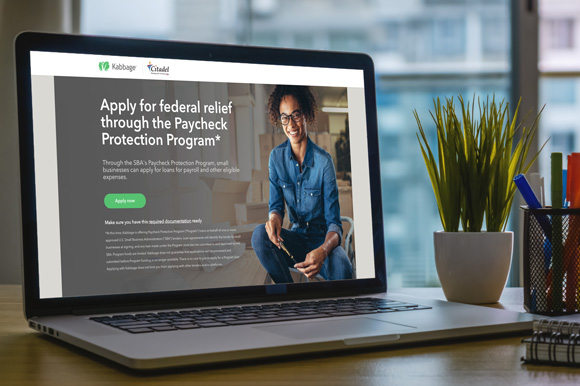 If your business needs relief as a result of COVID-19, Citadel can help provide resources and loan payment options.
Government Loan Programs
There are two programs available to small businesses through the SBA due to the COVID-19 disruption. One of the programs is the Economic Injury Disaster Loan (EIDL) and the other is the Paycheck Protection Program (PPP) Loan under the CARES Act.
Economic Injury Disaster Loan - These low-interest loans are available to small businesses that are affected by economic disaster. The applications and funding for the EIDL loans are handled directly by the SBA without involvement from financial institutions. To apply for an EIDL, visit covid19relief.sba.gov/#/.
Paycheck Protection Program Loan (PPP Loan) - The PPP Loan is available to businesses through the SBA and financial institutions. Citadel has partnered with Kabbage to connect you with these loans to help you cover payroll, rent, utilities and other eligible debt obligations. Apply now.
The program is now accepting applications with loans available for 2.5 times your average monthly payroll for 2019, up to $10 million. There's no collateral or personal guarantee.
Apply online in just a few steps:
Submit information about you, additional owners and your business, including payroll filings and certifications necessary for eligibility.
Review the amount your business is eligible to borrow.
Verify your business information and identity.
Take the loan when you're approved.
Citadel Business Loans
Citadel continues to offer our full range of commercial loan products. If you would like help with a conventional business loan, please reach out to John Hamilton at (267) 496-8725 or Jackie Garress at (267) 658-4108.
If you are a commercial loan client of Citadel's and you need assistance making payments, please fill out our Business Loan Assistance Form or contact BusinessRelief@citadelbanking.com.
We've partnered with Kabbage to help you access critical funds through SBA's Paycheck Protection Program.
Apply Now
Find an ATM or Branch Near You