How to Financially Prepare Your Child for College
Category:
Saving & Preparing for College
Topic:
Saving Money
Children and Money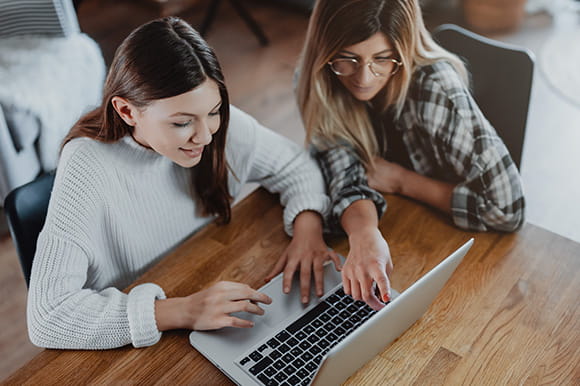 The cost of college is often top of mind for parents from the time a child is born, but as your teenager gets closer to their first semester, you may be starting to think beyond the cost of tuition. In addition to scholarships and student loans to cover tuition, room, and board, the first year of college is also usually the first time a teenager is left to make everyday spending and saving decisions on their own. It's not always easy to talk to teens about budgeting, but before you drop them off, it can help to have a conversation about prioritizing and ways to save money when income is limited.
Here are a few budgeting topics you may want to discuss with your teenage child as they prepare to start college.
Monitoring Transactions & Account Balances in Online Banking
Perhaps the simplest first step toward healthy spending is for kids to get familiar with regularly monitoring their account balances and transaction history. It's important to know how much you have in order to avoid over spending. If they have an account with Citadel, keeping an eye on Online Banking and the Citadel Mobile App is an easy, secure way to track balances from any laptop or mobile device.
If your child started early with a Kids Club savings account or Teen Debit Account, they may already have some practice with this. If not, consider talking to a representative when you open their first account to make sure they know how to log in, view balances, and transfer funds before they head to campus.
If you or your family members are joint owners on your child's account, you will also have access to view balances, set up transaction alerts, and transfer funds from other accounts. You may decide to monitor their spending more closely as they're starting out and then decide together when they're ready for more financial independence and freedom.
Discuss the Basics: Checking vs. Savings Accounts
READ MORE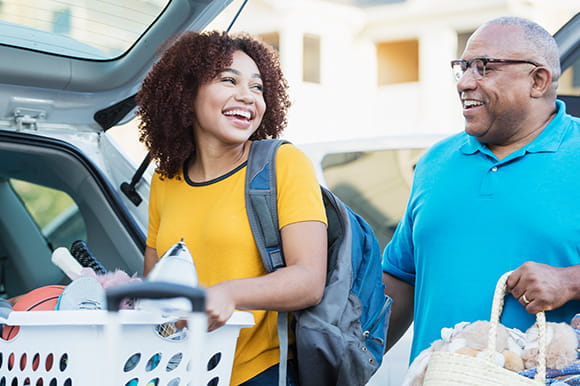 Finding Ways to Save Money in College
Depending on the demands of your child's class schedule, they may not have time for a job to make extra money throughout the school year – or they may only work a few hours per week in a part-time on-campus position. Assuming regular income could be limited, consider talking to them about smart ways to save and spend as they go, instead of relying on regular paychecks or recurring transfers from a parent's account.
Take advantage of free activities and student discounts on and off campus
Most colleges and universities offer a variety of free activities for students to meet and socialize on campus. Other places nearby, such as movie theaters, museums, restaurants, and bookstores may also have special student rates and discounts. If your child takes the time to seek out and prioritize these cost-effective activities, their spending money could go a lot further.
Prioritize student dining and meal plans
If the cost of tuition already includes a student meal plan, it's usually a sensible choice to eat in the campus dining halls and restaurants that accept the plan to avoid overpaying for food. If they're planning to prepare their own meals, talk about a reasonable grocery budget and how they may share those costs with roommates. Depending on the habits they may have created in high school, you may need to talk to your teen about limiting the number of times they splurge at outside restaurants and coffee shops to save their money for other expenses.
Keep track of additional expenses
Every school is different, but there will likely be at least a few outside costs that aren't covered by loans, scholarships, and tuition costs. This could range anywhere from food and entertainment to textbooks, calculators, clothing, athletic equipment, and monthly streaming subscriptions. Will your child need to pay for their own phone bill or internet usage when they start college? These are all items to note and discuss upfront, so they don't come as a surprise once they're on their own.
Make a plan for how long their account balance should last
If your teen already has some money in their account from summer jobs or graduation gifts, talk about how long that money should last. Is it enough to cover the costs of daily spending for the first semester or the first year? If so, make sure they have that expectation in mind, so they aren't tempted to spend it all on a new wardrobe within the first month. If they have more than enough for the year, consider transferring the extra funds to a savings account or certificate, so it has the chance to grow over time and your child knows it's off limits except in case of an emergency.
Use a budgeting tool for detailed goals and tracking
Once you and your family have discussed the anticipated costs, consider setting up a budgeting tool like Citadel's Money Manager. This tool is available on the 'Accounts' screen in Citadel's Online and Mobile Banking, and it allows you to set goals, categorize spending, and simplify the budgeting process, so it's easy to see where your student's money is going. If you and your child can agree to monitor this tool together, it will be much easier to adjust and improve their spending habits over time.
The earlier your child can start getting familiar with these day-to-day habits, the better prepared they'll be for smarter spending throughout college and into adulthood.
If you'd like to talk to an advisor about long term planning and how to build strength for your child's financial future, contact Citadel's team to schedule an appointment.