Get Your Home Ready for Holiday Guests Without Burning Through Your Shopping Budget
Category:
Personal Finance 101
Topic:
Personal Finances
Saving Money
Budgeting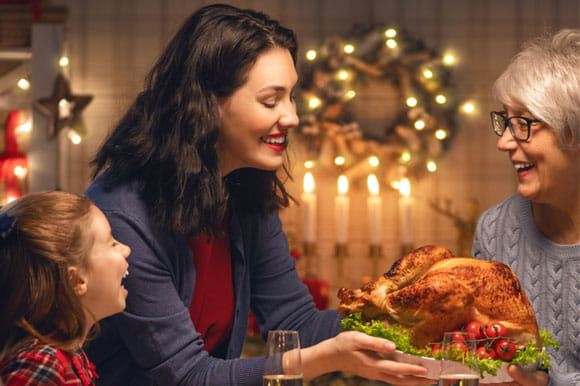 At Citadel, we like to follow the Scout motto: be prepared. And with the holidays just around the corner, we think it's important to get an early start on your planning so that you can get the most out of your time with family—and protect your budget.
Hosting family from out of town over the holidays is exciting—and it's also an excellent way to show off your home. So as your parents or cousins book their flights, you'll want to take a careful look at your house and make a list of anything that needs doing before they land. If you're worried about how to manage any upgrades while also shopping for gifts, don't be. We've put together a list of tips and tricks for how you can get your home ready for holiday guests without breaking into your savings.
Tend to Some Basic Fixes
As you do a walk-through across your home, you may find some bits and pieces that need tending to in order to make your house sparkle during the seasonal festivities. By giving your home a spruce earlier in the year, you'll be able to take your time and keep your costs down by carefully choosing items that are on sale. Labor costs can also get expensive during the holidays—so if you need a handyman, it's better to get someone in sooner rather than later.
Whether it's a fresh coat of paint in the guest bathroom or a new frame for a family photo in the living room, these are easy things you can do early and on a budget. Don't forget that your guests will be looking for a cozy haven out of the snow—so instead of watching your heating bill run up, check to make sure your windows are sealed or insulate your den.
If you're having some overnight guests, consider replacing your old couch in the basement with a newer pullout version that can accommodate two people or invest in a larger hot water tank so they don't have to wait around for the water to heat up again. For these bigger investments, choose stores that let you pay in installments, that way you won't impact the rest of your holiday spending.
Looking to save more for the holidays? Explore our saving solutions.
Learn more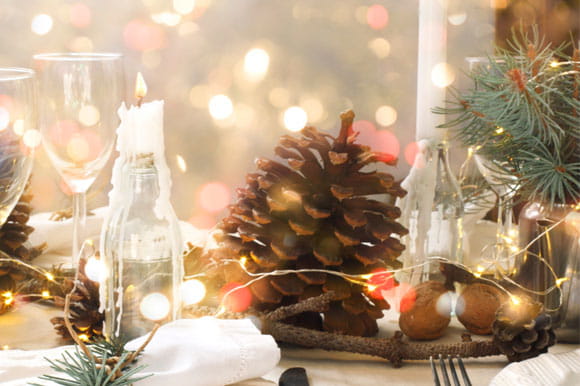 Bring Out the Holiday Spirit
Costs on holiday decor can get expensive, especially if you choose to revamp your collection and buy new lights, baubles, and streamers. Getting your decoration shopping out of the way early can help you catch the early season sales while people are still busy shopping for gourds and orange leaves for Thanksgiving. To help you stay within budget, we've thought of some low-cost, DIY decorations that will help make your home festive.
Bowls of Bells and Baubles
Leading up to the holidays, dollar stores and department stores will have bulk packs of ornaments on offer. These can range anywhere from $10 to $20 depending on their size, quality, and how many are in each pack. While these ornaments are typically meant to be hung on trees, you can also place a collection of them in clear bowls and vases. Add some twinkle lights to the display and you'll have easy, pretty centerpieces for your coffee and dinner tables.
Paper Decorations
If you enjoy arts and crafts, paper decorations are another simple, low-cost alternative for decorating your home. This is also a great way to get the kids involved in creating some holiday cheer. Cutting out and hanging garlands of paper snowflakes or gingerbread men makes for fun decoration for your mantle piece or door frames. Consider using festive wrapping paper to add a bit more color.
Old Can Still Be Festive
As you get your home ready, don't forget about the ornaments you have stored away in your attic or basement. Find any old boxes or bins that may have gotten pushed to the back of the shelf and reuse decorations of holidays past. You may find some baubles you made in preschool, or old storybooks you used to read with your parents—they'll be great items to pull out and share with your family when they visit.
Saving Early Keeps Your Money Safe
As the holiday season gets closer, it's important to be prepared so that you're not rushing in the week leading up to your family visit. Beyond using these home renovation and decoration tips and tricks, you can also protect your hard-earned money by creating a dedicated savings account for the end of the year. That way, you can set up automated deposits of $50 or $100 over the course of the year that will leave you with a tidy sum by the time December rolls around.
Citadel's Holiday Club and Auxiliary Savings Account is designed for just that. Set one up to contribute to your 2019 holiday budget and start saving for 2020!
Explore more helpful tips and tricks to budget for the holiday season.
Learn More