Citadel Credit Union's 2022 Annual Report
> Executive Summary
> Investing in Value & Experience
> The Launch of Business Banking
> New Products & Commitment to Pricing
> Our Workplace Culture
> Supporting Our Community
> What's Next
> 2022 Financials
A Message From Our President & Our Chairwoman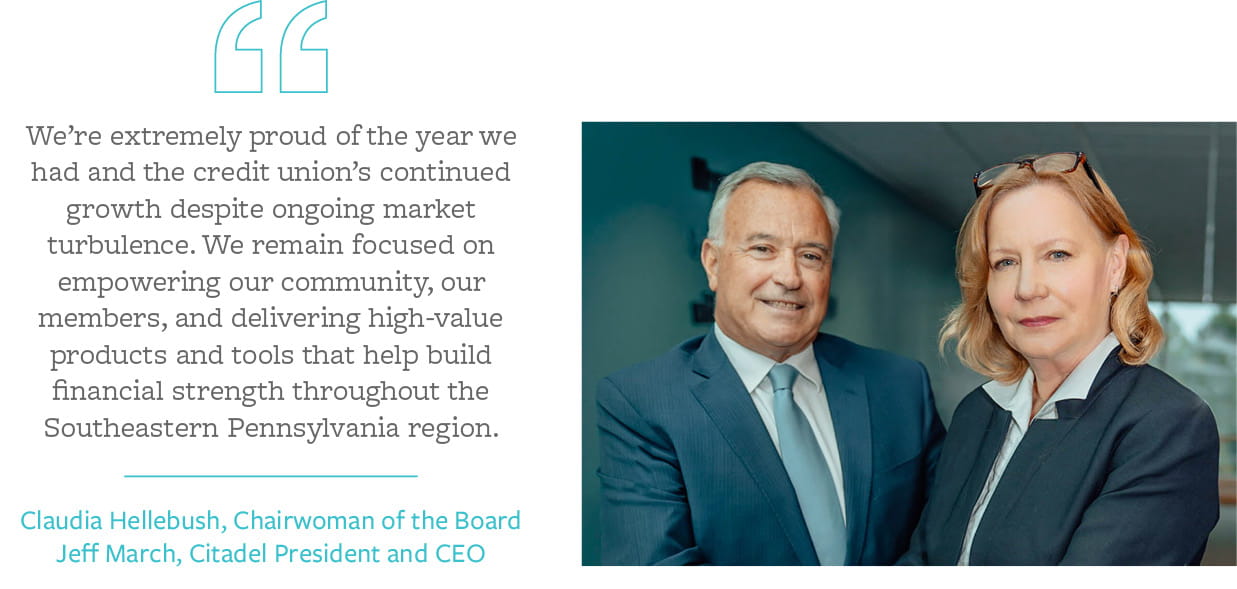 Executive Summary
In 2022, Citadel Credit Union continued to grow new membership and impact our surrounding community. We are pleased to report that our assets increased to $5.6 billion. Over the past year, we've seen several record-breaking milestones:
Net gain of 15,136 members
Net Promoter Score of 59.8
Financial Summary
In 2022, Citadel's assets increased from $4.6 billion to $5.6 billion—a 20.1 percent increase. In 2022, Citadel continued to have strong deposit growth at 15.7 percent from the prior year. Loan growth gained momentum as well, growing 23.1 percent year-over-year. YoY loans grew $910 million and deposits grew $623 million.
Citadel experienced an average asset growth rate of 13 percent over the last 5 years and, in 2022 alone, grew a record-breaking 20 percent. As Citadel expanded to serve the broader Greater Philadelphia region, members continued to find value at the Credit Union. The company recorded a Return on Assets of 1.33 percent and Net Worth Ratio of 9.40 percent, while both deposits and loan balances posted strong gains as well.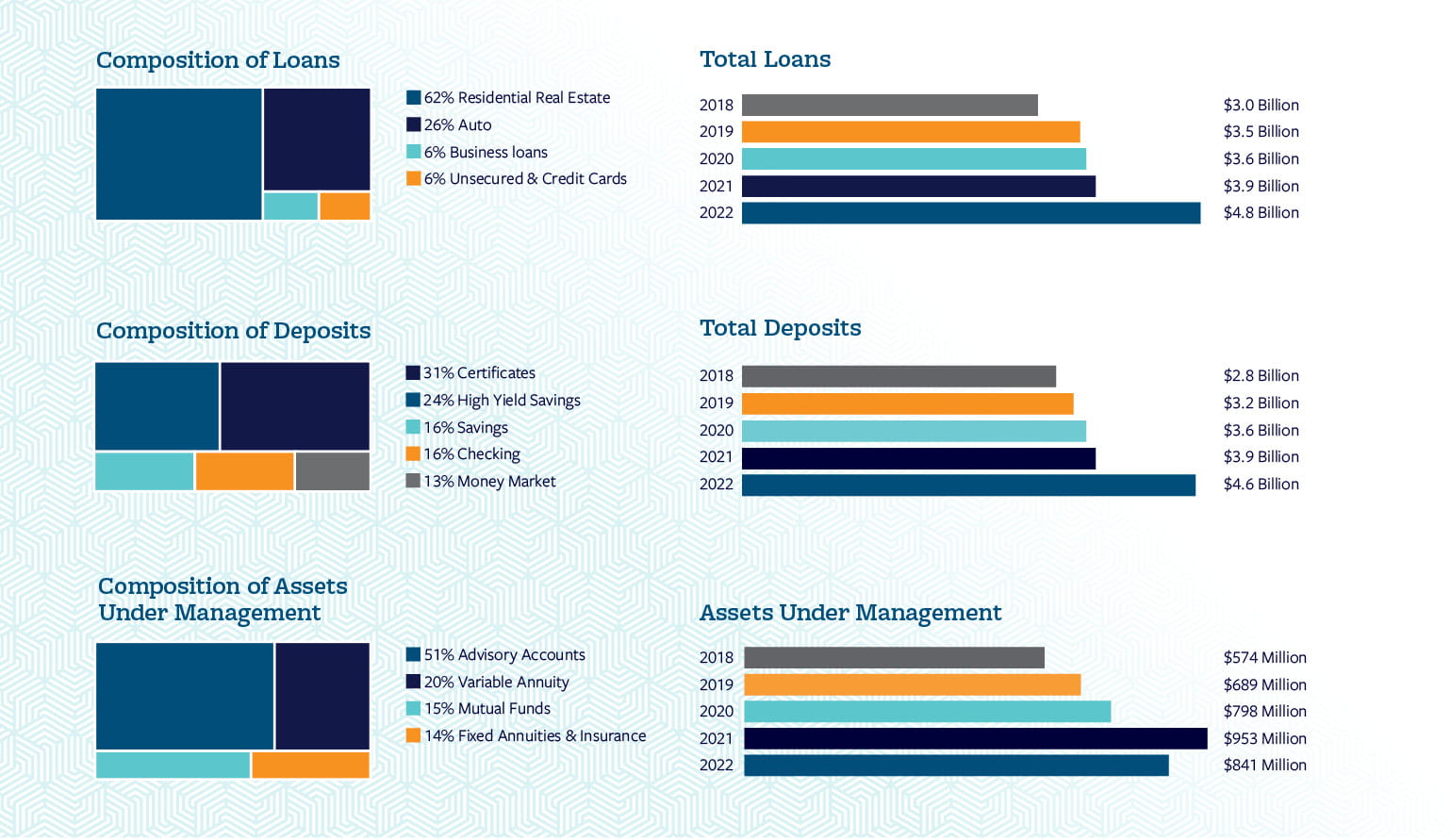 Investing in Value & Experience
Growth Fueled by Value
In 2022, Citadel invested in deepening its product offering, improving member experience, and prioritizing pricing with best-in-market rates. We offered more ways for members to connect and transact from anywhere.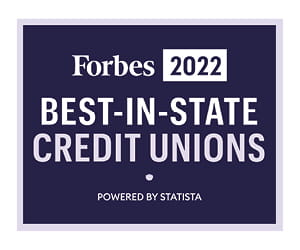 For the third consecutive year, Citadel was named a Best-in-State credit union by Forbes Magazine. Only 3.4% of credit unions in the country are named on this prestigious list, which considers overall customer recommendation and satisfaction, in addition to five subdimensions (trust, terms and conditions, branch services, digital services and financial advice).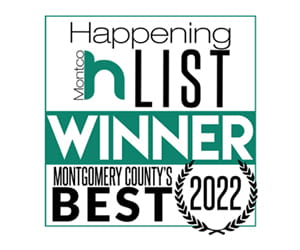 We were also recognized right here in our region as "Best Credit Union" in Montgomery County on the 2022 Happening List by Montco Happenings. This ranking celebrates the area's most beloved businesses, people, events, and organizations, and it's based on voting from the credit union's members and the public.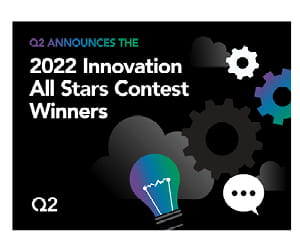 As a result of our efforts, we won the Q2 Innovation All Stars Contest for our creation of a new Mastercard Balance Transfer solution. With a modern user-friendly experience, this digital solution automates the notification of member requests and streamlines the balance transfer process for members. The proper teams can review and manage requests quickly and accurately, saving time and effort for employees and members alike.
Adel Celebrates First Full Year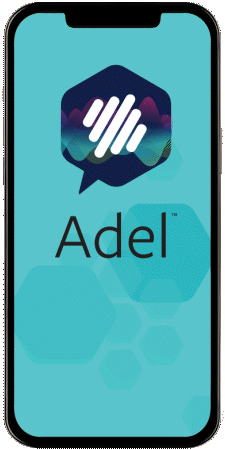 In October of 2021 we launched our conversational AI bot, Adel, which allows our members to bank by phone. With Adel, members can call, avoid hold times, get quick answers to common banking questions, complete account inquiries, and conduct routine transactions in a secure environment.
By implementing Adel, Citadel also was able to reduce operational costs, which is crucial to our long-term growth plan and sustainability. By reducing expenses, Citadel is able to reinvest those funds into other business areas, provide more value to our members, and offer more competitive pricing.
With 2022 as our first full year of operation with Adel, Citadel saved $625,842 in operational costs. The member experience also improved, with the Member Care Team's NPS score increasing 6 points from 63.95% to 70.05%.
In 2023, we plan to upgrade Adel with additional online chatbot features on our website and within Online & Mobile Banking.
In January 2022, Citadel onboarded a team of business banking experts to build the new division and establish partnerships with clients around the region. In addition, a large group of existing employees participated in a robust certification program – becoming the region's "Business Banking Champions." This internal development program was part of the pilot phase over the past four months. The pilot phase also included partnering with new business clients for business loans and customized deposit packages with the new products.
On August 1st, Citadel launched its new Business Banking division which included rolling out the new products and updating the entire digital experience to include new navigation and webpages specifically for businesses.
Better Business Banking
During the pandemic, many businesses throughout Greater Philadelphia experienced significant challenges and the "aftershocks" – including capital, labor, and supply chain issues – which still remain, according to recent data from Pew Research.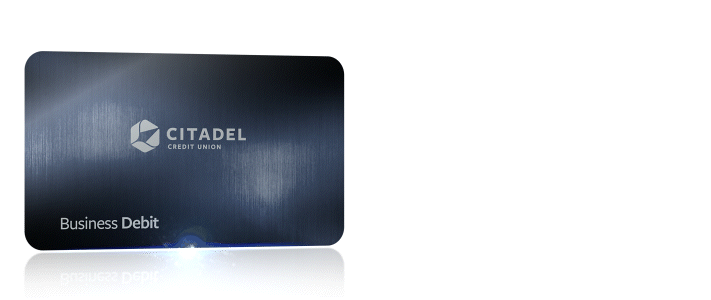 To help provide a solution to those challenges, Citadel Business Banking offers a full suite of dynamic products and services for businesses of all sizes in the Philadelphia region. The primary difference in Citadel's approach to business banking is the level of personal service a business will receive. With the assistance of a dedicated advisor championing their business, each new client can customize a premium product mix tailored to their needs, in addition to being scalable for future growth.
Enhanced Digital Experience for Business Clients
To enhance the digital experience specifically for businesses, Citadel engaged development partners to create a new space for business members, as well as rolled out a new homepage design to incorporate the Business Banking navigation.

New Products and & Commitment to Pricing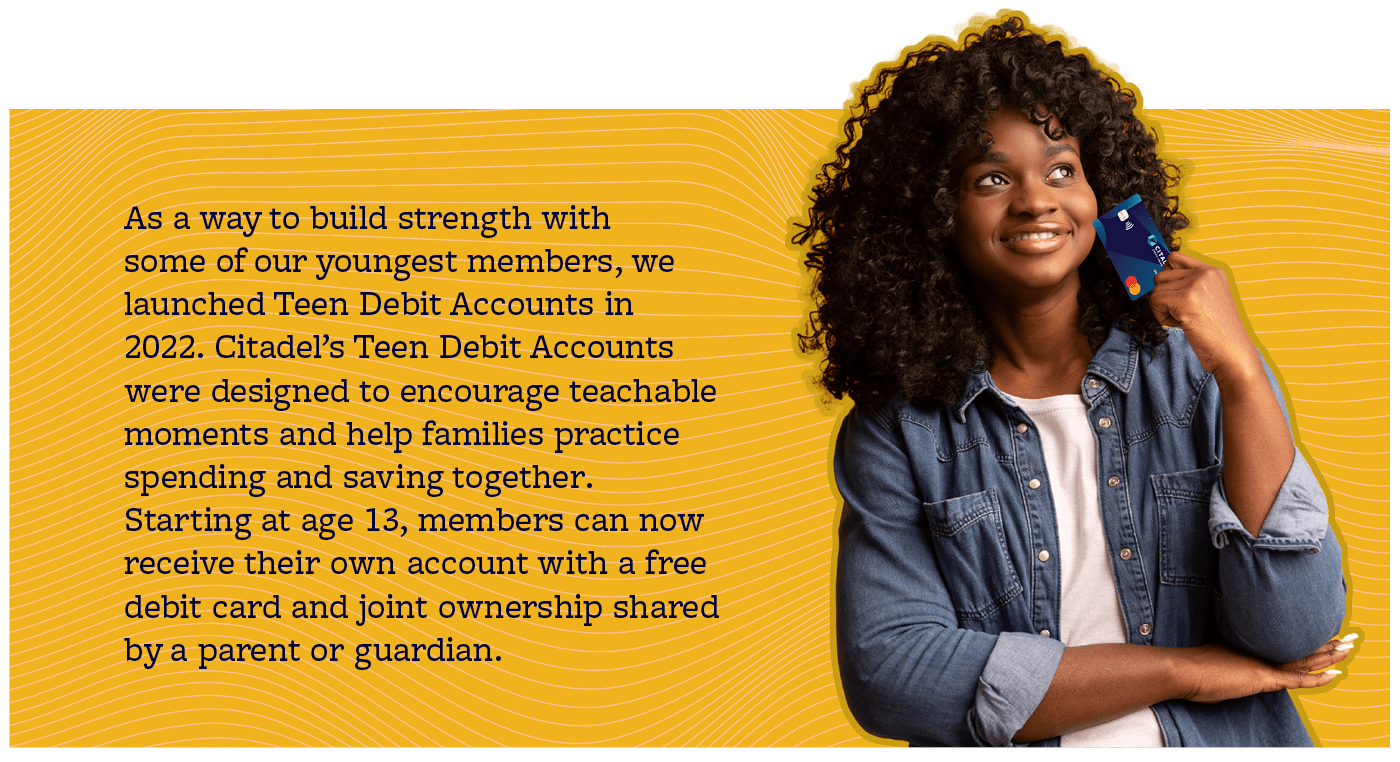 Our Workplace Culture
As an employer in the Greater Philadelphia area, Citadel offers a variety of positions across departments to prioritize prosperity and personal wellbeing for our team. This year, we brought on 105 new employees, including a new Chief Human Resources Officer to focus on recruiting, retention, human resource strategies, employee engagement and more. As a not-for-profit community organization driven by innovation, Citadel will continue to offer a unique culture of people first for our employees. With comprehensive, competitive benefits and compensation programs, generous paid time off, and robust professional development and training, employees can build a career of strength.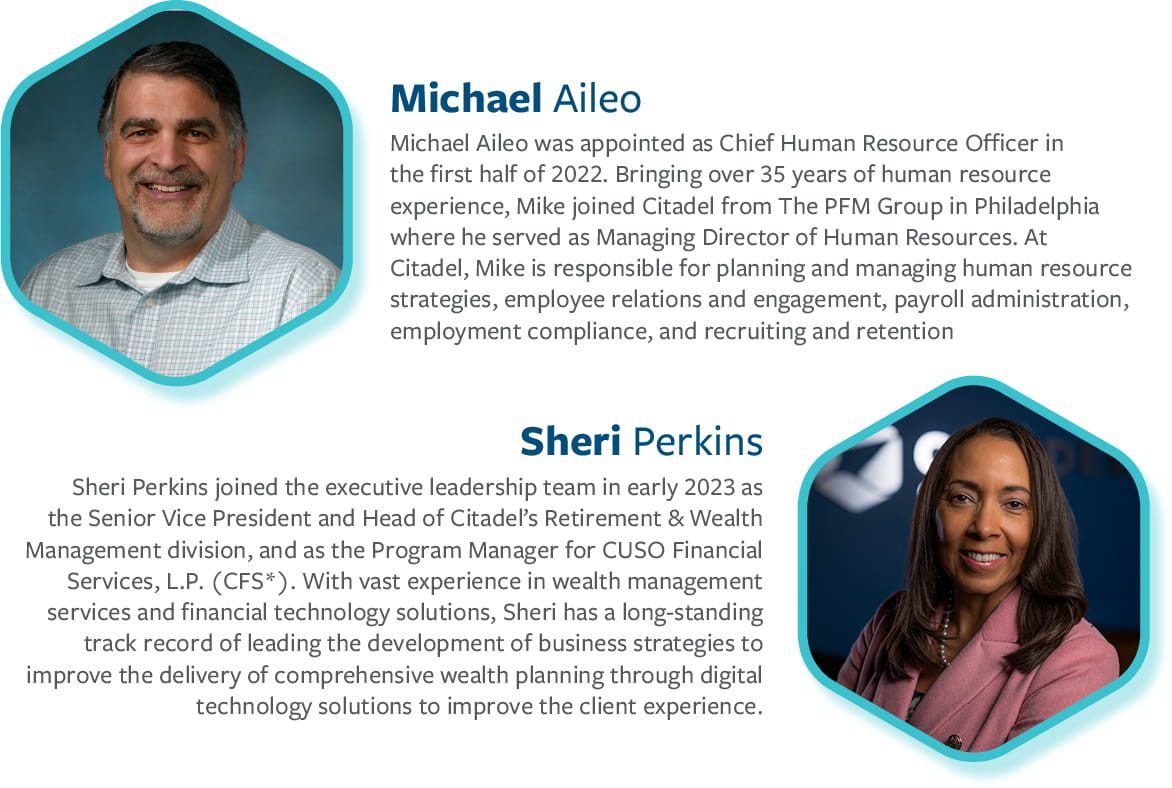 President's Council
Our President's Council rewards and recognizes employees who go beyond expectations by exceeding their annual sales and service goals in a team atmosphere. We were proud to honor 42 outstanding individuals to this prestigious council in 2022.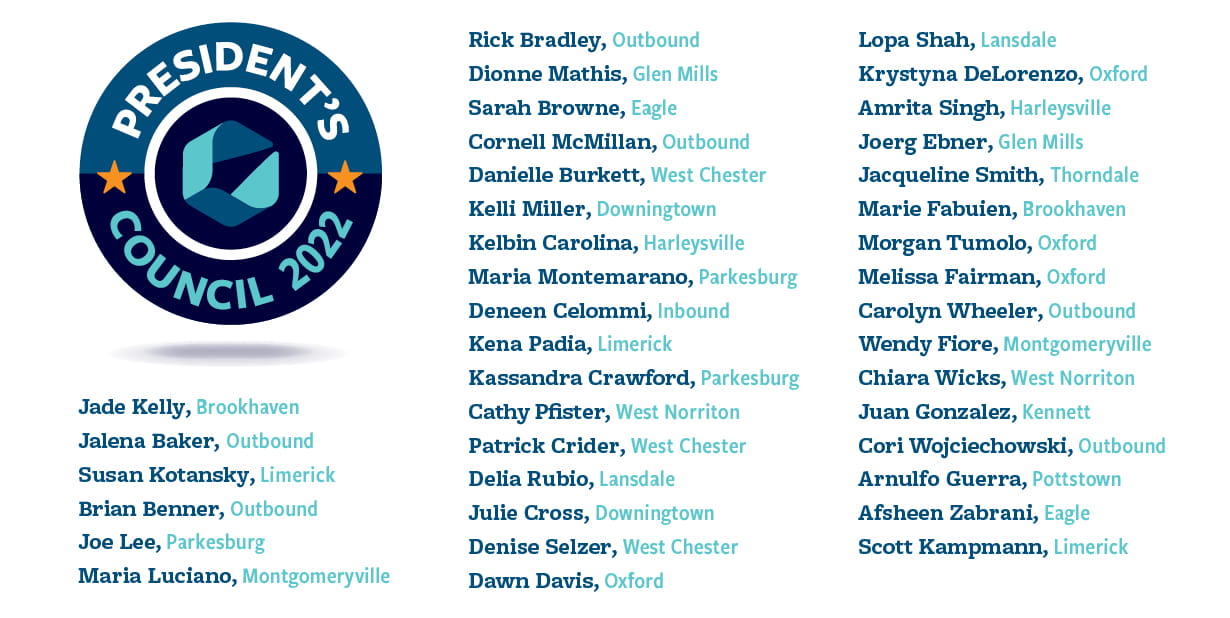 A Great Place to Work
Citadel was certified as a "Great Place to Work" in 2022 for the fifth consecutive year by the analysts at Great Place to Work, which collects and analyzes data from a survey of Citadel's employees each year. Great Place to Work publishes national lists such as the "Fortune 100 Best Companies to Work for."

Supporting Our Community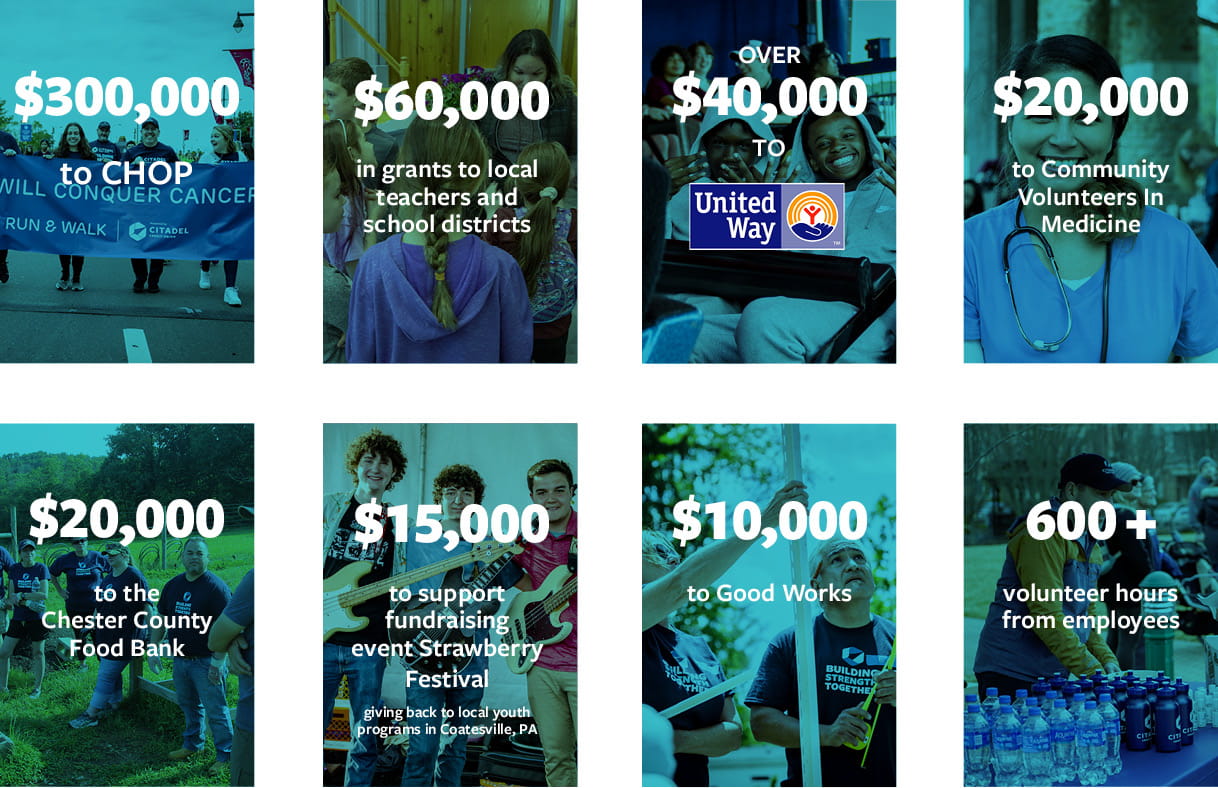 How We Volunteer
Our employees regularly take time out of their day to volunteer and give back to a variety of local causes. Watch the videos in this playlist to see some of our favorites from 2022, including farm days with the Chester County Food Bank, home repairs with Good Works and fundraising contributions to the Coatesville Strawberry Festival.
Empowering Women in Business
As the presenting sponsor of the West Chester University Women's Entrepreneurship Conference, a group of Citadel employees spent the day connecting with local businesswomen to share advice and expertise on running a financially strong company. By working together and offering mentorship, we continue to care for our people and communities so they can prosper.
Children's Hospital of Philadelphia
Citadel prides itself on its philanthropic partnerships and its commitment to giving back to the community. That's why we have been the presenting sponsor for the Children's Hospital of Philadelphia's Parkway Run & Walk for the past three years.

Giving Back to Local Educators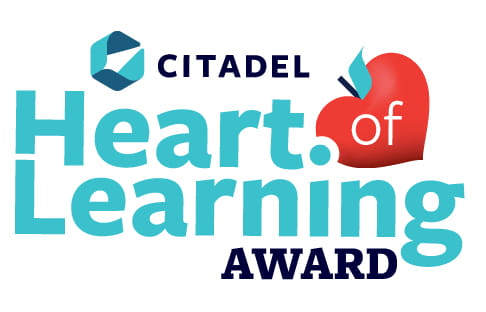 For the 21st consecutive year, Citadel honored and awarded local teachers through one of its oldest charitable initiatives, the Citadel Heart of Learning Award Program. This past year 31 Greater Philadelphia area teachers won the prestigious award out of thousands of nominees, and three exceptional teachers were deemed grand prize winners for their outstanding service to the students they teach.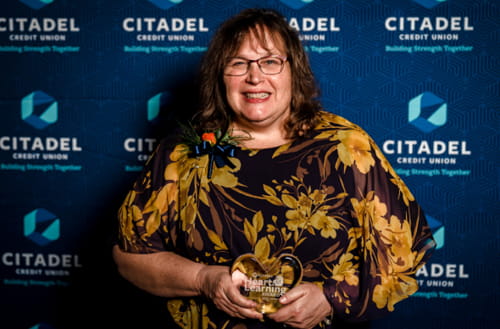 Deb Rooney, Bradford Heights Elementary, Downingtown Area School District:
Miss Rooney has been teaching for over 33 years and leads several after-school educational programs including Broadcast Club and Intramurals. Parents say she is creative with her curriculum, goes above and beyond with various lessons to incorporate life skills, and truly teaches with heart and dedication for building good people.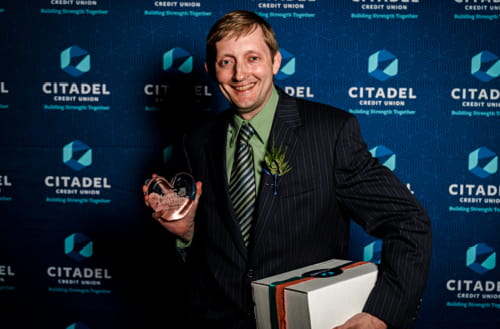 George Hankins, Colonial Middle School, Colonial School District:
Mr. Hankins has been teaching U.S. History and Social Studies for over 20 years. With more than 60 nominations, his students, their parents, and his peers say he's an amazing teacher who makes learning meaningful, brings "nothing but positive energy" to the classroom, and is both a leader and a friend.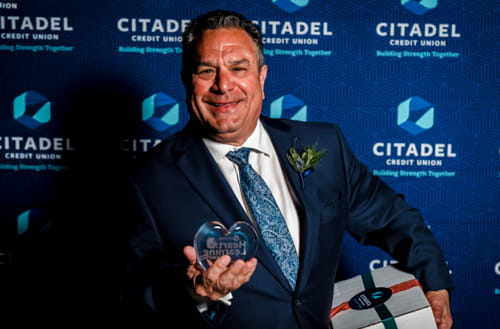 Louis Lozzi, Paul Robeson High School, Philadelphia School District:
Mr. Lozzi is credited with developing a model college & career readiness program that assists students in forging a personalized pathway to success following graduation. He has been credited for helping the school achieve a 95% annual graduation rate and helps fosters an appreciation for kids understanding of the basics of personal finance and life skills.
These three teachers took home the grand prize of $10,000 dollars each ($5,000 for the teacher and $5,000 for their school). The 28 remaining teachers won over $1,000, glass-blown heart awards, prizes, and were all honored at the Mann Center for Performing Arts with a special ceremony.
Executive Committee, Board of Directors, & Supervisory Committee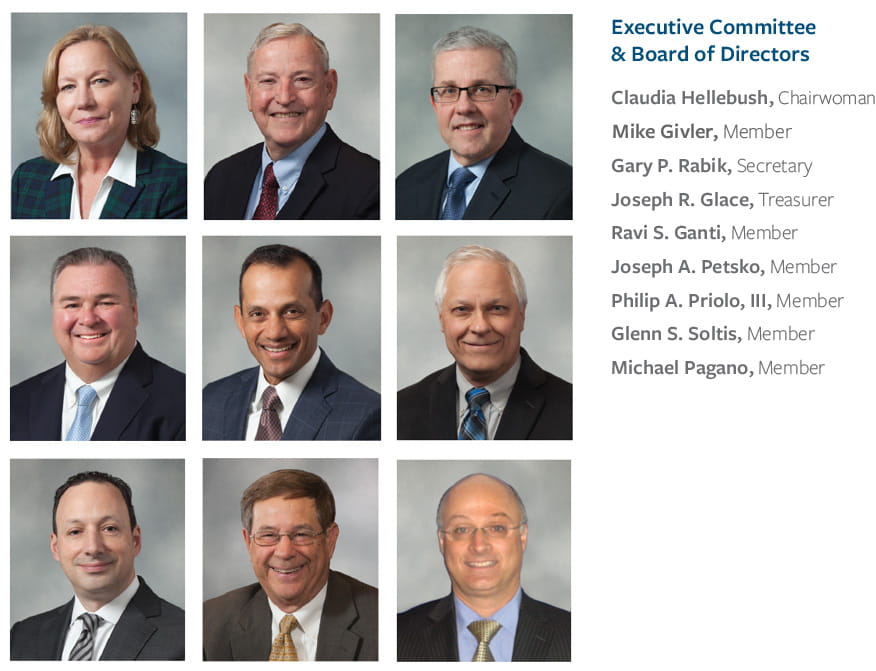 Supervisory Committee
Citadel's Supervisory Committee is composed of volunteer members who ensure that Citadel's financial strength is fairly represented. The committee oversees the internal and external auditors who ensure the credit union is functioning within the guidelines and policies set forth by all regulatory institutions. As an organization, Citadel benefits from the diverse backgrounds of our Supervisory Committee members; we're able to be more productive and make decisions in a sound manner.
The National Credit Union Administration (NCUA) performed an annual examination and reported that Citadel is in good financial order and in compliance with federal regulations.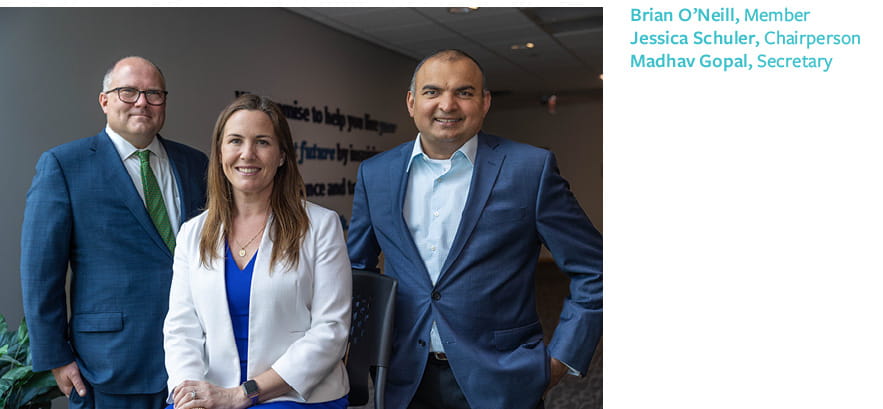 What's Next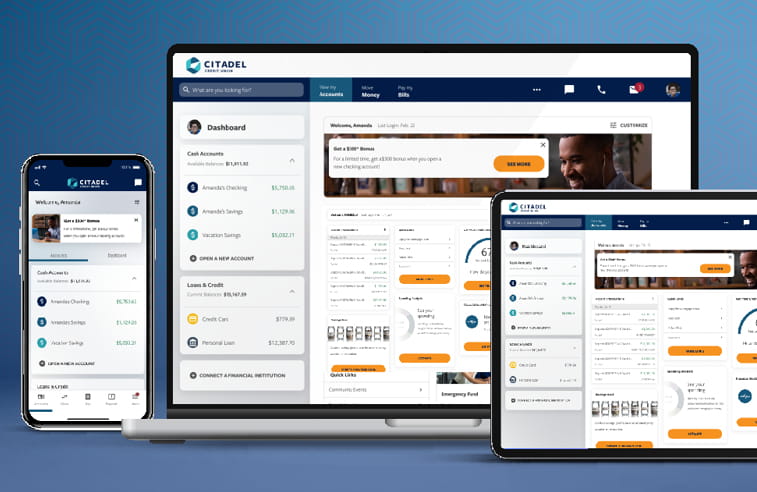 Citadel is always focused on serving those who work every day to build a better future for us all, including our members, employees, and local communities. Our goal is to be accessible and convenient for members and to ultimately empower those who live and work in our community, so they can prosper.
In 2023, we'll be leaning into digital transformation with a major upgrade to our Online & Mobile Banking platform. While we anticipate continued innovation, success, and growth, we'll continue to operate with the philosophy of "people helping people," and make sure this transformation is benefiting all our members.
As part of our digital transformation strategy, we'll also be introducing more financial wellness tools on our website. These tools will help empower members to continue building financial strength for themselves and their community. We will continue to invest in more financial tools throughout the year and make sure they are easily accessible through our digital platforms.
In 2023, we also look forward to developing a new payments accounts for our members and maximizing real estate lending opportunities. The payments account will be critical in gaining deposits needed to run the business, and will keep members engaged with Citadel as they use transactions in a deposit or credit card account. Real estate lending is an area that Citadel has consistently done well in, and we will continue to do so as our community grows.
With our current three-year Strategic Plan now in its second year, Citadel will continue to expand on the initiatives that we implemented in 2022, and will work toward accomplishing much more in the coming year.
2022 Financials
Detailed reports including Citadel's Statement of Financial Condition, Statement of Income, and Statement of Cash Flow can be viewed and downloaded below.