A Financial Champion for Your Business
Phil Sutliff, Head of Business Banking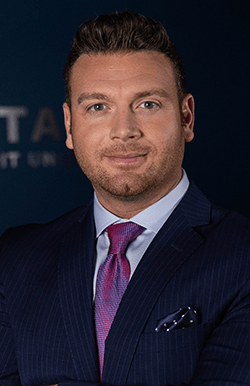 "Trust is the currency that buys revenue. Numbers are numbers, but people make or break your impact in the community."
Phil has a decade of experience managing growth-minded business teams and working directly with businesses of all sizes. From small start-ups, boutiques, manufacturers, and medical professionals to large $100M corporations, his track record is unmatched.
Phil strives to be a financial champion for business owners and remains well versed in small business regulations, tax laws, and investments. During the pandemic and throughout other economic challenges, he has worked closely with countless business owners to secure the financing support they need to ensure recovery & prosperity.
As a leader, Phil uses his strong coaching and development skills to guide his teams to success. By focusing on enhancing cash flow, maximizing working capital, and boosting investment power, Phil and his team can help your business achieve strategic growth.
About Phil
In his free time, Phil enjoys spending time with his two children, as well as bass fishing, working out, and reading. He fulfills his passion for youth leadership and community development by serving as a member of Junior Achievers, Assets of Lancaster, Habitat for Humanity, and Big Brother.
Regional Coverage
Phil's serves businesses throughout the entire Greater Philadelphia area, including Bucks, Chester, Delaware, Lancaster, Montgomery, and Philadelphia counties.
Contact Phil
To start building a partnership with the Business Banking team, or discuss which accounts and services could help elevate your business, please get in touch with one of our Relationship Managers. Phil can be reached at the email address below.
Email: BusinessBanking@CitadelBanking.com
LinkedIn: Phil Sutliff
Find an ATM or Branch Near You