Streamline and Simplify Your Business Banking
Anil Punjwani, Senior Relationship Manager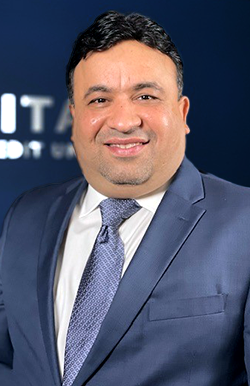 "I see a lot of businesses that do not plan for their financial well-being. They don't periodically review their investments versus debts, and may struggle with cash flow. As a trusted partner, I can review their current situation and their future goals to offer financing solutions that resolve these issues and get their business back on track."
Prior to his current role as a Senior Relationship Manage at Citadel, Anil served as a Small Business Relationship Manager and Virtual Advisor, managing a portfolio of over 125 clients. He specializes in supporting medical and dental practices, and over the years he has developed a deep appreciation for the unique banking needs within the healthcare industry.
With additional experience as a business owner himself, Anil understands both long-term planning and sustainment of a business, as well as day-to-day operations. He is a reliable partner, helping business owners navigate complex issues like cash flow, debt consolidation, and saving for the future. Anil enjoys applying his strong work ethic and passion for analytics to help owners solve even their most complex financial challenges.
Establishing new relationships and building a strong network of centers-of-influence (COIs) and commercial brokers is a high priority for Anil. He is committed to using his financial expertise and business know-how to help his clients establish, reach, and even surpass their goals..
About Anil
With strong ties to the Asian community in the Greater Philadelphia area, Anil can often be found volunteering for religious events at Hindi Temples. He is a member of the Asian American Association of Business Owners & Professionals. Anil is also fluent in Hindi and well-versed in cultural and business traditions. In his free time, Anil enjoys spending time with his twins.
Regional Coverage
Anil serves businesses in the Greater Philadelphia area, including Chester and Montgomery counties.
Find an ATM or Branch Near You