Citadel Receives 2017 Datatrac Great Rate Awards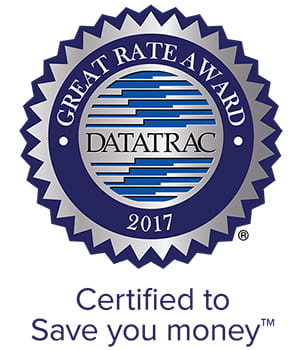 Company Recognized for Competitive Interest Rates on Deposit and Loan Products
EXTON, PA — Citadel was recently certified with the 2017 Datatrac Great Rate Awards® for several deposit and loan products, including its certificates. The Award is issued to financial institutions that outperform the market average based on an independent analysis conducted by Datatrac, a financial research firm which maintains America's largest interest rate database.

Datatrac compared rates from 5,166 banking locations in Pennsylvania as of June 17, 2017. Datatrac certified that Citadel offered 28 consumer banking products that outperformed the market average by up to 159%.

"Datatrac Great Rate Awards certify financial institution products which consistently outperform the market. Datatrac is pleased to recognize Citadel for its ability to deliver products that deliver better value to its customers," stated Ken Wanek, Datatrac Founder and President.

Citadel has been recognized for consistently offering high rates on certificates, and was also recently ranked number one in the nation for providing value to its members by Callahan & Associates.

To learn more about Citadel's rates, visit CitadelBanking.com/RateSheet.
CONTACT:
Abigail Brooks
(610) 466-6896
AbigailBrooks@CitadelBanking.com

###
About Citadel Credit Union
Citadel Credit Union is a not-for-profit, member-owned financial institution that provides banking, investments, and insurance services to more than 250,000 members. At $5.6 billion in assets, it is one of the Greater Philadelphia area's largest credit unions, proudly serving residents of Bucks, Chester, Delaware, Lancaster, Montgomery, and Philadelphia counties. Citadel is recognized as a Forbes 2022 Best-in-State Credit Union and a certified 2022 Great Place to Work. In addition, Citadel has been named one of the best performing credit unions in the nation by SNL Financial. For more information, visit CitadelBanking.com.
Explore our new, higher rates on certificates!
Learn More